M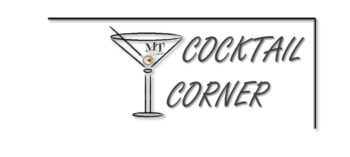 aybe you've noticed the recent trend of pre-packaged cocktails. Maybe not.  Either way, they're hitting stores and bars in larger and larger quantities, and in the right format, they make a lot of sense.  They combine the ease of canned beer with the taste of cocktails, making it far easier to take with you to the beach, the pool, etc.  There are a lot of other potential uses, too.  Imagine a beer vendor at a ballgame being able to sell you a can of bourbon and coke.  Or maybe a Moscow Mule.  As we head into football season, the tailgating option springs to mind. That's where 'Merican Mule comes into play.
'Merican Mule is a pre-made Moscow Mule in a can.  Founded by three west coast entrepreneurs, Dean Mahoney, Steve Pawlik, and Pete Weil, 'Merican Mule is currently available on the West Coast and surrounding areas, but it in the process of spreading to various markets across the country in the coming year. It's a 7% ABV cocktail using only vodka, natural ginger flavors, and lime juice.
It is US-based, all natural, and for those of you with health concerns, is Gluten -Free (it's not on the packaging yet, but CEO Dean Mahoney told me it will be added in the near future.)  It is flavored with real ginger as well. The three founders didn't rush this product to market.  They went through 7 months of testing various sources and blends, tasting over 70 iterations before settling on the final product.
Consumers can expect to see this in bars and retailers on the West Coast now, and in new markets throughout the next year. If you can't wait, there are online retailers depending on your state's liquor laws. Check out the product website here for links.  And you might see product line expansions in the future as well, as the team at 'Merican Mule is mulling other options for similar product lines (I'm hoping for a sugar-free version and a Kentucky Mule version using whiskey instead of vodka).
Press Release:
Combatting Copper Mug Poisoning, 'Merican Mule Launches Moscow Mule in a Can
Beverage & Lifestyle Brand Reshapes the Way We Think About What We Drink
LONG BEACH, Calif., Aug. 21, 2017 /PRNewswire/ — Considering health risks associated with the speculation that drinking from a copper mug is potentially poisonous, there is now an alternative available from a creative company. 'Merican Mule, Inc, the creator of America's ever-popular Moscow Mule in a can, is excited to announce the launch of their product distribution across Los Angeles and Orange County.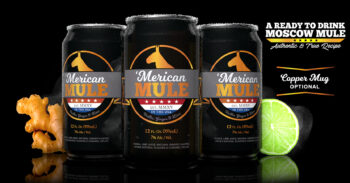 You no longer need to go to a bar or restaurant to have a Moscow Mule. In fact, our company slogan is Copper Mug optional," said Dean Mahoney, 'Merican Mule's Chief Executive Officer. "Ready-to-drink beverages just haven't been good over the past decade.  We seek to change that.  We've achieved amazing taste, second to none, due to our patience during development and caution around selected ingredients." The canned cocktail contains vodka, natural ginger and lime, true to its original recipe.
For more information, connect socially on Facebook, Instagram, and Twitter or visit the company website: https://mericanmule.com/.
The brand has already been picked up quickly by retailers in just a matter of weeks. The product will soon be available for purchase in larger liquor store chains, grocery, as well as bars and restaurants. Currently, it can be purchased as a single twelve ounce can, or as a pack of four.
"When you think about it, finding a well-made Moscow Mule isn't that easy," said Steve Pawlik, 'Merican Mule's Chief Marketing Officer. "You pay $10 USD to have one made at a bar. Come to find out, that bar is using cheap ginger beer and low quality vodka. It's never consistent from one place to another. And when you want to make it at home, it's difficult to replicate the way bartenders do. We saw an opportunity to give cocktail-lovers something convenient, cost-effective and cool."
The 'Merican Mule team is active in showcasing their product to the public.  They've given out samples at press, influencer, charity and tasting events throughout Los Angeles and Orange County. They also sample their product at select stores in Southern California, weekly.
"People love our concept, our branding and our mission. But wait until you see what's coming," said Dean. "We're not just a one trick pony."
About 'Merican Mule
Three millennial entrepreneurs created the best tasting Moscow Mule in a can with the 2015 launch of 'Merican Mule. The 7% ABV, spirit-based canned cocktail developed by the company is made true to recipe, containing vodka, natural ginger and lime. The refreshing, premium, pre-mixed Moscow Mule Cocktail gives consumers a "grab and go" alternative to the popular handcrafted bar beverage. Please drink responsibly.