2017 Birthday Bourbon
Strong currents of chocolate and vanilla cream make the 2017 tribute to Brown-Forman founder, George Garvin Brown, a treat.
[amazon_link asins='B00H143UXW,B072P5SWVJ' template='MT-product-carousel' store='modernthirstc-20′ marketplace='US' link_id='0e9b269c-8f1a-11e7-b2ae-dd5b12922a32′]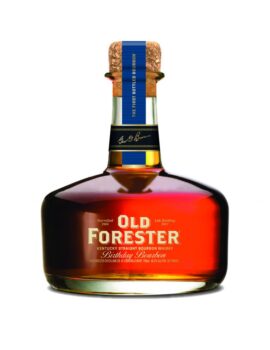 Ahhhh Birthday Bourbon… you elusive old beast, you.
What it is
Birthday Bourbon is released every year by Brown-Forman to commemorate the birthday of founder George Garvin Brown on September 2nd. It is a 12 year old small batch offering of barrels selected by the master distiller specifically for this purpose. This year's release follows that formula.
The 2017 Birthday Bourbon barrel selection was drawn from 12 year old barrels from different warehouses and floors on May 27, 2005. 93 barrels matured together on the 4th floor of G warehouse, yielding an extremely spice forward expression. The remaining 27 barrels matured together on the 5th floor of K warehouse contributing a rounding sweetness to the blend. Several barrels from both lots basked in the sun, highlighting the effects of maturation along an external wall in Old Forester's heat cycled warehouses.

-Press Release
There was a time when Birthday Bourbon was sort of the secret pleasure of Louisville bourbon lovers.  It wasn't widely known outside of this area, and Louisvillians had their pick of bottles at a reasonable price.  That's changed. These days, finding a bottle is as difficult as some of the most elusive limited offerings and the price can match it, despite a suggested retail price of $79.99. With only 100 barrels, this isn't a huge release.
There are some themes you can read on the bourbon-crazed message boards regarding Birthday Bourbon.  Some will claim it's not as good as it used to be. Some claim that the odd-year releases are great, and the even are mediocre. I disagree. While some years have blown me away, they have all been very tasty to my palate, though they have different qualities each year, which could lead to the discrepancy.
2017 Old Forester Birthday Bourbon Stats
Appearance
This is a deep, oaky brown.
Nose
Tons of cocoa powder greet the nose with a strong current of vanilla. There is plenty of oak as well as a dose of spicy black pepper.  Hints of bananas bring up the rear.
Taste
Rick dark chocolate hit the front of the tongue and carry through the middle palate. Vanilla cream custard rounds out the outer tongue with a strong stream of macadamia nuts, almond butter, and simple syrup down the center of the tongue.
Finish
Long and spicy, the central note here is black pepper as the rye makes a strong push. It is accompanied by more vanilla custard and cocoa powder.
Synopsis
I thoroughly enjoyed this sip.  Longtime fans of Birthday Bourbon might be thrown off by how much this diverges from past offerings with an extremely strong note of chocolate throughout the tasting. Where past bottlings have trended towards pie crust and gingerbread, this is spicy Boston cream pie in a bottle.
ModernThirst.com Score: 92/100
*A sample of this whiskey was provided to ModernThirst by Brown-Forman.  There were no strings attached, and the thoughts and opinions in this review are strictly our own.