[amazon_link asins='B003QX2JMA,B01N5HU3CP' template='MT-product-carousel' store='modernthirstc-20′ marketplace='US' link_id='c5a1c254-abab-11e8-a529-c327ff32d20a']
What it is
Birthday Bourbon is one of the most sought-after releases each year in the early stages of "bourbon season" as the late summer/fall period has come to be known by bourbon hounds across the globe. This is the period in which major distilleries release their most limited and coveted whiskeys- from the Antique Collection to Pappy to Parker's Reserve, Bourbon Season is when the big boys hit shelves. And Birthday Bourbon from Old Forester has always held a spot high amongst them all. That being said, it has become a somewhat divisive release, as there are always critics of the expression. Personally, I've enjoyed all of them I've tasted, though some were great and some were just "good." The 2018 expression is the highest proof to date- 101º. It is 12 years old.
In addition to the higher proof, the 120 barrels chosen experienced an unusual amount of evaporation, with the total yield being only about 39% on average from the barrels. Five of the 120 were completely empty. There were a total of 2,400 cases shipped and a suggested retail price of $99.99.
From Brown-Forman:
The 2018 Old Forester Birthday Bourbon was drawn from 12 year old barrels from different warehouses and floors. A total of 120 barrels; 93 barrels matured together on the 3rd floor, on the Northwest side of Warehouse J. The remaining 27 barrels matured together on the 3rd floor, on the Northwest side of Warehouse I.
Barreled on June 9, 2006 – Old Forester Birthday Bourbon 2018 is presented at 101 Proof. This is the first Birthday Bourbon vintage to be bottled at the new Old Forester Distilling Co. on Louisville's Historic Whiskey Row.
Note: A sample was provided to ModernThirst by Brown-Foreman with no strings attached. The thoughts and opinions in this review are our own.
2018 Old Forester Birthday Bourbon Stats
Age: 12 years
ABV: 50.5% (101º)
Price: $99.99
Availability: Rare
Mash Bill: 72% corn, 18% rye, 10% Malted Barley
Barrel Entry Proof: 125
Barrel Char Level: #4
Appearance
Deep Mahogany Brown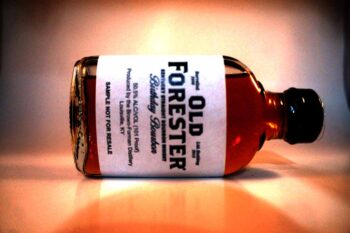 Nose
Bananas jump out of the Glencairn which I found surprising for an Old Forester iteration. Behind that, I got strong notes of bubblegum and circus peanuts. It is followed by slight oak and faint sweet fruits.
Flavor
Heavy oak hits the front of the palate, belying the milder hints of it on the nose. Behind that, it takes some time for additional flavors to develop on the rear palate, but some spiciness does come through along with warm baked wheat bread. I found it a bit lacking in depth behind the initial rush of oak.
Finish
Chocolate and powdered unsweetened cocoa mark the front end of this medium-dry finish. As it dissipates, there are notes of oak, pepper, and light fruitiness like sharp red cherries.
Synopsis
Honestly, this one doesn't do it for me. I've enjoyed all the previous bottlings, as I noted before, but this is very thin on the palate and a bit one-dimensional. I kept searching for the bananas and other notes from the nose, but couldn't find them on the palate,and that is disappointing. We've seen with King of Kentucky and Old Forester 1920 recently that the Old Forester mash bill has enormous potential as full-flavored sipping bourbon, but I don't get that in this release. I supposed it's fine, as in it certainly doesn't offend. And at $99.99, it's not a $250+ mortgage-straining limited release, but having tried other iterations of Old Forester, I think Brown-Foreman can do better.
ModernThrist.com Score: 86 out of 100.
2018 Birthday Bourbon
I've been a fan of OFBB for years, but this one falls a little short of what Old Forester is capable of being, especially considering other limited or regular releases of the Old Forester mash bill in recent years. It is too one-dimensional on the palate and lacks depth.