[amazon_link asins='B00H143UXW,B000AV16H0′ template='MT-product-carousel' store='modernthirstc-20′ marketplace='US' link_id='f923de2a-b5dc-11e8-812f-ff73ddd82ba8′]
What it is
We're already 11 days into Bourbon Heritage Month and this is my first bourbon review. My Apologies. I was away on vacation the first week and a half, but I'll try to make up for it with a two-fer today.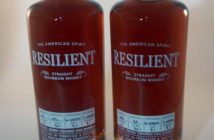 If you read our review on Resilient's Indiana Bourbon just a few weeks ago, you're already aware of this MGP-sourced bourbon bottled up and sold by BC Merchants out of Chicago. It was a really nice and well-aged single barrel bourbon made by one of my favorite producers, MGP.
Well the next phase of the Resilient Lineup is a series of barrels sourced from Tennessee, and luckily, we got two bottles to sample and review.
These are barrels 88 and 110. They are 14 year old Tennessee bourbon from a mash bill of 84% corn, 8% rye, and 8% malted barley, which if you're keeping score, likely makes this a Diageo whiskey (George Dickel). They were barreled in June of 2004 and bottled in July of 2018, both at 107 proof.
Resilient TN Bourbon Barrels #88 & 110 Stats
Producer: Resilient
Distiller: Diageo (likely)
Proof: 107º (53.5% ABV)
Age: 14 Years (Distilled 06/2004, bottled 07/2018)
Style: Single Barrel Straight Bourbon
Mash Bill: 84% corn, 8% Rye, 8% barley
Barrel #88, bottle # 084/128
Barrel #110, bottle # 50/145
Availability: Rare
Price Paid: SAMPLES
Bottled in Pembroke, KY (Likely MB Roland)
Appearance
Barrel 88: Medium Brown
Barrel 110: Same
Nose
Barrel 88: Oak, chocolate, slightly burned toasted bread, peanut butter and more heavy oak
Barrel 110: Vanilla, caramel, oak, peanut brittle, and mild coconut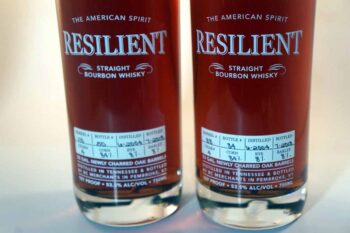 Taste
Barrel 88: Peanuts, peanut brittle, oak, strony oiled leather, and earthy soil
Barrel 110: Vanilla, cashews, oak, ripe red fruits, and hints of graham cracker.
Finish
Barrel 88: Long, bitter and tannic with burn nuts
Barrel 110: Medium with loads of cinnamon, vanilla, oak ,and baking spices.
Synopsis
This is the tale of two barrels, and is an excellent example of the difference between single barrel bottlings. Barrel 88 starts well but falls apart at the end, turning bitter on the rear of the palate and even more so into the finish. I didn't care for it the first time I tasted it, though the bitterness subsided slightly a week or so after opening the bottle. Barrel 110, however, was excellent from the start. It's sweet and tasty with the right balance and hits the right notes, and a week later still tastes just as pleasant.
ModernThirst.com scores:
Barrel #88: 85 out of 100
Barrel #110: 90 out of 100