A nice scotch to introduce to a bourbon drinker. It has a "Peaceful Easy Feeling" - a touch of bourbon sweetness from the rum casks. It won't let you down.
[amazon_link asins='B000AV16H0,B003QX2JMA' template='MT-product-carousel' store='modernthirstc-20′ marketplace='US' link_id='e5b867ac-ab24-11e8-b82d-3bb92de98420′]
MUSINGS
The third review in our six part series on The Balvenie Distillery is The Balvenie 14 Year Old Caribbean Cask. Jeremy and I have tasted and revisited all seven bottlings a few times individually and with our Proper Pour Whisk(e)y Club.  In our first Balvenie review we touched on two bottlings of The Balvenie DoubleWood 12-Year Old – a 2014 bottling that has been open for a few years and a newer 2017 bottling (an interesting comparison) and then we recently discussed The Balvenie 12-Year Old Single Barrel. The final three tastings will be The Balvenie 14-Year Old Peat Week (2002 Vintage), The Balvenie 14-Year Old Peat Week (2003 Vintage), and The Balvenie 15-Year Old Sherry Cask Single Barrel.
So, with the Eagles playing in the background I've "gotta peaceful easy feeling, and I know you want let me down"– let's jump into the review.
BACKGROUND ON THIS BOTTLE
 For a little background on this bottling from The Balvenie Distillery:
The Balvenie Caribbean Cask 14 year old single malt whisky has been matured in traditional oak whisky casks for 14 years, and then 'finished' in casks that previously held Caribbean rum.
To create the ideal finish Malt Master David C. Stewart MBE filled American oak casks with his own blend of select West Indian rums.
When he judged the casks to be ready, the rum was replaced with the 14 year old spirit and the wood was put to work adding the final touches.
The result is an exceptional single malt whisky with the traditional smooth, honeyed character of The Balvenie married with notes of toffee and a hint of fruit, with a warm, lingering finish.
STATS
THE BALVENIE 14 YEAR OLD CARIBBEAN CASK
Mash Bill: 100% malted barley
Casks:  ex-bourbon barrels, finished (unknown length) in West Indies rum casks
Age: 14 Years
ABV: 43% (86 proof)
Producer: The Balvenie Distillery
Price: $65-80
Availability: widely available
SCORING NOTES
Notes for Jeremy and I are annotated below by the identifiers (JR) or (WJ).
As always – the notes you see below were written and the bottle scored prior to any discussion by Jeremy and me of what we nosed, tasted, or felt overall, about the dram in consideration .
APPEARANCE
amber
NOSE
honey malt – similar to 12 Year DoubleWood with an additional layer of sweetness, light Karo syrup, vanilla (WJ); smells like an American malt, touch of pepper spice, some fruit, vanilla, biscuit, honey, maple syrup, cinnamon (JR)
PALATE
thin mouthfeel with almost an American Stranahan's malt note – especially the special release Snowflakes (some have rum influence), toffee, chewy caramel, slight cola note and some char, not as sweet on the taste as on the nose, slight vanilla, light molasses, not as spicy as standard Balvenie 12-Year but a slight touch at the end (WJ); a bit tart, but sugar comes through – brown sugar, molasses, some fruit and spice (JR)
FINISH
short finish – initially wrote medium, but the more I tasted the shorter in length it seemed, so I'll go with short to medium – drops it some in the ratings – wish it was longer for 14 years (WJ); medium-short, some spice emerges again (JR)
SYNOPSIS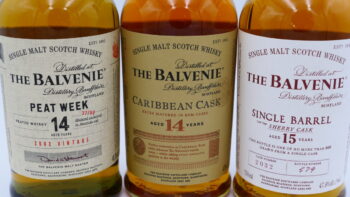 THE BALVENIE 14 YEAR CARIBBEAN CASK: A good intro scotch for those that like bourbon and a very reasonable dram overall. Almost a light bourbon note. Not a rush to go out and buy it type bottle, but interesting enough to try if you have the opportunity. The rum finish makes it just interesting enough to pique the curiosity. Much sweeter than the three 12-year old Balvenies reviewed (WJ); Pleasant, but not mind-blowing. Interesting with spice and maybe a bit too much sweetness (JR).
ModernThirst.com Score:  84 (combined); 86 (WJ) and 82 (JR)
WRAP-UP
Interestingly enough when our whiskey club sampled the six different Balvenie whiskies side-by-side this particular bottle came in at number 5 of the 6 tasted with an 84.5 overall average from six scorers [range of 78 to 91.5 – so quite a bit of variation on thoughts].  Until next time a little more from the Eagles – this time from Take It Easy:
Take it easy, take it easy
Don't let the sound of your own wheels drive you crazy
Lighten up while you still can
Don't even try to understand
Just find a place to make your stand
And take it easy
 
Take it easy with a nice scotch, bourbon, or scotch that has some bourbon-esque notes. And if you find yourself standin' on the corner in Winslow, Arizona lift a dram in honor of the great American John McCain who represented that great state for 35 years and served our great nation for so many more. Rest in peace, Senator McCain. Cheers.