2014 Old Forester Birthday Bourbon
2014 Birthday Bourbon is a fine whiskey, very well crafted and extremely well balanced, and I recommend sipping it neat.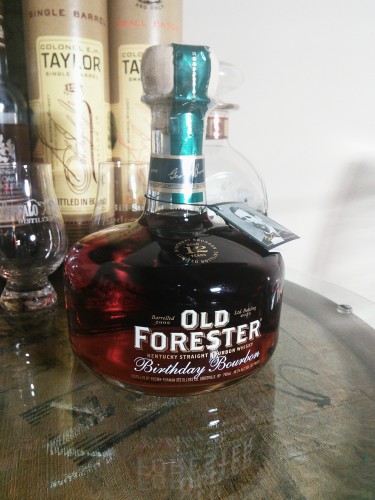 Stats:
Age: 12 Years
ABV: 48.5% (97 Proof)
Distilled by: Brown-Forman, Louisville, KY
Price: $60
Availability: Rare, Limited Annual Release
What it is:
Birthday Bourbon is limited release annual offering from Brown-Forman honoring the founder of the company, George Garvin Brown, and released each year on or around his birthday, September 2nd.  Though it's a small batch bottling, all the whiskey is selected from a single day of production and is bottled at 97 proof.  It is aged 12 years.
I unfortunately whiffed on getting a bottle of my own this year and figured I'd have to try a sip from someone else's bottle later, or buy a sip at a bar.  Much to my surprise and delight, a friend reached out and sent me a bottle as a gift for my birthday, November 18th.  Thanks, Justin!
Packaging:
Birthday Bourbon is a unique package.  it's squat, round, and sports and oversized cork with a ribbon seal.  It's very unique, and extremely attractive.  It's hard to miss a bottle of Birthday Bourbon on a liquor shelf.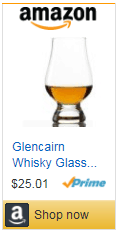 Appearance:
Deep amber, very dark and luscious.
Aroma:
Wow!  Huge nose on this one starting with a combination of brown sugar, graham cracker, and vanilla.  It's followed by aged oak, but not overly woody.  This one jumped out of the glass and enveloped the senses before I even took a sip.
Taste: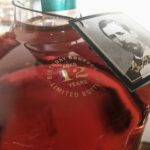 This is a well rounded sipper.  It begins with a dash of cinnamon and sweet vanilla, but quickly gives way to gingerbread and vanilla.  It seems to coat the tongue in a way more similar to a wheated bourbon, and combined with the aroma, reminds me of the Parker's Heritage Wheat Whiskey in its sweet decadence, though this brings a lot more peppery spice to the table.  It winds down towards the back of the mouth with a hint of tannins.
Finish:
The finish leaves just a touch to be desired.  It's on the short side.  The sweet gingerbread lingers a short while in the mouth, and eventually dissipates into tannins and oak, which are quite pronounced by the end, but never overwhelming.
Synopsis:
This is a flavor bomb.  There are quite a few layers of tastes in this year's Birthday Bourbon, each one very strong and bold in profile.  But master distiller Chris Morris has done an excellent job keeping each one in harmony with each other.  They compliment each other very well, never overwhelming the senses and remaining in good balance throughout despite the concentration of each flavor.  It's a thoroughly enjoyable sip.  The 97 proof feels like the perfect expression of this whiskey as well, as it packs just enough punch to remind you what you're drinking, but not so much as to water the eyes.  I splashed this with water for a second pour, and found that it does bring out some extra vanilla and cocoa, but it suppresses some of the intense graham cracker and gingerbread character of this bourbon.  2014 Birthday Bourbon is a fine whiskey, very well crafted and extremely well balanced, and I recommend sipping it neat.
ModernThirst.com score: 90 out of 100 points.
---
The ModernThirst.com scoring system is a standard 100 point system based on 4 categories, taken in order.

Appearance: 15 points
Nose: 25 Points
Palate/Taste: 35 Points
Finish: 25 points

95+        Epic
90-94     Excellent, Good representative of its style
85-89     Solid sipper
80-84     Drinkable, but potentially flawed.
75-79     Low quality, flawed, use as a mixer only
<75        Rot Gut, avoid