BACKGROUND
Today I am going to step back from writing a single whiskey review and instead share about a whiskey endeavor that Jeremy and I set out upon a few years back.  We both really like whiskey – we enjoy nosing it, and tasting it, all the while relaxing in conversation.  We like the differing opinions, tasting notes, and perceptions concerning the drams we encounter.  I, personally, truly enjoy visiting distilleries and seeing first-hand the process involved in turning the various grains into liquid gold.  That enjoyment has taken me to 18 different distilleries over the past few years.  This passion also led us to create a way to engage on the subject of whiskey on a regular basis.
In July 2014, Jeremy and I, along with another friend, got together and discussed the idea of creating a whiskey club to sample and score all types of whiskies.  We did not have a name at the time, but over the course of a couple months we settled on the Proper Pour Whisk(e)y Club.  Since that July, over three years ago, we have met 32 times (goal of monthly meetings) and tasted 167 different whiskies.  We have had ten different members rotate through with a core group of six consistent tasters (and when we add a new member – that addition must taste and rate 25 whiskies before their scores count as part of the calculations).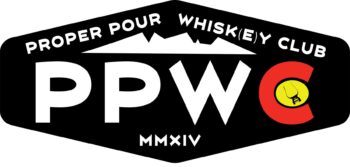 I'm writing this now, because just recently we passed the milestone of tasting our 150th different whiskey.  I felt crossing that threshold would be a good time to write about our whiskey club process – using that tasting event as a sample of our group's enjoyment of the water of life
OUR PROCESS
First, we had to come up with a tasting regimen and scoring system.  For the scoring system, we decided to use a 100-point scale (maybe because the founders were all teachers – and that made a lot of sense to us). Additionally, we were also familiar with Jim Murray's method and decided to adopt the 25- point scale he uses for each of four rated areas:  nose, taste, finish, and balance.  So, after deciding the 100-point scale – we needed to settle on how much whiskey could we reasonably taste and discern during an evening? We typically meet for four hours on a weekend night once a month.
Nine whiskies with .5 ounce pours broken into 3 groups of three is where we ultimately landed.  And for those doing the math that equates to approximately three equivalent drinks over what is typically a minimum of four-hour meeting (we now even have a BACtrack breathalyzer to make sure that each person that does not have a ride is well within limits to depart when the evening is over).  Safety first.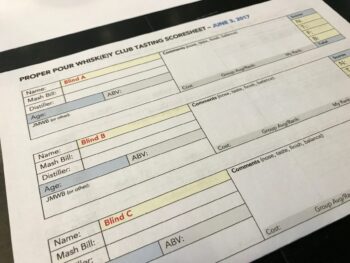 In the breaks between the three rounds we have some appropriate snacks to help cleanse the palate and usually watch some type of related whiskey review or even educational type video on whiskey. When the whiskies we taste are known (not in a blind format) – the videos, many times, will be various reviews from other whiskey sites to see how we compare on notes and ratings.  We have also scheduled our tastings during major boxing events, football games, etc. to add to the evening's festivities.
Every whiskey that we rate is ultimately tasted at least two different times – on most occasions known for the first tasting and blind for a second round.  For each whiskey tasted, at the end of an evening it is poured into a four ounce French Square blind bottle and labeled with the contents.  The label is constructed and annotated in such a way so the only thing visible is whether the whiskey is an "A" for American or "O" for any other non-American whiskey.  We do not separate out by designated style, for example bourbon, rye, Scotch, or Irish – nor do we indicate whether the whiskey is finished in a special cask or not.  All blinds are stored in sturdy plastic container, away from sunlight, until a sample is randomly generated from the blind pool for a tasting evening.  Some whiskies will go a year or more before being tasted blind and we have also had a whiskey tasted known one month come up as a blind at the following month's meeting.
We vary the lineup for each tasting – depending on the evening it may be an American bourbon tasting or a finished Scotch offering, just to name a few examples.  We will sometimes have nine blinds for the tasting (all either American or Other – as described above).  And many times, we will do a combination of some known whiskies and some blind tastings.  We label our tastings single-blind if we know the possible bottles that we are tasting, but not the order of the tasting, and double-blind if nothing is known about the whiskey, other than if it is classified as American or Other.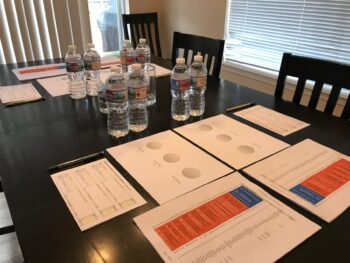 Personally, I really value the blind tastings – and as we have progressed over the years I lean more towards a single-blind for the first tasting of a whiskey, followed by a double-blind for the eventual second time it is scored.
After tasting a group of three whiskies – the group discusses the drams and then the individual scores in each of the four rated areas are entered into a spreadsheet that calculates the group average, the ranking of that whiskey as compared to the other nine for the evening and the rank of each whiskey for the individual group members.
REACHING BOTTLE #150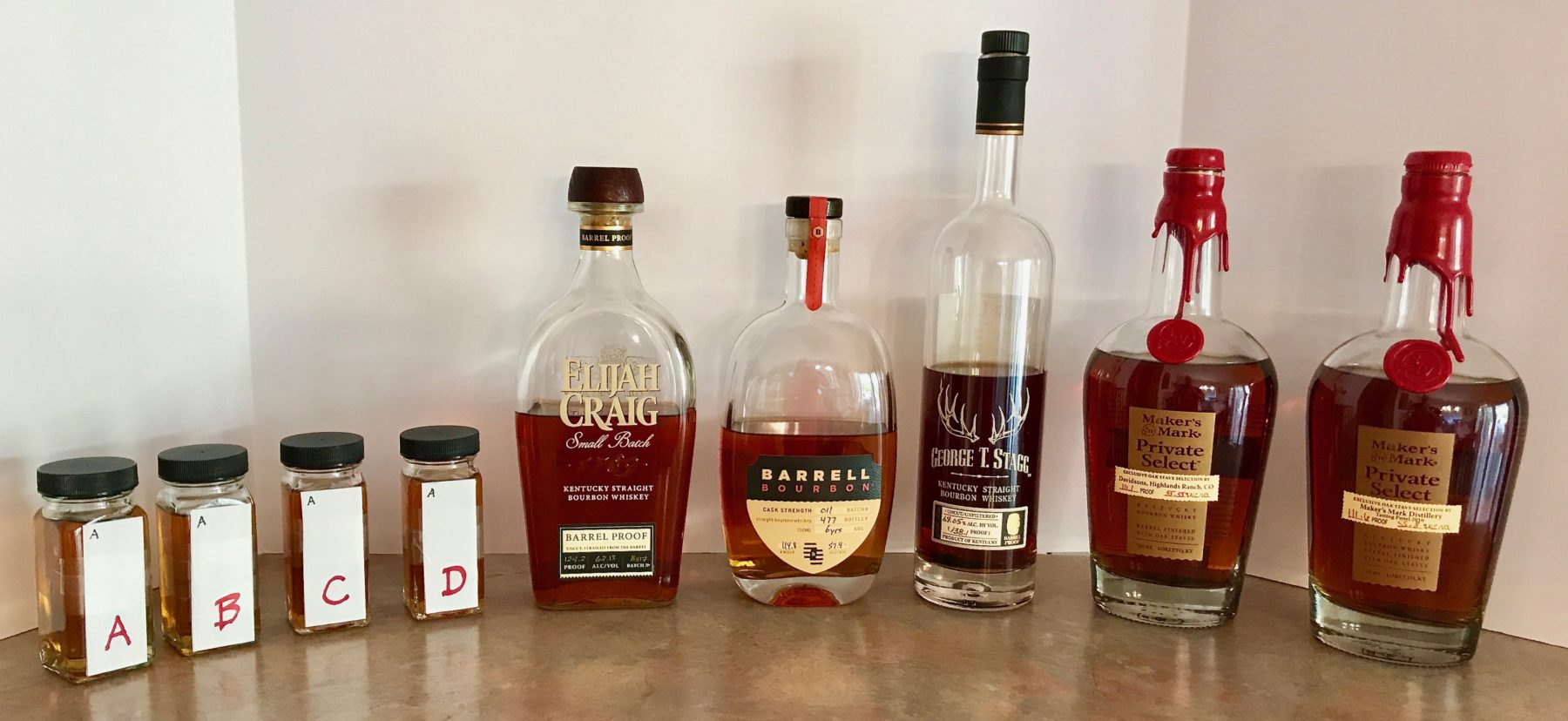 This summer we hit the 150th whiskey tasted milestone.  Our lineup for the evening was as follows:  Blind A, Blind B, Blind C, Blind D, Elijah Craig Barrel Proof B517, Barrell Bourbon Batch #11, George T. Stagg (2014 release), Maker's Mark Private Select – Davidsons Liquor Store selection, Maker's Mark Private Select – Tasting Panel 2016 selection from the distillery.  The nine whiskies were tasted in the order listed, broken up into groups of three – with the last five whiskies known for the evening, not blind, as the first four.  Jeremy and I, plus two other members from the club – that are very familiar with the whiskey industry from a production and appreciation standpoint participated for the evening.
As I mentioned before, the PPWC uses a 100-point scale just slightly different than the breakout used on ModernThirst.  Out of 167 whiskies tasted as of October we have given only two "A+" ratings and thirteen "A" ratings overall.  Of all the whiskies rated 49 of 167 have received an "A-" or higher – or right at 29% of what we have tasted as a group.
For this installment on ModernThirst I'm going to only include our letter grade designations for the whiskies tasted that evening instead of the specific numerical score.  But first, I need to provide our scale – which was developed as we got further into our process, as we saw how the whiskies were sorting themselves out on the numerical scale.  Only included C- and above below:
A+ = > 94%                  A = 92.0-93.9%            A- = 90.0-91.9%
B+ = 88.0-89.9%          B = 83.0-87.9%             B- = 80.0-82.9%
C+ = 78.0-79.9%          C = 73.0-77.9%            C- = 70.0-72.9%
RESULTS & WRAP-UP
Before I give you the overall results of the evening I'll let you know the four blinds:  Blind A = Buffalo Trace Experimental Collection 12-Year Old Bourbon from Floor #1, Blind B = Westland Garryana Single Malt (the first edition), Blind C = Knob Creek Rye, Blind D = Elmer T. Lee (again we did not know what these four whiskies were until the evening was done).
And the winner was:
1st        George T. Stagg (2014 release)                                  A+
2nd        Barrell Bourbon Batch #11                                         A
3rd        Elmer T. Lee (blind)                                                       A-
4th        Elijah Craig Barrel Proof – B517                                A-
tie        Buffalo Trace Exp Collection Floor 1 (blind)             A-
6th        Maker's Mark Private Select – Davidsons               A-
7th        Maker's Mark Private Select – Tasting Panel         B
8th        Westland Garryana (blind)                                          B-
9th        Knob Creek Rye (blind)                                               C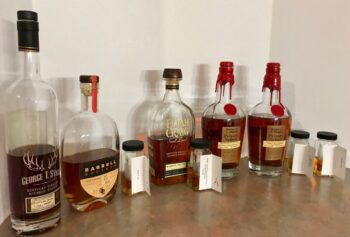 If you like this method and would like to know more specifics about how the club operates send me an e-mail ([email protected]).  Or if you'd like to see future write-ups on topics such as the clubs top-ten overall whiskies or our monthly winners make a comment on this write-up or send me an individual e-mail.  Thanks all – we appreciate you reading ModernThirst and enjoying the amazing world of whiskey with us.