[amazon_link asins='B003VAWA68,B00P553P1Q' template='MT-product-carousel' store='modernthirstc-20′ marketplace='US' link_id='68bdc29a-07bd-11e8-a526-03e5aea2fad6′]
Hello to the ModernThirst reader family!  I had a request to review some malt whisky so as my first article with the terrific team here, I'm reviewing a single malt Irish whisky.
History:
Today, we'll take a look together at a limited release from Knappogue Castle in the Emerald Isles.  Knappogue Castle created a limited release named Texas Barrel Select 12 Year Single Malt.  This whisky is stored in several different types of casks throughout its resting, but finished in a fresh white oak bourbon cask.  These casks should give potent, pungent flavor, and an exceptionally sweet finish.  Does it deliver on that though?
Before that we get to that, let's take a look at the background of this whisky and its producer Castle Brands.  Knappogue Castle Whisky is named after its namesake famous castle in County Clare, Ireland.  When founder Mark Andrews purchased and renovated the property, he ended up amassing a plethora of rare and historic single malt whiskys made locally.  Because of his new collection, he chose to focus on whisky distilled at the nearby legendary B. Daly distillery (now defunct).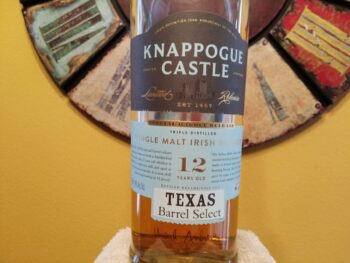 The current owner, also named Mark Andrews (his son), decided to keep this legacy alive.  To do that, he created a private label that is produced at the famed Bushmills distillery in Northern Ireland, UK.  In the tradition and steps of his father, they still do sell the rarest Irish whisky anywhere (allegedly), Knappogue Castle 1951.  The whisky that comprises this bottle was produced in the aforementioned B. Daly distillery.
Nose:  Chocolate malt candy, orange, brown sugar, oak, cherries, sherry, vanilla bean, and leather.
Sip:  Considering the 92 proof, it is very smooth, almost silken on the tongue.  There are notes of candied walnuts, chocolate, barley, caramel and vanilla from the oak barrel, and smoke.  Fruit and sherry round out the middle.  The legs are long, thick, and spindly, and this whisky finishes beautifully sweet.
ModernThirst.com score: 92 out of 100
Knappogue Castle Texas Barrel Select 12 Year Single Malt Whisky
A home run from Castle Brands. Sweet, smoky, and delicious, Knappogue Castle should be in the collection of any serious malt whisky fan.
Knappogue Texas Barrel Select 12 Year Single Malt Irish Whisky