SPEYBURN 10 YEAR OLD
A solid younger aged scotch. No glaring faults, but simultaneously, not a whisky to wow you either.  Good entry level scotch for both price and taste.  The George Thorogood and the Destroyers one scotch . . .
INTRODUCTION
After a brief break post-holiday season, Jeremy and I are back to bring you a new single malt review from Speyburn Distillery.  We've been looking forward to putting more of our whisky musings down in writing – so here is our first entry of 2018.  Before I go any further, however, I want to take a moment to thank you for spending your time reading one of our reviews – we know there are many places today to find out information about all things whisky.  That you would take the time to stop here is much appreciated.  Today, we have the Speyburn 10 Year Old release for you, but first, a little background.

DISTILLERY DESCRIPTION
In their promotional materials Speyburn Distillery describes itself as "nestled in a secluded Speyside glen, and [it]is the only distillery to draw on the pure waters of the Granty Burn, a tributary of the River Spey for the creation of its award-winning whisky. . . . Speyburn Speyside Single Malt Scotch Whisky was first distilled on December 15, 1897, the diamond jubilee year of Queen Victoria.  Today, Speyburn continues to use the time-honored tradition distillation methods that created the single barrel of the 1897 vintage. The portfolio includes Speyburn Bradan Orach, Speyburn 10 years old and Arranta Casks.  Additionally, just recently, Speyburn has released a 15 Year Old as the latest part of their lineup. The distillery describes their 10 Year Old product – taken from the tin packaging as: "a classic Speyside single malt; golden amber in colour with a floral and citrus nose.  It's medium-bodied and easy to drink with a delicate fruity character and a dry, complex finish."
Speyburn 10 Year Old Stats
Mash Bill:  100% malted barley
Casks:   matured in American oak ex-bourbon and ex-sherry casks
Age:  10-years old
ABV:  43% (86 proof)
Producer:  Speyburn Distillery
Price:  $25-35
Availability:  wide distribution globally
SCORING NOTES
Notes for Jeremy and I are annotated below by the identifiers (JR) or (WJ).  As always – the notes you see below were written and the bottle scored prior to any discussion by Jeremy and me of what we nosed, tasted, or felt overall, about the dram in consideration.
APPEARANCE
light golden straw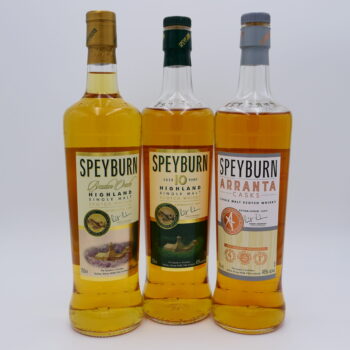 NOSE
pleasant honey sweetness, with a touch of tartness – lemon zest, crisp green apple, an overall brightness on the nose (WJ); citrus, green fruit, tart with a touch of sherry, not necessarily the dark fruits (JR)
PALATE
cereal note with honey malted sweetness (not as sweet as the nose would indicate), not a complex whisky in any sense, ever so slight nuttiness and slight pepper wood char on the end (WJ); grain, vegetal note with some fruit, a bit hotter than expected for proof (JR)
FINISH
short to medium at best in length, overall dry finish (WJ); medium, fruit, pepper, drying (JR)
SYNOPSIS
SPEYBURN 10 YEAR OLD:  A nice intro into highland scotch; not unpleasing in any way or a dram to avoid – great price point; a solid introductory whisky – maybe one to start off your friends new to scotch, or one good for mixing in a cocktail (WJ).  Solid!  At times shows its younger age, hot – green, etc., but a decent lower cost sipper overall (JR).
ModernThirst.com Score:  83.5 (combined); 82 (WJ) and 85 (JR)
WRAP-UP
I want one bourbon, one scotch, and one beer – George Thorogood and the Destroyers.  For me the Speyburn 10 Year Old would fill the need in the Thorogood version of the classic blues song written by Rudy Toombs; you're not bringing out your best bourbon, scotch, or beer in this scenario – but you want something that fits the bill at its basic in each of those categories. Amos Milburn's version in the 1950s notes – I got to find my baby if it takes all night long . . . one scotch, one bourbon, one beer.  Until next time, think about your bourbon, scotch, and beer line-up for when you got the blues, or – are just listening to the blues.  Cheers.
Disclosure: The sampled bottle of Speyburn 10 Year Old Highland Single Malt Scotch Whisky was graciously provided by Amy, representing Ten27 Communications on behalf of Speyburn Distillery.  ModernThirst.com appreciates their willingness to provide their products for review.  The contents of this review are our own, made without outside influence, or strings attached.