[amazon_link asins='B072HNRNGK,B01MZ278TN' template='MT-product-carousel' store='modernthirstc-20′ marketplace='US' link_id='a569d255-42a6-11e8-a8be-0b7c09fa1262′]
A FOCUSED TASTING
As I've shared in the past, I set out to create a whisk(e)y club almost four years ago.  Currently, in early 2018, the Proper Pour Whisk(e)y Club (PPWC) has tasted and scored right at 200 whiskies.  To find out more about the process for our club click here: https://modernthirst.com/2017/10/30/whiskey-club-tasting-milestone/  At some of our club meetings we choose a specific theme for the evening and awhile back we decided to sit down and compare nine different American Single Malts.  As the World Whiskies writer for ModernThirst, this category is of great interest to me due to the use of barley as the grain of choice instead of the primarily corn or rye mash bill used in the vast majority of American whiskies.  The category of American Single Malts continues to grow, but it is still a classification in search of identity in the U.S.
SEARCH FOR IDENTITY
 In 2016 the American Single Malt Whiskey Commission was established by like-minded distilleries seeking for a new definition for American Single Malt from the TTB (Alcohol and Tobacco Tax and Trade Bureau).  Currently, the TTB guidance describes "Malt Whisky" as:
Whisky produced at not exceeding 80% alcohol by volume (160 proof) from a fermented  mash of not less than 51 percent malted barley and stored at not more than 62.5% alcohol  by volume (125 proof) in charred new oak containers.
 And "Straight Malt Whisky" is defined as:
Malt whiskey stored in charred new oak containers for 2 years or more. 'Straight Malt Whisky' may includemixtures of two or more straight malt whiskies provided all of the whiskies are produced in the same state.
 Currently the American Single Malt Whiskey Commission is made up of 85 different distilleries across the U.S. (including 8 in Colorado – my home state).  The group's mission statement is "to establish, promote and protect the category of American Single Malt Whiskey."  Their goal – to create a new standard of identity for American Single Malt Whiskey.  The proposed standard states that single malt whiskey must be:
Made from 100% malted barley
Distilled entirely at one distillery
Mashed, distilled and matured in the United States of America
Matured in oak casks of a capacity not exceeding 700 liters (nearly 185 gallons)
Distilled to no more than 160 (U.S) proof (80% alcohol by volume)
Bottled at 80 (U.S.) proof or more (40% alcohol by volume)
One key element in the new proposal is no requirement for new oak casks which is currently required for "malt whisky" and for all bourbon, rye, and wheat whiskies in the TTB guidance.
I, for one, applaud the efforts of the commission and the clarification sought in the "malt whisky" category in the U.S.  Not sure of the traction such a change will get in the current climate in Washington, D.C, but hopefully, one day, we will have a new definition for this growing, creative American category.
 MANY NEW CHOICES
Growth within the American Single Malt category continues to climb, especially in the smaller craft segment.  Even the mega-distillery Heaven Hill, a couple years back, released an 8-year old Malt Whiskey as part of the Parker's Heritage limited release series (I have a bottle sitting on the shelf that I've not opened yet; and I know that this bottling led to widely varying views within the whiskey community). Personally, I've tried 20+ different American single malts in my whiskey journey so far and the PPWC has rated 19 different bottles.  To date, Stranahan's Snowflake Mt. Bierstadt release (Batch #16) from 2014 sits at the #7 whiskey tasted overall by the group (in both known and blind settings) with a 93.0 overall average rating (rounded to nearest half-point).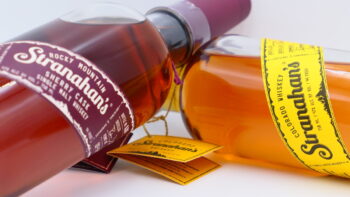 There are many different American distilleries out there with a malt whiskey release and I will not even attempt to list them all here – for our group tasting, we sampled 9 different whiskies from 8 different distilleries.  For me, and the group, currently the measuring stick in the American Single Malt category is Stranahan's Colorado Whiskey (the yellow label standard release).  The reason – Stranahan's has been tasted by the group on four different occasions (same bottling) both known and blind for sixteen different individual scoring opportunities and it comes in at a solid 91.5 overall average rating (rounded to the nearest half-point) putting it in the top 15% of the nearly 200 whiskies we've rated.
THE CHALLENGERS
For our tasting the following nine American Single Malt whiskies, grouped into flights of three, were tasted and scored, in this order, by the 5 participants for the evening:
Balcones Texas Single Malt
Deerhammer Single Malt
A.D. Laws Hordeum Straight Malt Whiskey
Westland Garryana (2016 edition 1/1)
McCarthy's Oregon Single Malt
Spirit Hound Straight Malt
Westland Sherry Wood         
Hillrock Single Malt Sherry Finished (OPX-10)
Cedar Ridge Single Malt finished in Port Cask


After tasting a group of three whiskies – the group discusses the drams and then the individual scores in each of the four rated areas (nose, taste, finish, and balance) are entered into a spreadsheet that calculates the group average, the ranking of that whiskey as compared to the other nine for the evening and the rank of each whiskey for the individual group members.
Due to the length of the review/post I'm going to break it up into two parts this time.  If you are curious about where the listed nine whiskies finished in the tasting check back tomorrow for the rest of the story.  Until then, if you have an American Single Malt on the shelf – have a dram and reflect on this growing American category – and if you do not have a bottle (and I'd encourage a good American Single Malt be on every whiskey shelf) check them out the next time you are in your favorite local store and give one a try.
Until tomorrow – thanks for reading.  Cheers!