Jefferson's Chef's Collaboration
It's an improvement from the last batch we reviewed, but it still feels like more style than substance. Bouryes themselves are gimmicky, so that should come as no surprise.
[amazon_link asins='B01N5HU3CP,B0725C15JD' template='MT-product-carousel' store='modernthirstc-20′ marketplace='US' link_id='0970843c-4247-11e8-882c-2b3dbed4a8fe']
What it is
Chef's Collaboration was born as an idea between Jefferson's Master blender Trey Zoeller and celebrity chef Edward Lee. Now, I'm a big fan of Edward Lee, and thus I am always keen to check in on what he has been up to- particularly as he has become a bit of a fan of bourbon and whiskey in recent years.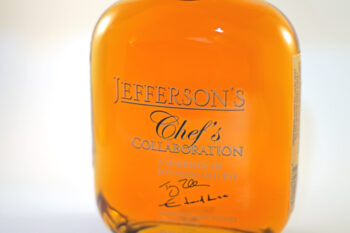 In this case,  Chef's Collaboration was intended to produce a whiskey bold enough and yet still sweet enough to stand up to Edward Lee's spicy korean-influenced dishes. The two began trying all sorts of blends of bourbon and rye, and Chef's Collaboration was born. We first reviewed Chef's Collaboration in 2015. While It had potential, I felt it fell short of what it could and should have been, lacking a lot of body and almost devoid of bourbon sweetness.
How did the 2018 release stand up?
Stats:
Batch 1
Bottle 05604
Proof: 90º
Style: Bourbon and Rye blend (Bourye)
Appearance
Medium amber trending towards golden straw
Nose
Black Licorice, oak, currant, rye pepper spices
Taste
Vanilla, Dark Fruit, oak, cinnamon
Finish
Long, sweet at the start fading into black pepper spice with plenty of oak
Synopsis
Like most Bouryes, this didn't blow me away. But it's a lot better to sip than the previous release we reviewed back in 2015. In fact, it seems to be a much better representation of what Trey and Edward were going for- a combination of sweet and spicy primarily setup to pair with spicy Asian food. I suppose my real complaint is that mixing bourbon and rye is a gimmick. A high rye bourbon or a particularly sweet rye whiskey can accomplish this with a much more focused presentation and a better overall experience on its own. Like the previous release, this isn't really a whiskey that, sipped neat, grabs your attention. It's certainly better, but it's still superfluous.
ModernThirst.com Score: 86 out of 100