Hello all!  Today we'll be looking at one of three products from a craft distillery in the great white north of the US, Grand Traverse Distillery.  Rather than have me discuss the history and back-story of this purveyor of all things craft spirits, let's let them do it for us.
History:
"When Kent Rabish was merely a boy he and his siblings uncovered a still hidden in the back of the barn on the family farm. Turns out, Grandfather George Rabish was a man who wasted not, as excess grain and corn from the fields found a use in one way or another.
It wasn't until the early 2000's that Kent revisited this familial tradition with the forming of Grand Traverse Distillery, and in 2007 had products on the market. The concept has always been the same, create an exceptional locally-sourced spirit and waste not. While some may cut corners, and some sacrifice integrities for margins, Kent has stood firm as a proponent for true craft distilling, down to the grain.
Kent was a pioneer in jumpstarting Michigan's craft spirit industry, resurrecting the legal micro-distillery for the first time since prohibition. Over a decade later Grand Traverse Distillery continues to produce top-tier spirits from grains grown down the road. His son Landis has risen through the ranks to Head Distiller and the father and son maintain a talented and lean team of distillery professionals. The spirits that come out of Grand Traverse Distillery are truly handcrafted."
Now on to the whiskey!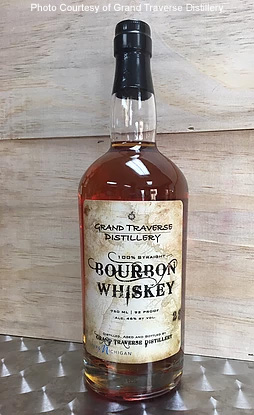 Review:
The nose has hints of pecan, bananas, cloves, nutmeg, white pepper, toffee, caramel, and orange.  The legs of the whiskey are long, pronounced, and stick around for a long while.  The flavor has all of the aforementioned notes, but also adding some roasted corn, smoky oak, and a malt chocolate candy-esque finish.  Being that this is a "high-rye" mash bill with 60% corn, 30% rye, and 10% malted barley, these are some expected characteristics.  What is not expected is how very good and matured this whiskey is.  At three years old and 92 proof, it is so good in fact, this has catapulted itself into my favorite whiskeys of 2018 so far (perhaps even of all time).  This whiskey deserves a place in any bourbon connoisseur's collection if you are able to find it locally.   It is truly exceptional.
Grand Traverse Bourbon Whiskey
If this is how Grand Traverse leads off this trifecta piece, they are going to do quite well indeed. A truly absolutely stunning bourbon.
Grand Traverse Bourbon Whiskey