David Nicholson 1843
A solid 100 proof wheated bourbon that, while not "cheap" per se, doesn't break the wallet. It serves as a good base line wheated bourbon.
[amazon_link asins='B0725C15JD,B01N5HU3CP' template='MT-product-carousel' store='modernthirstc-20′ marketplace='US' link_id='947bd54a-43f2-11e8-a20b-6916183bcb36′]
What it is
David Nicholson was a St. Louis grocer who, in 1843, began distilling or rectifying whiskey in his grocery store for sale to his customers. By the turn of the century, the whiskey was owned and produced at the famed Stitzel-Weller distillery in Shively, KY, original home of Weller, Pappy Van Winkle, Old Fitzgerald, and others. Like those whiskeys, Nicholson 1843 is a wheated recipe bourbon. It is not age stated, and is bottled at 100 proof.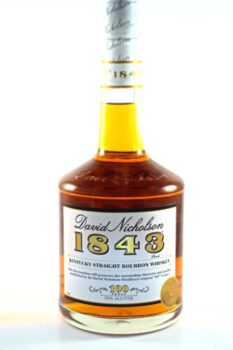 I have particular interest in this whiskey because of a couple factors. If you've read our blog often, you know one of my daily go-to bourbons was Old Fitzgerald Bottled in Bond. In an effort to re-launch that brand, Heaven Hill eliminated the 4 year old 100 proof variant sold in and around Kentucky in favor of releasing an older version as a limited release product. So I'm in the market for a replacement go-to wheated bourbon. Second, if you're a ModernThirst regular, you'll have read that the bulk, if not all, of Luxco's bourbons have been sourced to-date from Heaven Hill… distiller of Old Fitzgerald. So that means that if I'm looking for a 100 proof 4 year old wheated bourbon from Heaven Hill…this is probably the closest I'll come. The down side if the flavor profiles are close? Unlike the $13 Old Fitz Bonded I was accustomed to buying, this one is $30.
David Nicholson 1843 Stats
Producer: Luxco
Distiller: Not stated
Proof: 100 (50% ABV)
Age: Not Stated
Availability: Available
Price Paid: $30
Appearance
Medium Dark Brown
Nose
Oak and cinnamon are prevalent, with hints of fruit cake, vanilla, and chocolate brownies.
Taste
Viscous and mouth-coating, there is plenty of  oak, spice, and more chocolate cake along with gingerbread cookie on the rear palate.
Finish
Fairly long, with spicy oak that turns slightly tannic as it fades.
Synopsis
This is really similar to Old Fitz Bottled in Bond. There is a touch more chocolate, and the oak is slightly more bitter than in the Old Fitz but it's a very similar flavor. It's close enough that most wouldn't even notice a significant difference… except in the wallet, as this is nearly 3 times the cost of OF100. I tried adding water, and that brought out a lot more cinnamon, but it also increased the tannic bitterness of the oak on the finish. So I recommend not adding ice or water.
ModernThirst.com Score: 86 out of 100 points.