*A Sample of this whiskey was provided to ModernThirst by the producer with no strings attached. The opinions herein are our own.*
What it is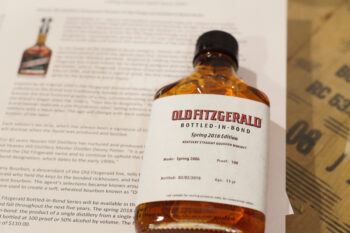 Sometime in late 2017, the longtime stalwart of my daily drinking shelf, Old FItzgerald Bottled in Bond disappeared from local shelves. There have been rumours for years that Heaven Hill was going to discontinue the Old FItzgerald line in favor of Larceny, a higher-priced bottling of the same distillate. But Old Fitzgerald Prime and Old Fitzgerald Bonded seemed to hang around the Kentucky area with a small, but devoted following. Then it was gone.
Shortly thereafter, Heaven Hill announced that they would re-release Old Fitz Bonded as a much older, limited edition whiskey in a 1950s inspired artistic decanter. The first release is 11 years old, 100 proof, of course, and retails for $110. Like all the Old Fitz and Larceny lineup, this is a wheated bourbon.
Dammit. Another daily drinker bites the dust.
Because I've been such a regular drinker of the standard offering of Old Fitz Bonded, I decided to have a sip of the old non aged stated Standard OFBIB version (it is at least 4 years old) on hand for comparison.
From Heaven Hill:
Comprised of barrels produced from February through May of 2006 and bottled in April of 2018 the first release ushers in the latest hallmark series to the bottled-in-bond legacy. Acquired in 1999 by Heaven Hill, the Old Fitzgerald line is well-known for its distilling pedigree and intriguing story behind its namesake, John E. Fitzgerald. The line will be bottled in an ornate decanter that reflects the traditions of both the Old Fitzgerald lineage and the bottled-in-bond designation
Appearance
Dark, but less cloudy than the standard OFBIB.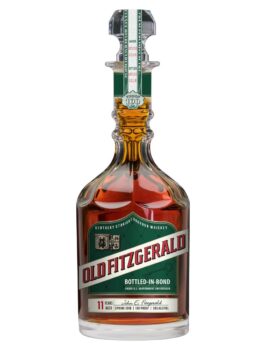 Nose
There is a nutty characteristic to this, but it's light and faint, skewing towards cashews or roasted almonds. It is followed up by a nice spicy note that reminds me of cinnamon and clove. Behind that is a smooth, well-balanced oak. The Standard OFBIB was different. A heavy peanut butter scent dominates that with notes of simple syrup and a much stronger oak forward profile. It is less balanced than the new release.
Taste
Immediately, the tongue is greeted by light vanilla and a slight hint of caramel, which is followed up by medium oak. The tail end of the tasting brings out some traditional circus peanut notes I've always found in Heaven Hill wheaters. The old Standard OFBIB is not altogether dissimilar, with a much heavier dose of oily barrel tannins and oak on the mid palate.
Finish
Short and sweet, there isn't a ton going on with the finish past a slight pop of oak and tannins, and a hint of bubblegum that fades into powdered cocoa and cinnamon. Contrarily, the old standard OFBIB was a medium to long finish with heavy oak and spice, but little of the sweet bubblegum or simple syrup.
Synopsis
I came into this tasting expecting to love it. Such is the difficulty when you know what you're tasting beforehand. But I can't say I loved it. It's not remarkably better, or even all THAT different than the old standard version. Call it a more refined presentation. But at $110, it's roughly $95 more than the old OFBIB, and it's frankly not worth that premium by comparison. Granted, it will come in a cool decanter, and the old OFBIB standard version is no longer available, so those who weren't in its small distribution footprint won't have that comparison to worry about.
It's good, especially if you like Heaven Hill and their wheaters. But I'm not sure there's even enough value proposition here to support that price as anything more than a collectible over the 6-9 year old Larceny. As a Limited Edition, I'd rather have seen a barrel proof variant that really would have stood out. But there are rumblings that a barrel proof Larceny may be in the works, so who knows?
ModernThirst.com Score: 88 out of 100
Old Fitzgerald Bottled in Bond Spring 2018
It's a fine bourbon in a really cool package, but the value proposition over the now-discontinued standard bottled in bond version or even the more readily available Larceny may not be there for most buyers.