Wyoming Whiskey Small Batch Bourbon
Sophisticated and sweet, this bourbon has enough traditional flavors to compete with the big brands, and is unique enough to stand on its own.
[amazon_link asins='B078KF6BPN,B00JG4XC10′ template='MT-product-carousel' store='modernthirstc-20′ marketplace='US' link_id='8fc44fbe-53ea-11e8-aedc-550e7417d393′]
What it is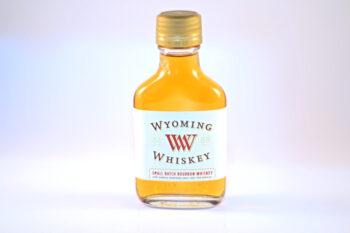 From the producer:
A company founded and operated out of Kirby, Wyoming by 4th generation cattle ranchers, Wyoming Whiskey  offers traditional bourbon from an untraditional place.  It is made using classic bourbon distilling methods with non-GMO ingredients sourced exclusively from the Big Horn Basin in central Wyoming. Hand-selected corn, wheat and barley are all grown locally in Kirby, Byron, Thermopolis and Riverton. Water for the recipe is sourced from a mile-deep, limestone aquifer that hasn't seen the light of day in over 6,000 years. Our head distiller is 28-year-old Sam Mead, 5th generation Wyomingite and son of the founders. Wyoming Whiskey bourbon is as authentic and as American West as it gets.

Our flagship product is our Small Batch Bourbon. It is medium amber in color with a nose of sweet corn, molasses, and clove.  It is medium bodied with a palate of vanilla, caramel, charred oak, and a hint of citrus.  The finish is mild with lingering caramel and toast, and is very smooth. MSRP $39
Wyoming Whiskey's Straight Bourbon is 88 proof, and not age stated.
Appearance
Medium amber-brown.
Nose
Lots of vanilla on the nose with caramel and creme brulee notes. There is a definite note of rye spice, though it skews towards the citrus rather than the peppery spice.
Taste
Sweet corn and vanilla greet the tip of the tongue, but a rush of peppery citrus stakes a path down the center palate. There are hints of buttered toast on the periphery.
Finish
Quite viscous on the tongue, this is a medium length finish that starts with a slight bitterness at first that one would think leads to a high rye content. It fades to a fruity ending that hints of lemon zest, candied oranges, and sugared gum drops.
Synopsis
So I generally cringe when smaller or craft distillers tackle a traditional bourbon and try to compete with the large, long established producers from Kentucky and elsewhere. Here's an instance where that prejudice is stripped bare before me, and I'm shown the error of my ways. This is a very sophisticated bourbon with enough traditional flavors to compete with the big names, and yet is unique enough to stand on its own. This is imminently enjoyable and well worth the retail price. Sip it neat, as at 88 proof it's not powerful enough to stand up to a lot of water or ice, and enjoy.
ModernThirst.com Score: 89 out of 100
A sample of this whiskey was sent to ModernThirst with no strings attached. The opinions in this article are our own.