[amazon_link asins='B00JG4XC10,B07794BDKD' template='MT-product-carousel' store='modernthirstc-20′ marketplace='US' link_id='a36ee436-545f-11e8-bf6a-57a196d82f25′]
Just shut up and take my money, MGP.
Seriously.
MGP Ingredients in Lawrenceburg, IN, is releasing a new proprietary series of Rye Whiskeys. Yeah, MGP is everywhere. They are the source of so many rye and bourbon labels out there it's becoming hard to keep track. You want to know why that is? It's a closely held secret. It's because they make really good stuff.
MGP recently released their own bourbon under the George Remus name, and the Remus Repeal Reserve was an outstanding expression of a blend of their standard bourbon and high rye bourbon mash bills. I loved it. But MGP is really known for their rye whiskey. And to now, we only got it via those who sourced it. Usually, it's proofed down to 45% ABV (90°) or so, and we never know how well it has been aged or how long. And on top of that, if the expression is barrel proof or particularly good, it's really pricey.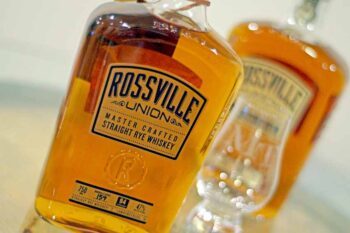 In steps Rossville Union. Named for the original 1847 distillery on the MGP site in Lawrenceburg, the standard straight rye clocks in at 94 proof, and the big boy, Rossville Union Barrel Proof, at 112.6 proof.
With respective retail prices of $39.99 and $69.99, these are right up my alley. If they're as easy to get as Remus Repeal Reserve, I'm all in. So here's my money, MGP. All of it. Take it. Give me this whiskey.
(ModernThirst did receive samples of both these bottles. Reviews are forthcoming.)
Press Release:
MGP Ingredients Launches Rossville Union Master Crafted Straight Rye Whiskey, Adding to the Company's Branded Portfolio
– Available in two expressions, Master Crafted and Barrel Proof Straight Rye Whiskeys showcase generations of expertise and bold character from the historic distillery in Lawrenceburg, Indiana –
May 9, 2018 (Lawrenceburg, IN) – MGP Ingredients is proud to announce the launch of Rossville Union, their first proprietary Rye Whiskey label. Named after the founding distillery in Lawrenceburg, Rossville Union represents a historic return to the home of crafted rye whiskey and honors a spirited tradition that dates back more than 170 years in America's original "Whiskey City." Known as the "Masters of Rye," the expert distillery team in Lawrenceburg brings generations of craftsmanship, heritage and passion to the making of the highest quality rye whiskey.
"With Rossville Union we deliver two unique, perfectly-balanced rye whiskeys that shows our distilling and blending expertise and character – at its boldest," says Andrew Mansinne, Vice President of Brands, MGP Ingredients. "Rossville Union is crafted in the heart of rye whiskey country, in one of the most storied distilleries in the nation that has been in continuous production for almost two centuries."
Rossville Union is available in two expressions: Rossville Union Master Crafted Straight Rye Whiskey and Rossville Union Master Crafted Barrel Proof Straight Rye Whiskey. In keeping with the historic legacy of the brand, the bottle design is a flask shape molded in an apothecary style with the Rossville Union name and "1847" distillery-of-origin date embossed into the glass. Both products are expertly blended from the extensive barrel reserves at MGP Ingredients, a distinction which is cited on the label with the number of "barrels used" in each release, notably 159 for Master Crafted and 83 barrels for Barrel Proof.
Rossville Union Master Crafted Straight Rye Whiskey offers a balance of sweet oak with rye spice. Aged at least four years, this crafted rye delivers a sweet caramel nose, a fruit forward palate and a smoky, spicy body that finishes clean. At 94 proof, Rossville Union Master Crafted is perfect on the rocks or in cocktails. The singular craftsmanship of the Masters of Rye takes centerstage with Rossville Union Master Crafted Barrel Proof Straight Rye Whiskey. Drawn from 83 of the distillery's finest barrel reserves, Barrel Proof over-delivers with a spicy, vanilla nose, wood and caramel notes, and an exceptionally balanced oak and spice finish. Boldly bottled at 112.6 proof, Rossville Union Barrel Proof is a full, but balanced cask-strength rye whiskey experience, crafted to enjoy neat.