[amazon_link asins='B00JG4XC10,B07794BDKD' template='MT-product-carousel' store='modernthirstc-20′ marketplace='US' link_id='047066f6-5860-11e8-bb40-db9c7a2551ec']
They did it. MGP finally did it. After years of selling their rye whiskey to other producers who bottled it, sold it (much of it to me), and won awards with it, MGP has finally produced its own proprietary Rye Whiskey label. Shut up and take my money, MGP.
The name Rossville Union pays homage to the original distiller and distillery on the site of MGP, first built in 1847. Master Crafted is blended from 159 barrels of aged Rye and bottled at 94 proof, while the Barrel Proof is blended from 83 barrels and bottled at 112.6 proof. Bottles will be released in June of 2018 and be available in Colorado, Illinois, Indiana, Iowa, Kansas, Kentucky, Minnesota, Missouri, Nebraska, Ohio and Wisconsin. Master Crafted will retail for a suggested price of $39.99 while the Barrel Proof has an MSRP of $69.99.
For more specifics on each expression, see our previous announcement here.
Lucky for us, MGP sent us a bottle of each to taste and review.
Rossville Union Master Crafted
Color
Amber, trending more towards gold.
Nose
Black spicy pepper hits the nose first, but gives way to sweet candied gum drops, mostly orange, with tons of citrus zest.
Taste
Fruit, fruit, and then some more fruit. There are loads of maraschino cherry and sweet simple syrup along with raspberry and lemon drops followed up closely by dark plums and raisins.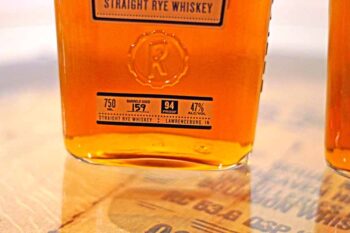 Finish
Medium-to-short, this is a dry finish with pleasant mild sice and oak, with a touch of lingering caramel.
ModernThirst Score: 91 out of 100 points.
---
Rossville Union Barrel Proof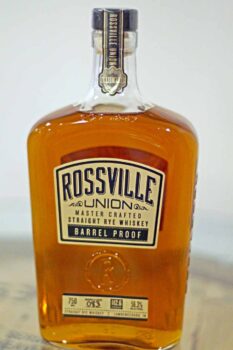 Appearance
Noticeably darker, but still short of brown. It is a deep mahogany-amber.
Nose
Spicy black pepper right off the bat that doesn't dissipate, followed up with cinnamon spice and clove with a hint of lemon zest.
Taste
The first sensation on the tongue is a smoky vanilla flavor on the outer palate. There is a current of oak and caramel with puckering barrel tannins down the center palate that gives way to lemon and orange notes on the rear of the tongue.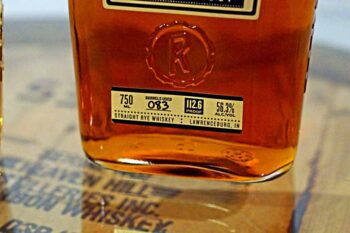 Finish
Also medium in length, this is a longer finish than the Master Crafted even though I expected longer from the higher proof. The oak and caramel remains through the finish with more barrel tannins and slight candied citrus.
ModernThirst.com Score: 90 out of 100
---
Synopsis
As expected, these bottles encapsulate what MGP does. They're very tasty whiskeys. What was not expected was how much more rounded and sweet the proofed -down version is compared to the Barrel Proof. It is one of the first times I can recollect that I think the proofed down version is actually better than the unadulterated cask strength release. Why that is, I cannot say. They were from different barrels, obviously, but the barrel-forward notes of the Barrel Proof overwhelm the sweet candied citrus and pepper that is the hallmark of MGP rye, whereas at 94 proof, they seem to pop even more than usual. Both are excellent, and both drink perfectly neat.