[amazon_link asins='B00JG4XC10,B01JL61KNE' template='MT-product-carousel' store='modernthirstc-20′ marketplace='US' link_id='efc5285c-5d5c-11e8-82d0-0b54bd0b0038′]
Disclaimer: ModernThirst was provided a sample of this whiskey by the producer. The opinions in this review are our own.
What it is
Epoch Rye is a rye whiskey produced by the Baltimore Whiskey company. This is the second release of Epoch rye, blended from a batch of 6 barrels. The mash bill is unique- 70% rye and 30% malted rye.
From the producer:
The mash bill of Epoch Rye consists of about 70% rye grain and 30% rye malt. Pot-distilled using old-world craftsmanship, this rye whiskey is the first rye to be produced within the city limits of Baltimore nearly since the Prohibition era. Our entire stock has been aging exclusively in 53-gallon new charred American Oak…
This is 2 years old, and bottled at 100 proof.
Appearance
Dark brown
Nose
Initially, the first notes are slightly ethanol in nature, pointing to a younger whiskey. But there are tons of citrus notes behind that, with candied fruit and light oak.
Taste
Spicy black pepper hits the tip of the tongue with a rush of rye and continues down the center palate. Sweet simple syrup and lemon zest round out the outer palate.
Finish
Spicy pepper lingers on the tongue with a heavy yeast-like finish reminding me a little of Jim Beam. Medium-to-long in length.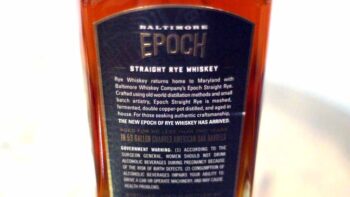 Synopsis
This is honestly a surprising product in that it is a drinkable, sophisticated whiskey from a producer I hadn't heard of before receiving this sample. Truthfully, it's a solid offering.
ModernThirst.com Score: 86 out of 100 Points.