[amazon_link asins='B01JL61KNE,B01H71B6NY' template='MT-product-carousel' store='modernthirstc-20′ marketplace='US' link_id='850c9ff9-70a2-11e8-922d-5fabd2282fb1′]
When you run a website with multiple writers living across the US, sometimes it's fun to arrange a joint exercise in tasting. Wes and Nick joined our team some time ago, and both have provided some great content to the site. But aside from the Bourbon Classic weekend in March of this year when Wes joined Matt and me in Louisville, I haven't yet found a way to really collaborate with the two of them. Until now.
I sent Wes and Nick three blind samples each labeled A, B, and C. The only information I provided was the general "type" of whiskey.
Sample A was Straight Bourbon
Sample B was Highland Single Malt Scotch
Sample C was Straight Bourbon
I asked each of them to taste the samples and write independent tasting notes and scores to see how well our palates meshed. Wes spent two nights with his samples. I tasted mine over the course of a few days. Since it was blind, neither knew the label or proof of the whiskey.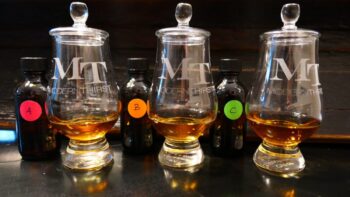 Here are the results:
Sample A
Jim Beam Distiller's Cut
100 Proof

unfiltered
5-6 years old
Appearance
Nick: Light brown to amber
Wes: golden amber; medium well-formed quick moving legs
Bill: Medium brown, more gold than amber
Nose
Nick: Heat, Basil, Cinnamon, banana
Wes: classic bourbon nose, caramel, brown sugar, molasses, touch of cinnamon (maybe some rye present), ever slight note of mint, a little floral element picked up on night 2 with the dram
Bill: vanilla, caramel, creamed corn, oak, candied orange, cinnamon
Taste
Nick: Brown sugar, roasted corn, apple
Wes: lot of sweetness initially – with caramel and a peppery spice note on the back end (not overwhelming but definitely a prickliness on the tongue)
Bill: Heavy vanilla, cinnamon, and oak with a viscous, oily mouthfeel
Finish
Nick: Molasses
Wes: short to medium at best (after a few tastes – leans more towards medium – confirmed on second evening – medium length), nothing real memorable here – touch of wood tannins at the end – with a slight charred toffee note as it fades
Bill: Short-to-medium, the oak spice and oily mouthfeel dissipate quickly into a yeasty, slightly tannic finish.
Score
Nick: 79
Wes: 81
Bill: 84
ModernThirst.com Score: 81.3
---
Sample B
Tomatin 1999 Private Barrel Pick (Liquor Barn)
Highland Single Malt Scotch
14+ years
finished 2 years in an Oloroso Sherry Cask
107.8 proof
Appearance
Nick: Honey gold
Wes: golden honey – since it is a scotch and coloring could be added it is always a challenge to pick out a lot from the color, if no coloring is added I'd guess some type of barrel finish is present; thin to medium slow moving viscous looking legs
Bill: Gold with definite amber tones
Nose
Nick: Roasted nut, cherry, toffee, apricot
Wes: definitely some sherry present on the nose, rich dried fruits, raisins, dates, an A'bundah-esque note, fruitcake richness, honey malt sweetness; really nice pleasant nose; as the world whiskies writer with a great appreciation of American bourbons and ryes – this one hits the spot on the nose tonight
Bill: Fudge and powered Cocoa, chocolate covered cherries, dark plums, boozy sherry
Taste
Nick: Roasted pecan praline, malt, cashew, almond, honey
Wes: viscous mouth coating liquid goodness, this has to have a sherry influence – it touches on all characteristics – rich dried fruits, figs, raisins, a touch of nuttiness, coming back to liquified fruitcake – some dark chocolate appears and a little spice, some hint of pipe tobacco; very nice whisky
Bill: Slightly woody, raspberry jelly donuts, cereal grains, dark plums, mild clove and cinnamon spice, slight nuttiness.
Finish
Nick: Hazelnut
Wes: the wood is present – mouth drying, but not overtly astringent; good medium – approaching long in length – mouth smacking good at the end (confirmed on night two)
Bill: long, grassy grains are followed up by more dark fruit, vanilla, and spice with a mildly tannic ending.
Scores
Nick: 86
Wes: 91
Bill: 90
ModernThirst.com Score: 89
---
Sample C
Evan Williams 1873
Straight Bourbon Whiskey
Not Age Stated
86 proof
Appearance
Nick: Medium brown to copper
Wes: light golden amber – nearly a twin in color to sample A that was provided, but slightly lighter in color; thicker slower moving legs on glass swirl
Bill: Medium Brown
Nose
Nick: Blackberry, orange, clove, pineapple, tobacco
Wes: a dry woody, musty barn note with caramel and vanilla punching through, some white pepper, a touch of flat cola
Bill: Warm corn, oak, vanilla, butterscotch
Taste
Nick: White pepper, maple, watermelon, strawberry
Wes: a bit thin on the initial palate, more character on the taste than the mouthfeel presents, a chewy caramel with a pleasant char note – a note that lingers and you can continue to get by pressing your tongue to the roof of your mouth – a fairly single note dram with a slight spice at the end, not unpleasant nor knock your socks off
Bill: oak forward with sweet corn and a swift rye kick. Vanilla and caramel are eased out by nuts (peanuts and cashews)
Finish
Nick: Licorice
Wes: medium, with a bit more staying power than sample A
Bill: medium. The rye spice lingers with hints of vanilla and freshly-sawed wood. Fades to a slight bitterness
Scores
Nick: 85
Wes: 84
Bill: 86
ModernThirst.com Score: 85
---
Synopsis
This was a lot of fun, and there was a lot more correlation between or scores and tasting notes than I would expect from a blind tasting. Other than me ranking Distiller's cut a bit higher than the other two, we weren't worlds apart. The Tomatin was the best of the three. Aside from being cask strength, it was the oldest of the three by a wide margin, and the sherry finish was a game changer. Wes said "this is a well-presented dram in its own right – I'd take a pour every night it was offered." Nick commented "A youthful, vibrant, yet nutty caramel bomb of a dessert whisky. Delicious and sweet, it's like the sherry-aged, angry cousin of Glen Morangie's Nectar D'or (or the sherry aging is my best guess because I definitely taste it)." For me, the overall expression came off as a poor man's Aberlour A'Bunadh, but only compered to some of the better batches of A'Bunadh. It's superior to some.
The Jim beam Distiller's cut surprised me. I'd read many positive write ups on it, and was hoping it might present itself a little better than it did. Nick's 79 was by far the lowest score of any rating. He said "Dry, thin legged, high octane bourbon with powerful, assertive flavors. Reminds me of Old Granddad 114, an assault on the senses." While I rated it slightly higher at 84, I was disappointed in the finish, which trended bitter and yeasty. And the oily mouthfeel (it is unfiltered) dissipates far too quickly. Wes felt it might work better as "maybe a warm-up for the better stuff."
The Evan Williams 1783 came off pretty much as expected. It's the small batch, slightly older version of the black label Evan Williams. It's inoffensive- as Wes said, "There's nothing off-putting here." Nick said it is "A flavorful, semi-sweet bourbon that does a lot right," while I felt the tell-tale oakiness of Heaven Hill doesn't do this too many favors, as the finish turns just a touch bitter.
So this is our first collaborative team review. Let us know if you'd like to see more of this format, and cheers!