[amazon_link asins='B07794BDKD,B003QX2JMA' template='MT-product-carousel' store='modernthirstc-20′ marketplace='US' link_id='3c88a79a-ce34-11e8-b61e-27f77e03c154′]
Press Release:
Louisville, Ky. (October 11, 2018) — Old Forester, America's First Bottled Bourbon, will release the fourth and final expression in the Whiskey Row Series this month: the double barreled, 1910 Old Fine Whisky.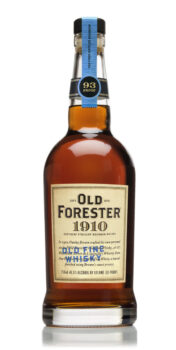 Like others in the series, 1910 Old Fine Whisky represents a specific point in Old Forester's nearly 150-year-old history. In October 1910, a fire caused the bottling line to be shut down for an indefinite period of time. Complicating matters, there was a vat of mature whisky waiting to be bottled. Otherwise facing ruin, this whisky was instead stored in new, charred oak containers to rest until the line could be repaired. The resulting product, the first documented double-barreled whisky, was both different from Old Forester and remarkable enough to become an entirely new expression – Very Old Fine Whiskey.
"There are often pieces of our brand's history that we happen upon by accident. Years ago, while searching through archives, we discovered a case of bourbon with a label I hadn't seen before. We uncovered that Very Old Fine Whisky not only carried a great story, but a previously unknown heritage of double-barreled expressions," said Chris Morris, Master Distiller, VP Whiskey Innovation, Brown-Forman.
Today, mimicking this historic bottling, this unique expression of Old Forester has undergone a second barreling in a lightly toasted, heavily charred barrel. Old Forester 1910 Old Fine Whisky is presented at 93 proof and will hit shelves nationally this October with a suggested retail price of $54.99 for a 750 ml.
"Mature Old Forester enters a second barrel at 100 proof, just as it did in 1910," said Old Forester Master Taster Jackie Zykan. "The second barrel is charred nearly to the point of incineration. This low entry proof allows more of the wood's sugars to be dissolved into the whiskey, resulting in a smooth, sweet whisky with a clean, spicy finish – yielding an exceptional character."
First launched in 2014, the Whiskey Row series tells the story of Old Forester's one-of-a-kind history, highlighting significant milestones and production innovations along the way. The series includes 1870 Original Batch, a small batch bourbon pulling from three distinct warehouses, meant to reference founder George Garvin Brown's original batching process; 1897 Bottled in Bond, a small batch of barrels from one distilling season, in the same year, aged in a federally bonded warehouse for a minimum of four years; and 1920 Prohibition Style, which represents a barrel strength of the prohibition era when Old Forester was granted one of just ten permits nationally to continue being sold as a medicinal whiskey.
Old Forester has endured nearly 150 years of uninterrupted history and has survived prohibition, world wars and changing consumer tastes," said Old Forester President Campbell Brown. "The Whiskey Row series is a great way for consumers to taste through Old Forester's unique 148-year history."
Sharing some of the stories that have kept this brand alive through five generations
Visitors can learn more about Old Forester's history at the newly opened Old Forester Distilling Co. Located in the building that Old Forester called home from 1882-1919, visitors follow the Bourbon making process in an immersive experience that leads them from fermentation and distillation, to the on-site cooperage where handcrafted barrels are raised and fired, then aged in an on-site maturation warehouse before bottling and shipment across the globe. Tours and tasting information can be found at OldForester.com.