[amazon_link asins='1640120858,1612345646′ template='MT-product-carousel' store='modernthirstc-20′ marketplace='US' link_id='dfe31c55-d3be-11e8-8943-07ce9890540d']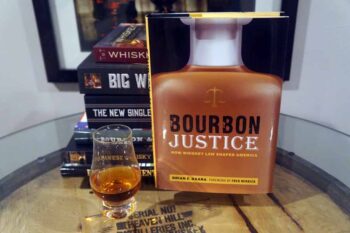 It seems there is indeed a "Season" for publishing books about bourbon, because ModernThirst has received quite a few requests for reviews of whiskey-themed writing of late. None of them have been as highly anticipated by us as Bourbon Justice: How Whiskey Law Shaped America, by Brian Haara (Foreword by Fred Minnick.) 
I was a long-time reader of Brian's Blog, Sipp'n Corn. And Brian and I connected at various whiskey events around the area over the past few years. Brian has a very unique perspective on bourbon. As a practicing attorney who has represented distilleries and brands in the industry before, his blog has approached the topic of whiskey from a variety of angles- most notably being the many legal tussles and disputes that shaped the industry as we know it today. He has always written about that on his blog, and this book takes it a step further.
It's exactly what I hoped it would be. It's a fast-paced romp through centuries of torts and lawsuits involving presidents, distillers, rectifiers, legal interlopers, and more. It like his blog on steroids. And that's a great thing.
There are countless books about bourbon and its history available from every outlet you can imagine. Frankly, it's not like they break new ground. If you've read books from Chuck Cowdery, Fred Minnick, and Michael Veach about the history of bourbon, well, you've pretty much got it. But certain books these days focus on the not-so-well documented aspects of the industry that are fresh and exciting. Those are books like Bourbon & Bullets, Whiskey Women, and now Bourbon Justice.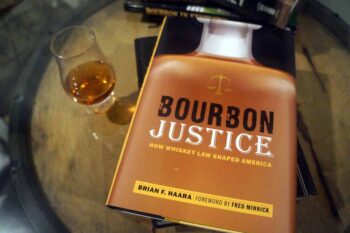 Bourbon Justice follows the growth of bourbon whiskey through the lawsuits that shaped it, but also conversely addresses how bourbon, one of America's first "branded" products, shaped American law. From the origin of "Brand Name" (it's bourbon related) to some of the nation's first consumer protection laws, bourbon was at the forefront of the development of numerous now-standard practices of the American legal system. This is not just another "Bourbon 101" book, it's for those who really crave knowledge about how bourbon "grew up" with America and is inexorably intertwined with our legal system today.
And like any good lawyer, Haara painstakingly cited every source he used to compile this text, and each is detailed in the appendix. Rest assured, this book is the authority on how bourbon law shaped America.
Highly recommended.
Bourbon Justice: How Whiskey Law Shaped America is available in hardback and Kindle editions from Amazon.com, among other outlets. Order your copy here: