INTRODUCTION 
Join with me for the next twenty-four days as we countdown to Christmas with the Drinks by the Dram Japanese Whisky Advent Calendar.  Each day will present a new whisky adventure ranging from Nikka Coffey Malt Whisky to hopefully the Hibiki 21 Year Old.  Check back every day for a brief review of each whisky tasted. I plan to give a quick overview of the nose, taste, finish, and general cost range, if I can find it, of the dram with an overall A, B, C type score. Since each sample is only an ounce, the letter grade system allows for a more generalized overview of the whisky.
The scoring scale:  A+= 95 and higher, A= 94-93, A-= 92-90, B+= 89-87, B= 86-83, B-= 82-80, C+= 79-77, C= 76-73,  and hopefully there will not be any whiskies at these levels, but just in case C-= 72-70, D= 69-60, F= 59 and lower
THE JAPANESE WHISKY ADVENT CALENDAR DAILY DRAM
DEC 1:  Nikka Coffey Malt     ABV: 45%.    Cost: $65-$80     Score:  lower B+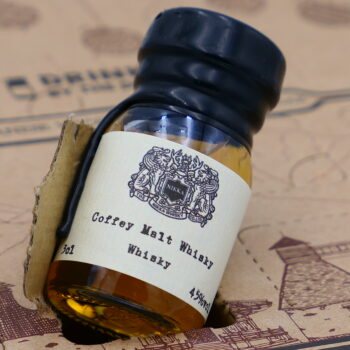 Nose:  very pleasant nose, rich honey sweetness, spun sugar, tropical fruits, lush
Taste:  touch of oak present at first, nice light tropical fruits remain, a toffee sweetness, some slight wood char and a dark chocolate coffee-esque end of palate
Finish: not as sweet as I remember the grain version, slight touch of bitterness at the end, the finish reduces the score slightly for me
Overall:  nice dram (as is the Coffey Grain variant), I like it (picked up a bottle)
---
DEC 2 – Nikka Taketsuru Pure Malt     43%     Cost = $60-$75     Score:  high B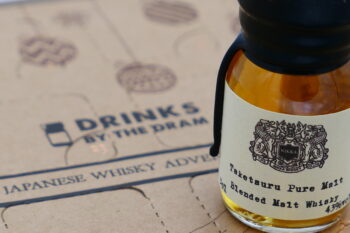 Nose:  honey maltiness, caramel green apple, touch of spice – nice
Taste:  toffee caramel spice, good mouthfeel, slight pepper oak char, apple skins, and slight coffee note at the end
Finish: medium finish on this blended malt from Nikka's distilleries at Yoichi and Miyagikyo; nicely balanced
Overall: a solid dram – I already have an unopened bottle on the shelf and this sample does not make me disappointed in that decision
---
DEC 3 – The Kurayoshi Pure Malt     43%     Cost = $60-$80     Score:  lower B
Nose:  sweet candy, vanilla, syrupy butter rum lifesavers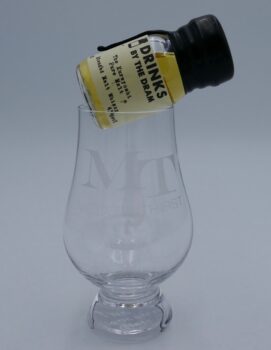 Taste:  different – a thick mouthfeel initially with the sweetness continuing, a dark sugar toffee note with raisins
Finish:  medium in length with some initial spice
Overall:  not a lot of information on this dram from the Matsui Shuzo Distillery; would have to visit with this one again in a bar maybe, before ever considering a purchase
---
DEC 4 – Hibiki Japanese Harmony     43%    Cost = $70-$85     Score: solid B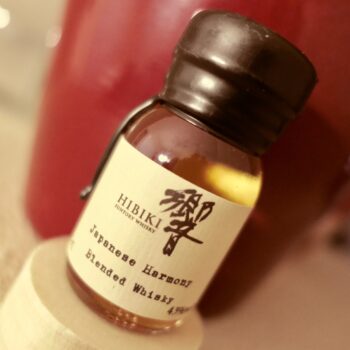 Nose:  floral, perfume, spun sugar sweetness, ripe plum, juicy fruit gum, and apricot
Taste:  tingly orange spice with a lingering charred toffee note, an oak wood resin element
Finish:  good medium length with a touch of astringency and some dark chocolate
Overall:  this NAS replaced the Hibiki 12-Year Old, which I liked better
---
DEC 5 – Nikka All Malt     40%    Cost = $35-$45    Score: B-
Nose:  dark caramel sugars, ripe fruit – some banana, vanilla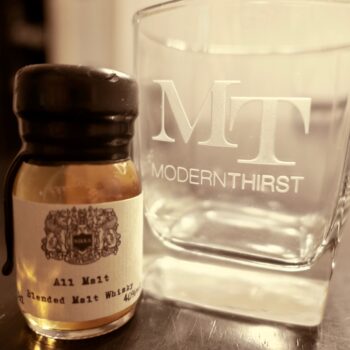 Taste:  touch of spice and toffee sweetness, red apple skins, some oak, leather – less sweetness than expected from the nose
Finish:  shorter finish, wood tannins
Overall:  an entry level Japanese whisky that is a blend of Coffey still grain whiskey and pot still malted barley made at Nikka's two major distilleries; I have not seen this on the shelf in any store in the U.S. so far – for the price not too bad, but would not be at the top of my list
---
DEC 6 – Hibiki 17 Year Old     43%    Cost = rare, difficult to price in U.S. $185+     Score:  low A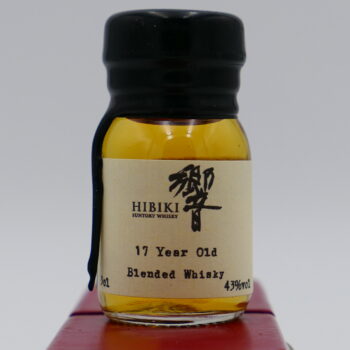 Nose:  rich honey malt, toffee brown sugar, floral honeysuckle note, plum, vanilla – really nice over
Taste:  elements from the nose continue on the palate, touch of toffee, coconut, vanilla cream, and slight spice
Finish:  mouthcoating, lingering finish – well balanced, excellent dram
Overall:  a really nice blended whiskey, wish this were more readily available in the U.S.
---
DEC 7 – Nikka Pure Malt Black     43%     Cost = not in US ($55-$75 w/o shipping from overseas)   Score:  A-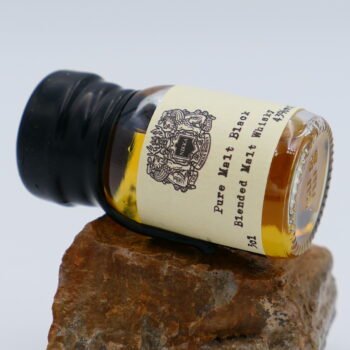 Nose:  some darker rich sweet notes, a mustiness, caramel, touch of smoke, a fruitiness – apple, raisin – really like what I get here
Taste:  a smoked dark caramel with a touch of ginger and wood spice, baking spices, dark chocolate – want to spend more time with this whisky
Finish:  excellent mouth coating, no off-putting notes in any way, lengthy finish
Overall:  a NAS blended Nikka malt, really nice dram that pleasantly surprised me; really nice, wish it were available in the U.S. – I'd buy (actually I'm going to look to buy via other outside of the U.S. distributors)
---
DEC 8 – Mars Maltage "Cosmo"    43%    Cost = $65-$85 without shipping    Score:  C+
Nose:  rich honey malt notes, toffee with some citrus underneath, raisins, pear, and nuts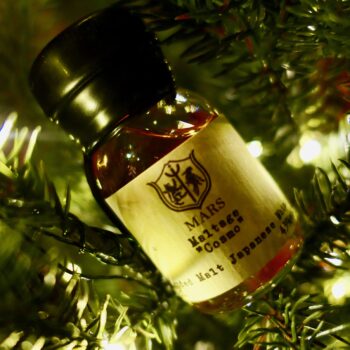 Taste:  charred caramel toffee, not overly sweet, ginger spice with some pepper, a little astringent oak at the end
Finish:  medium – not the best part of this dram, the wood tannins drown out some of the other notes, bitter chocolate peeks through
Overall:  a blend of Japanese and Scottish malt whiskies – no percentages given; founded in 1985 the Mars Shinshu distillery claims the title of highest distillery in Japan at just over 2,600 feet; not one I'd seek out
---
DEC 9 – Kamiki     48%    Cost = $75-$90     Score: D+
Nose:  spice, wood – cedar, a solvent note; really different – unusual, touch of green apple tartness, sawdust, then balsa wood (imagining I'm a kid with a glider plane), white pepper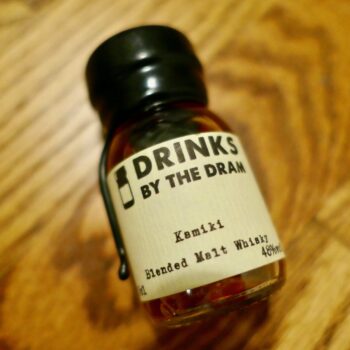 Taste:  tastes like my mom's cedar chest smells, if it were a liquid – I know, weird; lingering woody peppery note which hides the other sweeter notes that try to push through
Finish:  medium-long, which is not a good thing; I like new and different whiskies – this is not one of them
Overall:  a blend of Japanese malt and "the finest" malt whiskies from the rest of the world (no other details given); the first whisky in the world finished in Yoshino Sugi (Japanese Cedar) casks; too much of the finishing wood note for me, must be an acquired taste – I'm just not there and I've had over 300 different whiskies this year – disappointing
---
DEC 10 – Nikka Coffey Grain    45%     Cost = $60-$70     Score:  low B+
Nose:  super sweet on the nose – cotton candy spun sugar, caramel, vanilla – very bourbon-esque sweet notes overall (but sweeter)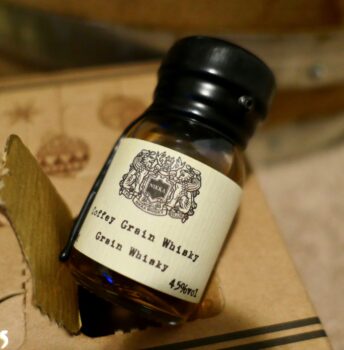 Taste:  caramel vanilla cream, a slight coconut peeks through, some nut elements– not overly complex, a syrupy sweetness gives way to a touch of oak char spice at the end
Finish:  pleasant – short to medium, due to the high corn content this is sweeter and more like a bourbon in some respects than your typical Japanese whisky
Overall:  a nice dram, I'd have a bottle on hand as one of those unique bridge whiskies – to share with those that only like one style, maybe bourbons and/or Irish whiskies – good to use to introduce people to some other styles of whisky
---
DEC 11 – Akashi White Oak Blended Whisky    40%     Cost = $40-$50     Score: C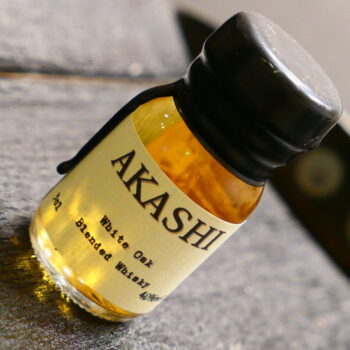 Nose:  apple juice, slight spice – with some cinnamon, honey, tropical fruits, has a freshness – after finishing the tasting, the nose is the best about it
Taste:  thin on the mouthfeel, apple skins are at the fore, a tartness with some dark caramel sugars and pepperiness – not horrible but not a must have either
Finish:  shorter finish with a touch of oak and caramel at the end
Overall:  an entry level Japanese whisky – not overly expensive, something a bit different without breaking the bank, but not all that noteworthy either
---
DEC 12 – Kirin Fuji-Sanroku Blended Whisky    50%     Cost = wide range ~ $90-$135     Score: B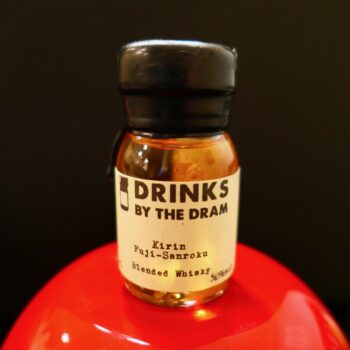 Nose:  classic malt notes, touch of smoke, earthiness, spice, apple, cinnamon, maybe some cherries and nougat
Taste:  spice to the fore – almost like an American rye, nice mouthfeel, dark sugars – toffee with oakiness at the end, apple skins, some dark chocolate, coffee, a touch astringent
Finish:  medium, mouth coating with some drying
Overall:  a blended whisky from Kirin's Fuji Gotemba Distillery, located in the foothills of Mt. Fuji; solid dram with some character here
---
DEC 13 – The Kurayoshi Sherry Cask Blended Malt   43%   Cost = $75-$95    Score:  C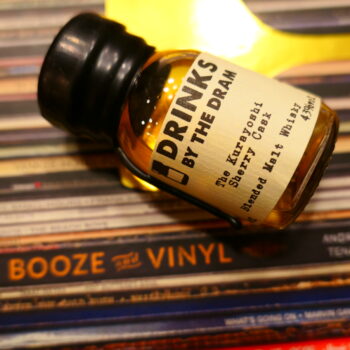 Nose:  sherry notes, raisins, caramel sugar, touch of cranberry tartness, a cider quality on the nose
Taste:  a woodiness on the palate, tingling spice, a bit bitter – difficult for the fruit to push forward, some chocolate, and a touch of sourness – as on the nose
Finish:  medium at best with lingering spice – ginger
Overall:  a bit disconnected between the nose and the palate, not very memorable; nose is the best element – uneven otherwise (and I typically like sherry finishes)
---
DEC 14 – Hakushu Distiller's Reserve Single Malt   43%  Cost = $60-$70   Score: B+
Nose:  a freshness on the nose that is appealing, some malt notes, spearmint, walking in a garden, pear,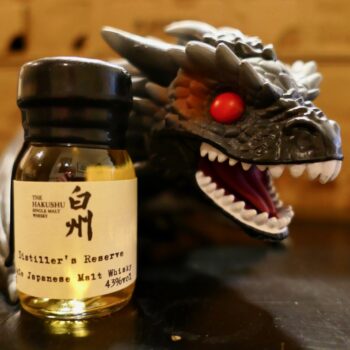 grassiness, a tartness – like a not completely ripe plum
Taste:  nice mouthfeel, some honey toffee sweetness with a touch of spice, some smoke – decently balanced on the palate with a citrusy note
Finish:  nicely done, medium-long finish – would like to spend more time with this one, I'd pick up a bottle because it is pleasant and at the same time a bit different and unique
Overall:  from the Hakushu Distillery at the foothills of Mount Kaikomagatake; would like to see this on the shelf in the U.S. more often for the price