[amazon_link asins='B00P553P1Q,B000AV16H0′ template='MT-product-carousel' store='modernthirstc-20′ marketplace='US' link_id='394a5c25-c12c-4f64-ad29-b04eda5c5181′]
INTRODUCTION
Today we sit down with our first whisky from the Amrut Distillery for a ModernThirst review.  Jeremy and I have both had the Amrut Fusion on multiple occasions.  Our Proper Pour Whisk(e)y Club has tasted the Fusion on two separate occasions, both known and blind, and it comes in at a solid A- (91.3 overall) – in our top 30 out of nearly 260 rated whiskies. Jeremy loves the Fusion giving it a 97.5 (one of his all-time favorites). For me it comes in right around a 90.  But enough on Amrut Fusion (quick plug – if you haven't tried it you should) – this review is about a whisky, the Amrut Naarangi, that can best be described as different.  You'll see what I mean in the descriptions below.
AMRUT NAAGANGI DESCRIPTION
The Amrut Distillery describes the whisky as follows on the bottle packaging: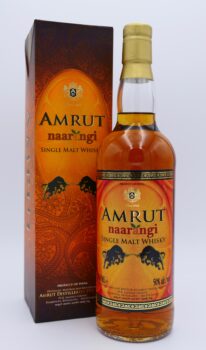 Amrut presents another first of its kind – single malt whisky finished in orange sherry cask.  Amrut procured Oloroso Sherry from Spain and then infused the sherry with fresh orange peels for over two years. Then the sherry was emptied and filled with Amrut Single Malt [the website states three-year old whisky is put into the casks] for further maturation [indicates three more years on the website].
The result is an essay in elegance: notable yet not dominant orange sherry notes perfectly fused into the whisky flavor. Hence the name – orange in Hindi.
Hmm. Orange peels soaked in sherry casks for a couple years then dumped as prep for finishing casks and then whisky added for another three years. This one has piqued the interest level. Let's quickly touch on the basic stats and then get to the tasting notes.
STATS
AMRUT NAARANGI [Batch No. 03 from June 2017]
Mash Bill: 100% malted barley
Casks: oloroso sherry casks from Spain are infused with fresh orange peels with the sherry and orange peel mixture aging for over 2 years – then that mixture is dumped and the barrel filled with 3 year old Amrut single malt which is finished and aged in this finishing cask for another 3 years
Age:  NAS – although should be around 6 years old
ABV:  50% (100 proof)
Producer:  Amrut Distillery
Price:  $110-135
Availability:  widely available
SCORING NOTES
Notes for Jeremy and I are annotated below by the identifiers (JR) or (WJ).
As always – the notes you see below were written and the bottle scored prior to any discussion by Jeremy and me of what we nosed, tasted, or felt overall, about the dram in consideration.  We have spent time with this whisky on multiple occasions.
APPEARANCE
orangish-copper (WJ); copper (JR)
NOSE
burnt orange peel, Tang, Emergen-C drink mix, dried fruit, touch of rubber (not sulphury), spice, ginger, slight wood note, mulled holiday drink (WJ); orange, bitter peel, pepper, sherry, brown sugar, orange creamsicle, syrup, leather, spice – last note on the nose (JR)
PALATE
caramel tinged with a light orange zest, slight wet rubber note, some dark chocolate emerges, spice – clove and pepper, orange peel, and oak (WJ); spice – first note on the palate – maybe nutmeg, wow – surprising – not as much orange as expected, but it is there, pepper, caramel sweetness, dry, some bitterness, leather (JR)
FINISH
nice long medium finish, the orange chocolate note continues with a touch of wood and spice at end, nicely balanced (WJ); medium – finish more akin to taste than the nose – a shame, but expected (JR)
SYNOPSIS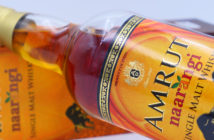 AMRUT NAARANGI: A different whisky – polarizing to some. After tasting at a local store, I had to add to the collection for the uniqueness alone. A pleasant change of pace – but the cost may be a bit high for what you get (WJ). Nose is the best part. I loved sitting and nosing this. Taste failed to live up to the nose, and I'm not a fan of the mismatch between the two. My one-word description – weird (JR).
ModernThirst.com Score:  85 (combined); 85 (WJ) and 85 (JR)
WRAP-UP
Amrut Naarangi is not a bad dram, but I also cannot say it is a really great dram either.  Unique, yes that will work.  I'd recommend to try before you buy – and if it fits your taste profile, or our descriptions do, then go for it.
Amrut Naarangi
A different dram – so different that I'd recommend you try before you buy – or if you like orange and spice, or possibly want a whisky to challenge your whisky friends with, go for it.