[amazon_link asins='B00P553P1Q,B000AV16H0′ template='MT-product-carousel' store='modernthirstc-20′ marketplace='US' link_id='02732631-42c5-41b4-8d87-7327ab13a86d']
INTRODUCTION
Time for a few more sherried whisky reviews and a natural stop in that journey is The Macallan Distillery.  Macallan, founded in 1824, accounts for over 9% of the world market share for scotch (behind Glenfiddich and Glenlivet), and their distillery capacity, at 15,000,000 litres of alcohol per year, is second only to Glenlivet Distillery. A couple months ago our Proper Pour Whisk(e)y Club had a tasting that included eight different Macallan whiskies.  We plan to initially review three of those on ModernThirst in the coming weeks.  First up, The Macallan Edition No. 4.
BRIEF BACKGROUND on MACALLAN DISTILLERY and this BOTTLE
Macallan recently completed (opened to the public in 2018) a new distillery which was six years in the making – I've only seen photographs and videos, but it is jaw-dropping.  A visit will definitely be a stop on my itinerary, if I make my way to Scotland (on the bucket list).  If you want to learn more about the new distillery go here: https://www.themacallan.com/en-us/the-journal/new-distillery
A brief history snapshot from The Macallan website notes:
The Macallan distillery was founded by Alexander Reid, a barley farmer and school teacher.  The original name of the area was 'Maghellan', taken from the Gallic word 'magh', meaning fertile ground and 'Ellan', from the Monk St. Fillan – who held a close association with the church that stood in the grounds of The Macallan Estate until 1400.  Farmers had been making whisky on their Speyside farms in the area for centuries, using their surplus barley during the quieter winter months.
The bottling we will be tasting today was created in honor of that new distillery [from the bottle packaging].
Edition No. 4 showcases the lengths The Macallan goes to when creating exceptional malts.  The mastery behind the perfect cask selection reveals the outstanding flavor, aroma and character found in our whisky.  The same can be said about the mastery of craftmanship seen in our extraordinary new distillery.  They are both a reflection of the passion and quality that embodies the spirit of The Macallan as we celebrate our whisky heritage and enter an exciting new future.
Edition No. 4 consists of European and American oak, both first fill and second fill [42% butts, 40% hogsheads, and 18% puncheons].  The Master Distiller's description: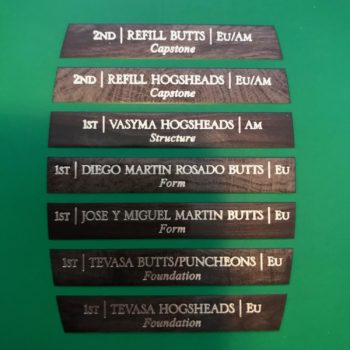 First-fill European Oak sherry-seasoned casks from Tevasa provide the foundation, contributing rich notes of dried fruit and delivering a layer of wood spices and root ginger.  First-fill American Oak sherry-seasoned casks from Vasyma balance the structure, delivering vanilla, toffees and butterscotch.  The capstone which completed this composition is exemplified through refill sherry-seasoned oak casks bringing the bright, lively character of citrus fruits to this exceptional malt whisky.
With an ABV of 48.4%, Edition No. 4 presents a zesty, vibrant and invigorating single malt that brings to the fore notes of rounded honey, sweet toffee, and citrus fruits.  A distinct whisky that pushes the boundaries of innovation and reflects the passion, traditions and craftmanship that goes into the art of the perfect cask selection. Nick Savage, The Macallan Master Distiller
Interesting (as I was typing this review) – that is the first time I've read the tasting notes on the box.  More curious now as to how what Jeremy and I found in our several visits with this whisky compare to the marketing.
STATS
THE MACALLAN EDITION NO. 4

Mash Bill: 100% malted barley
Casks: variety, described above and in associated photograph
Age:  NAS, natural color
ABV:  48.4% (96.8 proof)
Producer:  The Macallan Distillery
Price:  $100-$125
Availability:  still available



SCORING NOTES
Notes for Jeremy and I are annotated below by the identifiers (JR) or (WJ).
As always – the notes you see below were written and the bottle scored prior to any discussion by Jeremy and me of what we nosed, tasted, or felt overall, about the dram in consideration.  We have spent time with this whisky on multiple occasions.
APPEARANCE
golden with orangish hue (WJ); orange-amber gold (JR); eye catching green packaging and labeling reminds me of the Teenage Mutant Ninja Turtles
NOSE
wonderful sherry influence – raisins, dates, caramel, some citrus notes with a touch of vanilla and chocolate (WJ); strong sherry aroma, sweet – not a sherry bomb, not savory, berry – almost candy note or maybe grape cough syrup, brown sugar (JR)
PALATE
nice mouthfeel, dark fruits, berries, spice comes through with dark sugars, ginger and a touch of red apple skins, sherry spice (WJ); very smooth for proof – I was thinking it was 45% at the highest, thinner mouthfeel, a tad too dry (JR)
FINISH
lingering medium-to-long finish with a touch of wood spice at the finale (WJ); matches taste until it turns a tad bitter, fairly short – starts better than it finishes (JR)
SYNOPSIS
THE MACALLAN EDITION NO. 4: A nice NAS sherried whisky.  Of the three in the Editions series that I've tasted more than once – the No. 2, No. 3, and No. 4 – this one vies with No. 2 for the top spot for me.  I had one pour of the No. 1 in an airport back in 2017, but not enough to base a comparative rating upon. Looking forward to Edition No. 5 (WJ).
ModernThirst.com Score:  89.5 (combined); 89 (WJ) and 90 (JR)
WRAP-UP
The Macallan Edition No. 4 is a solid dram.  When our whiskey club tasted it, we had ten different palates participating that night – the average of that group was an 88.3 – so I feel confident in saying this is a solid B+ whisky.
The Macallan Edition No. 4
I like what Macallan is doing with the Edition series of whiskies – a fun comparison to taste side-by-side. Nothing so far will keep me from giving Edition No. 5 a try.