[amazon_link asins='B003VAWA68,B07794BDKD' template='MT-product-carousel' store='modernthirstc-20′ marketplace='US' link_id='917338bc-73af-4fca-b871-a0e7f561b64a']
What it is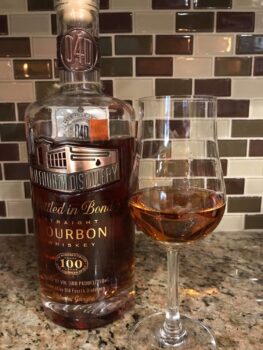 A Single barrel bonded Bourbon out of "Atlanta Georgia" that is unfiltered. Why the quotes you ask?
because this bourbon is not being honest about where they really came from. After a friend of mine pointed out the DSP hiding in the graphics on the bottle, I'm pleased and extremely disappointed in the f*ckery that has taken place with this distillery and this brand. Pleased because its MGP bourbon and I'm a huge fan and displeased because this distillery was deceitful with the location of this product.
Appearance
Golden Amber and a tad darker in color that you sometimes see from Bonded bourbons.
Nose
Grass, grain and oak and a tinge of nuttiness. Also a hint of sweetness playing in the background of a light Caramel. There is also an odd yeasty smell that you would normally get from a young wheated bourbon.
Taste
Lots of grain and oak up front but not tannic accompanied by a settle sweetness with spice and stone fruit dancing in the background
Finish
Medium long finish with a beautiful lingering spice on the back of the palate.
Synopsis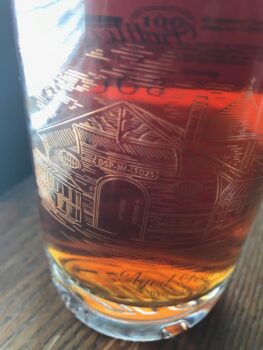 Initially I wasn't a fan of this bourbon but after having it open for about a month and diving into this a third time I really enjoyed it. As a bottle that is currently only offered in Georgia, if you're going to be in the area it would be worth tracking down a bottle to enjoy. That being said this company lied and deceived about where their bourbon was coming from. They make you believe that this bourbon is coming from Atlanta and they hide the fact that its MGP. At $49.99MSRP it isn't a bad buy, but also is full of lies and deception from the distillery.
***ModernThirst was contacted to review this bourbon and sent a bottle to review. That being said we do not support the actions of this distillery***
Cheers.
Overall score 86 (for some kick ass MGP BiB bourbon)