[amazon_link asins='B016YPDI3A,B01N5HU3CP' template='MT-product-carousel' store='modernthirstc-20′ marketplace='US' link_id='2cf15fb3-4ff9-4885-98c4-2dec43d3406d']
Fundraiser for Kentucky State University scholarship program and new historical research will include
free and ticketed activities plus the first-ever Bourbon awards competition held in the Bluegrass State
www.bourbononthebanks.org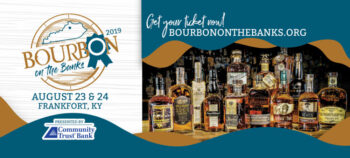 Frankfort, KY – Bourbon on the Banks Festival, Inc. (BOTB) is a newly-formed organization dedicated
to creating the Commonwealth's premier "Bourbon tasting, judging and history festival" August 22-24.
More than 50 central Kentucky community members are helping to create a one-of-a-kind bourbon
experience.
In addition to bringing gourmet food and spirits to the capital city, the festival's goals include restoring
and honoring the lost African-American contributions to the whiskey industry and creating scholarships
for Kentucky State University (KSU), the state's only public Historically Black University.
Interest in Bourbon and American whiskey continues to boom – especially among people of color, women
and abroad – the new Bourbon on the Banks Festival seeks to be an inclusive event welcoming all
ethnicities, genders and cultures while building upon Frankfort as the heart of bourbon.
Bourbon Festivities
Public festivities start Friday, August 23 with "Bourbon Street On Broadway," a free event with street
performers, historic presentations on African-Americans' contribution to Bourbon heritage, a showing of
the documentary Neat: The Story of Bourbon, live music and special offerings from downtown Frankfort
merchants.
Saturday offers "Black Bourbon Cultural Experience" with private tours of KSU plus presentations on the
history of slaves and emancipated blacks in the Bourbon industry. While slaves were instrumental in the
workforce in the early days, African Americans now comprise less than 1% of the industry employees.
Additionally, there will be a panel discussion on career paths for African-Americans in the modern
distilled spirits industry.
The main event is the "Bourbon On The Banks Festival 2019" Saturday, August 24, 2019, 5:00 – 8:00
p.m. at Riverview Park & Ward Oates Amphitheater. The scenic river-bank venue will host more than
100 vendors providing tastings of Bourbon and other spirits, wines of the world, regional craft beer and
culinary delights from award winning chefs plus entertainment from regional musicians. All tastings are
included with the $65 ticket purchase.
The Bourbon on the Banks "Official After-Party" is sponsored by Bourbon on Main, Goodwood Brewing
Co. and The Frankfort Bourbon Society. There will be live music and a unique Bourbon on the Banks
cocktail crafted by special guest and BOTB competition judge Ariel E. Neal. Neal is co-founder of
non-profit "Causing a Stir" and CEO of the beverage events company "Leira Knows Cocktails & Events,"
both based out of Chicago.
First-Ever In-State Bourbon Taste-off
In the Bourbon on the Banks Competition, heritage and nouveau craft distillers will compete in the state's
first double-blind medaling Bourbon competition. The taste-off will culminate in bestowing two "Best
Bourbon" awards – the "Governor's Cup" and "People's Choice" trophies – at the conclusion of the
Saturday festival.
The festival's spirit of diversity and inclusivity extends to the taste-off with the judging panel composed
of a total of 5 women and 6 men, and with Neal joined by fellow African-American female spirits
specialist Andrea Meriweather, founder of BarFare Concepts based out of Louisville, KY. The judges
additionally represent a cross-section of distilled spirits industry professionals from all across the US:
Kenny Andreozzi, Carla Carlton, Tom Fischer, Tim Knittel, Alicia Lee, Brandalyn Tabor, Larry Wilcox,
Matthew Wyant, and Michael Veach. More information on all judges' backgrounds can be found at:
https://bourbononthebanks.org/speaker/judging
This inaugural Bourbon competition is dedicated to the unknown and often unacknowledged
African-American distillery workers who were instrumental in creating the American spirits industry
across the last 300 years but whose story has nearly been lost.
Distillers, Frasier History Museum Partners to tell the African American Bourbon History Story
"We work very hard to tell all sides of the story and we know that the history of African-Americans'
contribution to Bourbon history is critically important," said Penny Peavler, President of the Frazier
History Museum, a partner organization supporting this new research project.
The Frazier History Museum, an affiliate of the Smithsonian Institution located in Louisville, KY, hosts a
permanent Bourbon exhibit and is the 'Official Starting Point of the Kentucky Bourbon Trail®.' The
museum was founded by retired vice chairman of Brown-Forman Corporation, Owsley Brown Frazier, a
fourth generation descendant of the company's founder George Garvin Brown. One of the most historic
Bourbon companies, Brown-Forman Corporation dates to 1870 and now produces Old Forester,
Woodford Reserve and Jack Daniels.
In a newly-emerging story regarding Jack Daniels, the recently launched Uncle Nearest whiskey brand
seeks to "give credit where credit is due" by honoring Nathan "Nearest" Green, the slave who taught
Daniel how to distill whiskey and the first African-American master distiller on record in the US.
Uncle Nearest Whiskey and Buffalo Trace Distillery are major sponsors of BOTB and are both providing
exclusive components of the "Black Bourbon Cultural Experience" on Saturday morning. The Buffalo
Trace Distillery, located in Frankfort on the banks of the Kentucky River, has additionally pledged
support by opening its archives to researchers.
Existing research shows that African-American distillery workers performed both unskilled and skilled
labor. Unskilled workers hauled limestone spring water, ground grain, stirred mash and moved barrels.
Skilled workers were coopers who built liquid-tight barrels or – like Uncle Nearest – performed actual
distilling.
According to Bourbon Curious by historian and journalist Fred Minnick: "George Washington used seven
slave distillers at his distillery. If a slave had 'distiller' listed as one of his top skills, plantation owners
would spend top dollar to acquire him."
Bourbon Industry Gives Back to Support KSU Scholarships
Today, although distilleries have modernized, skilled distillery work remains a highly regarded and top
paid profession in Kentucky – at an average salary of $95,000. But African-Americans represent only
around 1% of that workforce.
Kentucky Black Bourbon Guild (KBBG) founder Rob Beatty said, "So we know that we have the sweat
equity, but for some reason we aren't well represented in the workforce today. KBBG is working with
Bourbon on the Banks to help change that through scholarship fundraising."
Those scholarships will go to Kentucky State University, the state's only public Historically Black
University, which is launching a new fermentation and distilling curriculum this year to provide students
with a path into the distilling industry and to increase the diversity in the field.
"For BOTB, raising money to help relieve the average $30,000 to $40,000 student loan burden of students
is the goal," said Wendy Kobler, BOTB Executive Director. "Similar to the Uncle Nearest Whiskey story,
we are bringing the Bourbon industry full circle to tell the story of the past and to raise money to educate
the descendants of some of those slaves."
"We've had amazing support from distillers, Bourbon enthusiast groups and others in the Bourbon
community," Kobler continued. "We have dozens of participating distillers already and more joining
every day. Plus, wineries, craft breweries, restaurants and chefs."
Event Information & Tickets
Bourbon on the Banks presented by Community Trust Bank
The Commonwealth's premier Bourbon-tasting festival and awards competition.
Supporting research into African-American history in the spirits industry plus scholarships for Kentucky
State University, the only public Historically Black University in the state, as they launch a new
fermentation and distilling curriculum this year.
Enjoy Bourbon from regional and national distilleries while you stroll the banks of the scenic Kentucky
river in our capital city, historic downtown Frankfort.
Tastings from 60+ Bourbon, Spirits, Wine & Beer vendors, 20 Food vendors & Live Music!
Saturday Festival Itinerary:
5:00 – 8:00 p.m.- Tastings from 100+ vendors along the River View Park Walking Trail
● Wineries of the world
● Regional craft beer producers
● And numerous distilleries sampling products
● Food from regional, award-winning chefs
5:00 – 7:30 p.m.Musical Performances along the River View Park Walking Trail
● Hershel Short
● Solid Ground Featuring Mark Wright
● ACT III
● 27 South
7:30 – 9:30 p.m.Musical Performance at the Ward Oates Amphitheater
● Conch Republic
8:00 – 8:30 p.m. Awards Ceremony (musical intermission) at the Ward Oates Amphitheater
● Presentation of the first annual "Governor's Cup" and "People's Choice" awards
Saturday, August 24 • 5-9:30 p.m. • Riverview Park & Ward Oates Amphitheater • FREE parking
$65 • ALL FOOD & BEVERAGES INCLUDED IN THE SATURDAY, AUGUST 24 TICKET PRICE!
Full Thursday – Sunday Itineraries & to purchase Tickets for Saturday's main event, visit:
http://www.bourbononthebanks.org