[amazon_link asins='B003VAWA68,B01N5HU3CP' template='MT-product-carousel' store='modernthirstc-20′ marketplace='US' link_id='a77551b3-6763-4633-85ca-e5960e9b1021′]
Today we'll take a look at an entry from the once largest distiller come newest kid on the Tennessee whiskey block, Nelson's Greenbrier Distillery in Nashville, TN.  This one comes by way of their flagship bourbon and whiskey brand, Belle Meade.  This bourbon is a nine year selection distilled in Indiana and bottled at 90.4 proof that is finished in Oloroso sherry casks for an added complexity and sweetness.  The mash bill consists of a 64% corn, 30% rye, and 6% barley blend.  Of course our neighbors across the pond, the Scots and Irish, have been employing these finishing techniques for over a hundred years.  However, this has started to become a trend in American whiskey as well more recently, and I personally could not be more thrilled.  For a little background on Nelson's Greenbrier, see below: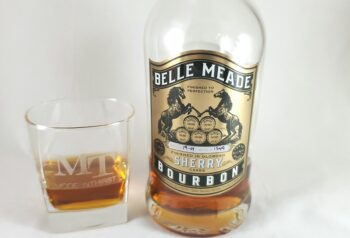 "The original Nelson's Green Brier Distillery was located on Rocky Fork Creek in Greenbrier, Robertson County, Tennessee. It operated from 1867 until it was shut down in 1909 when Tennessee enacted state-level Prohibition of alcoholic beverages.
The distillery was acquired in 1870 by Charles Nelson, a Nashville businessman who expanded operations in the ensuing years. The whiskey produced there was sold in other parts of the United States under the label "Nelson's Best".
In 1885, the distillery produced 380,000 U.S. gallons (1,400,000 liters) of whiskey, making it the largest producer of sour mash whiskey in Robertson County during a time when whiskey production was a major industry in Tennessee and the county was one of the state's largest producers. At that time, the annual production capacity of the Jack Daniel's distillery in Lynchburg was 23,000 U.S. gallons (87,000 liters)."
In what may have been a random set of circumstances, or perhaps serendipity, the descendants of Charles Nelson happened upon a sign in the town of Greenbrier that made mention of their family's historic company.  Realizing that this was their family's legacy, they relaunched the company in 2011, and released their first bourbon under the family's original historical brand, Belle Meade in 2013.
This whiskey is worth every bit of its price tag of around 80 dollars.  The Nelson's have really mastered the art of fine whiskey in a very short time.  Further to that, they have certainly proven that Tennessee are just as capable as their cousins to the north at making fine bourbon whiskey (something that Prichard's unfortunately did not do).  It really must be in their blood.
MODERNTHIRST.COM SCORE: 92 out of 100
Belle Meade Sherry Cask Finished Bourbon
Nelson's Greenbrier are turning out fantastic whiskies of all types out in Nashville and this bourbon selection is no exception.