I am quite excited to have the opportunity to not only taste this whiskey but also write about it. Belfour Bourbon was started and overseen by hockey Hall of Famer, Ed Belfour. On top of being inducted into the hall of fame, He's also won the NCAA championship, The Stanley Cup, and an Olympic Gold medal; so starting his own whiskey brand is just another step towards greatness. Let's not look at this as just another whiskey brand. Ed Belfour takes a huge amount of pride in what he does, so when you see his family's name on the front of the bottle, you know you're in for a treat. Now let's get into this bottle.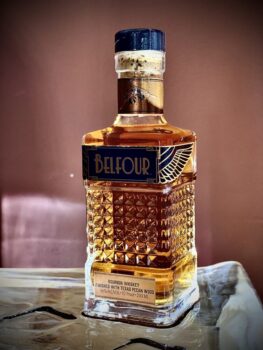 Coming in at 92 proof and aged around 18 months in new charred oak and then finished with Texas pecan wood for 6-8 weeks and has a mash bill of 60% corn, 30% wheat, and 10% malted barley and has an MSRP of $89 for 750ml bottle.
Appearance:
Golden honey to light amber.
Nose:
Lots of caramel upfront followed by vanilla, brown butter, pecans, butterscotch, and brown sugar.
Palate:
Sweet, nutty and "biscuity;" reminds me of pecan pie just slightly less sweet.
Deep rich brown sugar, buttery pie crust, chocolate, butterscotch, and dry oak.
We could even call this derby pie.
Finish:
This bourbon has a medium finish that starts off pleasantly sweet and finishes dry and oaky with a slight bitterness.
Conclusion & Score

Overall, I was thoroughly impressed with this bourbon. For being on the younger side and having this much flavor and depth is incredible. It still shows some characteristics of a younger bourbon with a bit of graininess but it quickly dissipates. Overall I score this bourbon a 93 and will be looking for it in our local market. Belfour can currently be found in Illinois, Tennessee, Texas, North Dakota, and South Dakota and be expanding in the next few months to Georgia, Missouri, and Arizona.
Disclosure: The sample bottle of Belfour bourbon was graciously provided by Belfour Spirits.  ModernThirst.com appreciates their willingness to provide their product for review.  The contents of this review are our own, made without outside influence, or strings attached. 
Special Thanks to Kentucky Straight Ice.