Four Roses Single Barrel Private Selection OBSV
Delicate palates will want to cut this with ice or water, but those who prefer a little more bark with their bite will love it neat
[amazon_link asins='B00H143UXW,B016YPDI3A' template='ProductCarousel' store='modernthirstc-20′ marketplace='US' link_id='06fcabde-89a9-11e7-b0cb-753080d9149d']
Stats: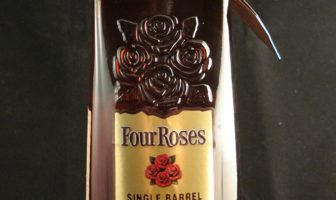 Age: 10 Years & 9 Months
56.1% ABV (112.2 Proof)
Price: $52
Warehouse ME
Barrel 90-1A
Distilled by Four Roses
Recipe: OBSV
What it is: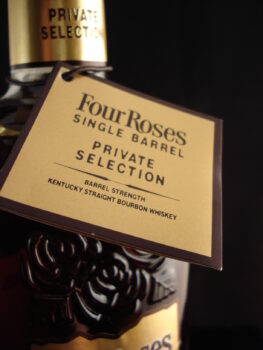 The Four Roses Private Barrel program allows retailers to hand-pick their own barrel of Four Roses bourbon to have custom-bottled for their customers only.    Four Roses bourbon follows 10 distinct recipes, which are marked on the bottle.  In reality, there are two different recipes with 5 potential strains of yeast.
For the regular yellow label 4 roses, all ten are mixed together.  For the Small Batch, only a handful are used.  For the Single Barrel, you get only one.   For this Private Selection program, the bourbon is bottled at barrel proof, which means it can vary slightly from barrel to barrel.
I tasted bourbon bottled for Bourbon Women through Liquor Barn in Louisville.  It used recipe OBSV, which is 60% corn, 35% rye, and 5% malted barley.  It clocks in at 56.1% ABV (112.2 proof).  The bottles are square-ish cordial-like bottles.  These set themselves apart from the standard bottles with a slightly different main label printed on a gold foil with the specific retailer and proof hand-written on the bottom portion.
They are attractive packages.  These are rare in that they are available only to retailers who choose to take advantage of the offer, and their price varies a bit as well.  But if you can find larger retailers with good bourbon selections, this shouldn't be too hard to find.  The bottle I tasted cost me $52.
Appearance: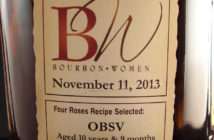 Dark and smoky.  You can tell this isn't filtered and has no water added.  It is a pleasing amber brown.
Aroma:
Four Roses Single Barrel has long been a favorite of mine, but it's also a bit unique, so it's not for all bourbon drinkers.  Like the standard single barrel offering, there are pronounced floral hints on the nose, but there was a definite burn on the nostrils from the higher proof.  I detected some spice on the nose as well.
Taste:
The first taste yielded the standard citrus and floral characters common to the standard release, but they are quickly replaced by cinnamon spice and the pleasant burn of the barrel-strength alcohol.  Delicate palates will want to cut this with ice or water, but those who prefer a little more bark with their bite will love it neat.  The creaminess of the bourbon on the tongue was noted, but it is somewhat offset by the high alcohol content.
Finish:
The finish is long and strong, with a bit of alcohol burn to the end which almost reaches a stringent quality.  The floral hints reappear at the very end.
Synopsis:
Without a doubt, this is Four Roses Single Barrel whiskey as it has the unique floral qualities to the nose and tongue that all Four Roses single barrel offerings seem to have. So if you're not partial to the standard single barrel offering, you probably won't love this either.  But if Four Roses is your thing, as it is mine, this might be a great addition to your lineup.  I am a fan of Four Roses, and while I don't tend to drink it on a normal basis, it makes a fantastic change-of-pace to other straight-forward, less delicate tasting whiskies.  I recommend it based on flavor and uniqueness of taste alone.
ModernThirst.com score: 89 out of 100 points