Thus far, my reviews have primarily focused on bourbon. Bourbon is my passion, and it's the native spirit of this country, and identified with the area in which I live as closely as thoroughbred horses. However, Modern Thirst is not just a bourbon review site. On a recent trip to the liquor store, I was lucky enough to come upon a display of Bourbon County Barleywine, produced annually by Goose Island. Yeah, it has the word "bourbon" in the name and is aged in bourbon barrels, but beyond that, Bourbon County is one of the most popular and sought after beer releases of the year. So I couldn't resist picking up a 4-pack for review.
What it is:
Goose Island releases their highly sought-after Bourbon County line annually to much anticipation and fanfare. This release is no different. The Bourbon County line utilizes used Bourbon Barrels to age their beers, imparting a deep, rich bourbon flavor to the nose and palate. These are highly collectible beers, often cellared for 1-5 years by buyers before consuming.
This year's Barleywine release is the second release of the Bourbon County Barleywine. For all intents and purposes, Barleywine is a dark English-style beer. The English versions of Barleywine tend to be slightly less hoppy and less bitter with an ABV of around 9 to 12 percent.
The Bourbon County Barleywine is aged in barrels originally used for Kentucky Bourbon, and then again used to age the line's Bourbon County Stout. So there is a richness and layering of flavors from the aging. It is listed at 12.1% ABV with a rating of International Bitterness Units of 60. This was purchased in a 4-pack for $23.99.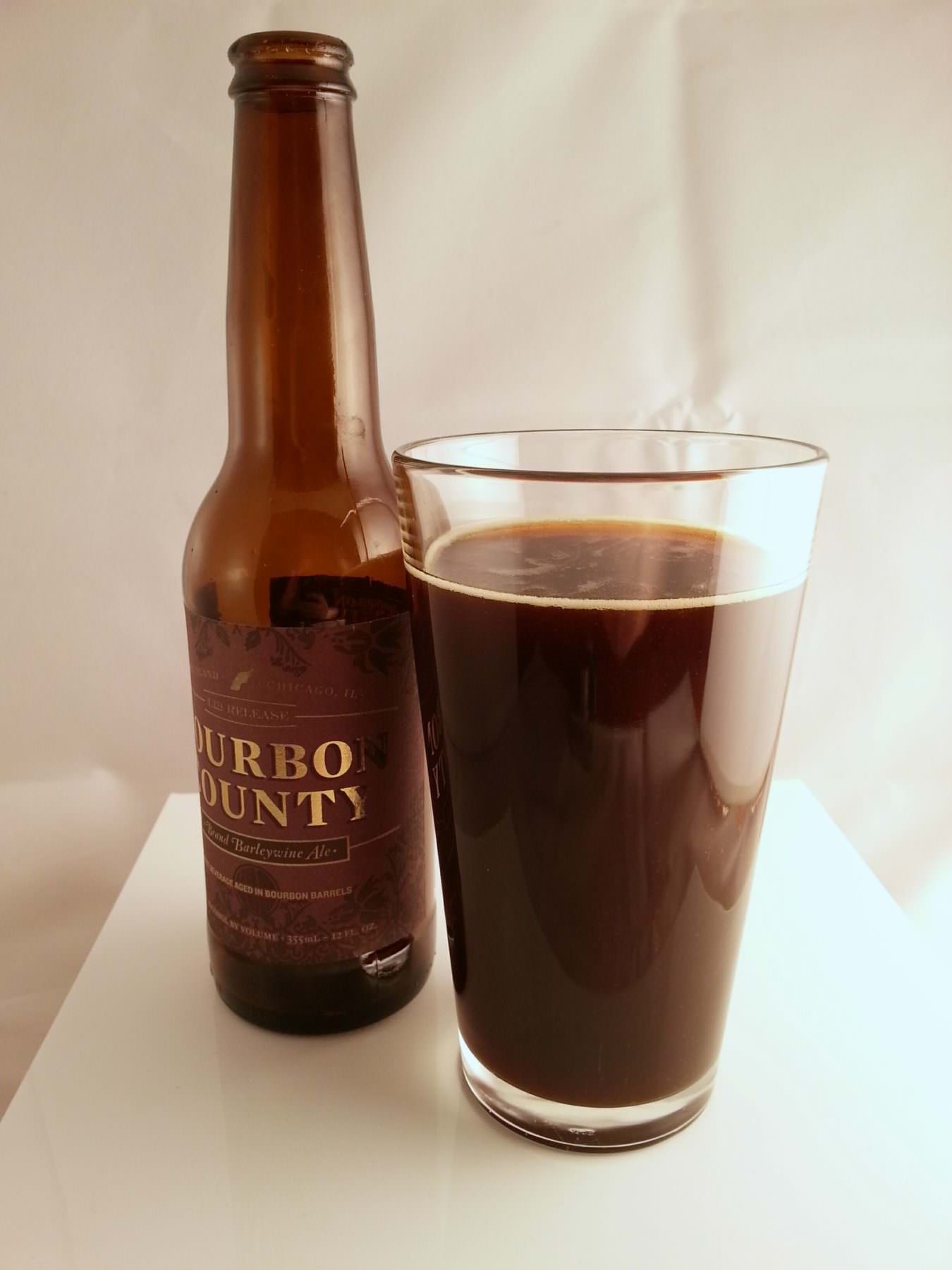 Packaging:
The packaging is standard for the line. A burgundy label with foil print. It's very attractive.
Appearance:
Very dark brown with just a touch of amber. It's nearly opaque even with a bright light behind it, and borders on black. It's not the frothiest of beers, and almost appears flat when poured into a glass. Don't let the appearance fool you, it's properly carbonated. This is pretty normal for a high alcohol heavy beer.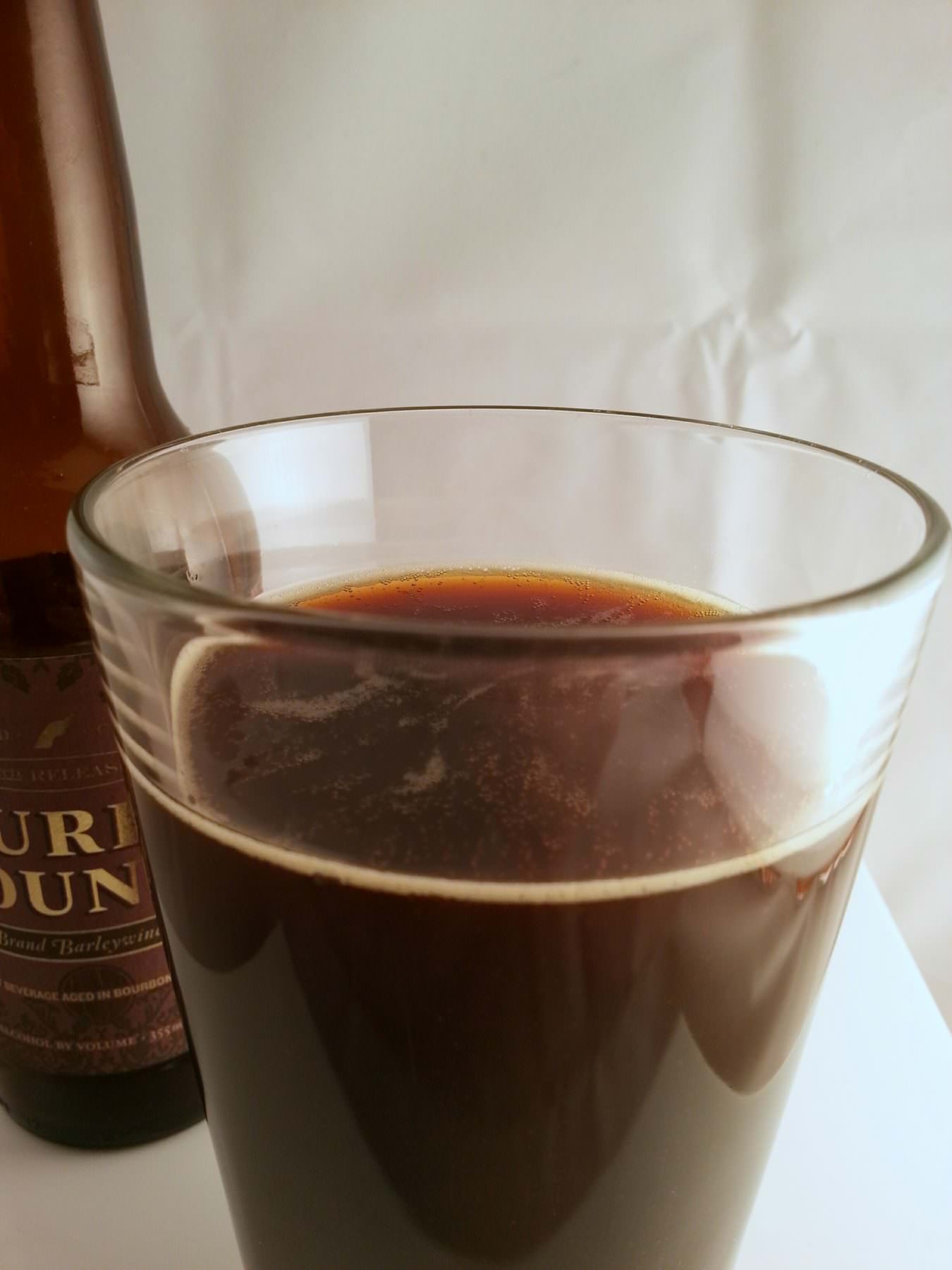 Aroma:
Instantly, the nose is hit with huge notes of molasses with a follow of bourbon. It smells malty and sweet from the start, with the alcohol just barely showing its nose on the end.
Taste:
Sweet. From start to end, the instant sensation here is molasses sweetness with notes of bourbon and black licorice. There is a burnt wood hint on the end that speaks of the charred oak bourbon barrels used for aging. I got little hoppiness form this beer, likely due to the bourbon notes that overwhelm the bitterness.
Finish:
Long with more of the malty sweetness giving way to a leather and tobacco finish that reminds me of a good maduro cigar.
Synopsis:
This is a big beer. It's a very big beer. It's heavy on sweetness and bourbon, and makes no excuses for it. Those used to lighter fare may struggle to come to terms with this as it's very different than the typical bourbon barrel stout on the market. Then again, this isn't a stout, and anyone approaching it as one is mistaken from the start. This is a very rich and sumptuous beer; one that would serve well as a dessert beer after a hearty steak dinner. Goose Island claims it will age up to 5 additional years in the bottle, but I can't see that drastically improving the beer, so I recommend drinking it now. It's a remarkable beer. It's unique, in-your-face, and the overall balance of flavors is impressive in so powerful a dram.
I score this beer 94 points out of 100. This is a beer that any serious heavy beer drinker needs to try.
I have reserved a bottle for my fellow Modern Thirst founder and our resident Beer Expert, Matt, so be on the lookout for a follow-up review from him in the future.