BUCKEYE LAKE BREWERY
One of the joys of this job is finding new beers in unexpected places.  Enter Buckeye Lake Brewery, which showed up on our radar thanks to a casual discussion during an office Christmas party.  Modern Thirst was mentioned amongst the group of partygoers (one of whom is related to Rich Hennosy, the brewery owner).  Lo and behold, two days later the Modern Thirst crew had five new brews to sample!
 Located on the shores of Buckeye Lake (just east of Columbus, Ohio), the brewery offers over a dozen beers crafted in-house, the names of which are connected to the past and present of Buckeye Lake itself.  While several menu offerings are of the seasonal variety, the current lineup runs the length of the beer-style spectrum.  From the Shovelhead 2X IPA to the Coffee Stout, beer aficionados and novices alike are sure to find a selection that fits his/her particular tastes.  In addition to their beer lineup, the brewery offers a regular schedule of food truck visits, a listing of which can be viewed on their Facebook page.  Buckeye Lake Brewery was kind enough to offer Modern Thirst the following varieties for tasting:
Vanilla Porter (6.3% ABV, 28 IBU)
Winter Shanty Christmas Ale (5.7% ABV, 22 IBU)
Shovelhead 2X IPA (8.3% ABV, 87 IBU)
Coffee Stout (5.7% ABV, 28 IBU)
"Bang and Go Back" Black IPA (7.8% ABV, 63 IBU)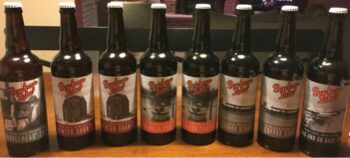 Winter Shanty was chosen as the first taster. It's important to note that this is 'shanty' with a T meaning a shack, and not 'shandy' with a D meaning a beer with fruit juice. On to the tasting:
This beer poured a little flat, but the nose immediately promised a spicy winter ale. With strong notes of ginger, Christmas cookies come to mind. As I took the first sip, I was surprised at the light the body was, I almost want to call it thin, but then the spice profile comes in and makes up for it. Leaving you with a crisp finish that prepares you for the next sip.
Synopsis: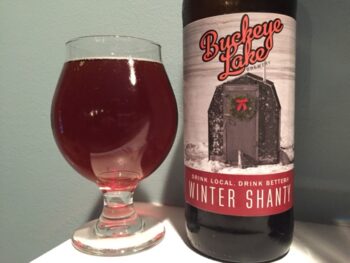 This is a very drinkable and approachable winter ale, while all the Christmas spices are there, it is not to intense and is almost refreshing. Sure it's not intense as some others but that's what makes this a well balance beer that you could offer to your grandma at Christmas. Because of its lightness, this beer probably should be offered in six packs.
Personally I'd like it to be a bit more intense, maybe they could offers a barrel aged version of this next year.
A special thanks to Rich Hennosy, Bob Scherman, Doug Docter, and the Buckeye Lake Brewery team!  Cheers!