Four Roses Single Barrel Private Selection - OESF
This is a remarkable bourbon. Very strong, very full of flavor, it shows what Four Roses does extremely well, which is produce complex bourbons at barrel strength without sacrificing flavor.
[amazon_link asins='B00H143UXW,B016YPDI3A' template='ProductCarousel' store='modernthirstc-20′ marketplace='US' link_id='5fd76d64-8352-11e7-b4ba-4ba8c9ca927a']
Stats: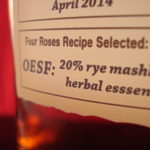 Age: 10 Years & 8 Months
56.6% ABV (113.2 Proof)
Price Paid: $53
Warehouse GE
Barrel 5-2C
Distilled by Four Roses
Recipe: OESF
Selected by: Liquor Barn, Louisville, KY
Availability: Limited
What it is:
The Four Roses Private Barrel program allows retailers to hand-pick their own barrel of Four Roses bourbon to have custom-bottled for their customers only.    Four Roses bourbon follows 10 distinct recipes, which are marked on the bottle.  In reality, there are two different recipes with 5 potential strains of yeast.  For the regular yellow label 4 roses, all ten are mixed together.  For the Small Batch, only a handful are used.  For the Single Barrel, you get only one.   For this Private Selection program, the bourbon is bottled at barrel proof, which means it can vary slightly from barrel to barrel.
I tasted bourbon bottled for Liquor Barn in Louisville.  It used recipe OESF, which is 75% corn, 20% rye, and 5% malted barley.  It clocks in at 56.6% ABV (113.2 proof), and was aged 10 years & 8 months.
So why are the OESF recipe and age particularly significant?  The 2014 Limited Edition Single Barrel bottling was just released over the past 2 weeks with a retail price around $100, and it is 11 years old, and made from recipe OESF.  The difference between them?  4 months, the specific aging warehouse, and $50.  There may be slight variances in flavor as well, mind you, but we won't know for sure until our official tasting and review of the Limited Edition.
Packaging:
The bottles are square-ish cordial-like bottles.  These set themselves apart from the standard bottles with a slightly different main label printed on a gold foil with the specific retailer and proof hand-written on the bottom portion.  They are attractive packages.
Appearance: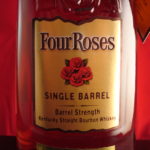 Very dark amber and gold when poured into a Glencairn.  Viewing this side-by-side with the standard 100 proof single barrel offering reveals a deeper, darker-colored bourbon, much heavier in ABV and age than the standard versions.
Aroma:
A touch of mint greets the nose, but it is followed up be full caramel and vanilla notes with lush ripe dark fruits.  There is a very noticeable floral essence as well.
Taste:
The initial taste is powerful, as the only thing Four Roses does to this whiskey when they remove it from the barrel is filter out the charcoal.  But there is a heaviness to this whiskey on the tongue, with strong caramel flavors and full, round dark fruits such as plum and cherry.  The flavor continue to develop onto the back of the tongue as oak and tannins show themselves.  It is a very complex bourbon with incredible depth of flavor.
Finish:
Long, strong, and sweet.  The caramel continues, as does a floral or potpourri essence in the mouth after the swallow.  The oak and alcohol dissipate slowly and pleasingly.
Synopsis:
This is a remarkable bourbon.  Very strong, very full of flavor, it shows what Four Roses does extremely well, which is produce complex bourbons at barrel strength without sacrificing flavor.  Our previous review of the OBSV revealed a spicier, higher rye flavor profile, whereas this recipe is sweeter, more full-bodied.  It's excellent.
ModernThirst.com Score: 94 out of 100 total points.