Hi!  This thread is where we'll keep you informed of our recent purchases, where we purchased them, and what topics and reviews are forthcoming on the site.  Hopefully, you can use this to snag a few bottles for yourself.  If you do, please let us know your thoughts!  Also, if you've found a great deal, some rare bottles, or a new store with a great selection anyplace at all, let me know at

[email protected]

, and we'll post the report of it here for others!
---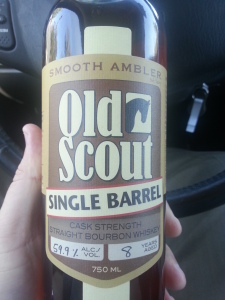 Smooth Ambler Old Scout Single Barrel (Cask Strength) Bourbon
Purchased yesterday (9/25) at Westport Whiskey & Wine in Louisville.  Right around $50.  there were several more still available.  WW&W is an excellent liquor store with a f-a-n-t-a-s-t-i-c tasting bar.  If you head over there, tell them ModernThirst.com sent you!
---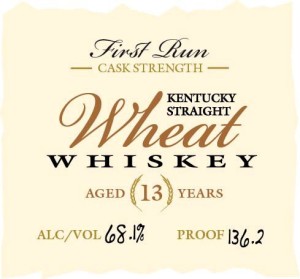 9/11/2014: Parker's Heritage 2014 Wheat Whiskey
Boom.
Acquired by a friend of Modern Thirst for us today at the Evan Williams Experience in downtown Louisville.
$120 plus tax.  Extremely limited run. I'm in Florida on vacation this week, so I won't get to review this until next week at the earliest.
---
 8/29/2014: Willett Family Estate 12 Year Bourbon
Matt found this today for $105 in Northern KY at The Party Source.  Very excited to sample it!  They are limiting it to one per customer.
---
7/17/2014: Rhetoric (Orphan Barrel Distilling/Diageo)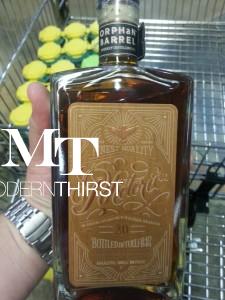 I'm not sure why I picked it up, as the Orphan Barrel stuff has been mildly disappointing and wildly expensive, but I did grab a bottle of Rhetoric last week from Liquor Barn in KY, along with a bottle of Four Roses Private Selection barrel proof recipe OESQ.  I know, I know.  It's silly to buy something you're at least pretty confident won't be outstanding when it costs quite a bit.  But such is the life of a bourbon reviewer.  No lineup has generated more mixed feelings and genuine emotional response as has the Orphan Barrel line from Diageo.  So we have to cover it.  Plus, how many other 20 year old bourbons are even available on the market these days, anyway?
---
I'll be bringing the Four Roses to next week's Louisville Bourbon Society Meeting, if any locals care to join.  First two meetings are free.  On a related note, from the rumors I've read, Four Roses will likely be discontinuing their private selection program in less than two years due to dwindling stocks, so don't miss a chance to try out what are, in my opinion, some of the best bourbons available today.  Liquor Barn in Louisville has a few bottles left at several locations and they cost $53.  This is a 10ish year old barrel-proof single barrel bourbon that tastes fantastic.  Just sayin.
---
6/24/14: Michter's 10 Year Single Barrel
Found at Liquor Barn on Hurstbourne in Louisville. They also had buffalo trace experimental collection and more single oak project, but I passed on those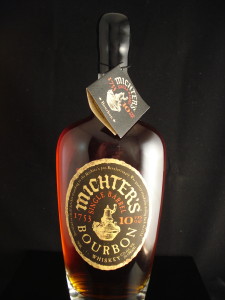 ---
6/15/2014: Father's Day Bourbon sale event
Picked up a bottle of Elijah Craig Barrel Proof and Stagg Jr at a Westport Whiskey &  Wine event today.  There were a LOT of different rare bourbons,  but most had sold out before I got there.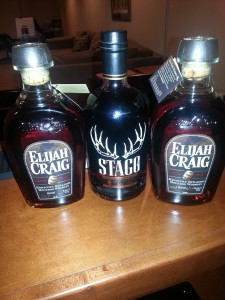 The second bottle of Elijah Craig Barrel Proof was already in the Modern Thirst inventory
---
6/9/2014: Four Roses Private Selection OESF
After seeing no sign of the 2014 Four Roses Limited Edition Single Barrel release at local liquor stores over the past week, I got a bit anxious and decided to grab a bottle of the next best thing.  Liquor Barn still has Private Selections of all (or most) of the Four Roses Single barrel private selections, so I got the same recipe in a Private Selection bottling.
The Limited Edition is recipe OESF, 11 years old.
The Private Selection I chose is also OESF, 10 years, 8 months old.
I sampled it over the weekend, and it is excellent.  Review forthcoming.
---
6/5/2014: Photos
I've finally got around to a photo shoot on some of the newer bourbons I've purchased of late, which should help facilitate the reviews.  I've spent a lot of time on the Budget Bourbon Battle Royale lately, so those who've contacted me asking about premium bourbon reviews, sit tight!  They're coming!
Some samples:
---
 5/31/2014: Rock Hill Farms  POSTED &  Single Oak Project
Found at Westport Whiskey &  Wine in louisville.
---
5/30/2014: E.H. Taylor Single Barrel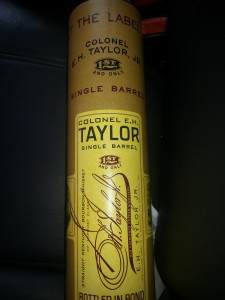 Found at evergreen liquors in Louisville this morning.
---
5/27/2014: Willett Family Estate 7 Year Bourbon Sighting…
Liquor Barn in Lousiville on Westport Rd. has more Willett Family Estate 7 Year Bourbon in stock.  There are multiple barrels available in the store, all either 119.2 or 119.3 proof.  Modern Thirst picked one up for Matt today in burgundy wax at 119.3 proof, and there were probably 24 more bottles of varying barrels on the shelf.  A review and barrel specs will definitely be posted.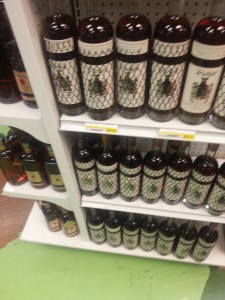 ---
5/24/14: Bulleit 10 Year
Found at the Kroger liquor store in Middletown in Louisville this morning.   Review forthcoming.  Also, we have had a reader request for a review of the standard Bulleit bourbon.  that is forthcoming as well.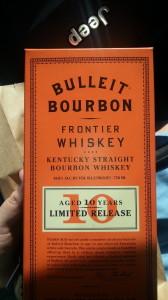 ---
5/20/2014: Barterhouse
Liquor Barn in Louisville on Hurstbourne Pkwy had 12 bottles of Diageo's Orphan Barrel 20 year old Barterhouse this afternoon.  Modernthirst grabbed one.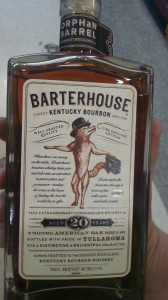 ---
5/18/2014: Budget Bourbons
We know most of the bourbons we have reviewed thus far fall into the "premium" category.  We also know that not everyone can or wants to shop only the top shelf section of their liquor store.  So we are currently stocking up on what many would call "bottom shelf" bourbons, or the more fair term: "budget" bourbons, in order to start a news series of reviews aimed at the budget conscious bourbon drinker.  The Budget Bourbon Battle Royale! Stay tuned!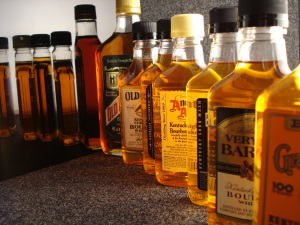 ---
5/15/2014: Elijah Craig Barrel Proof: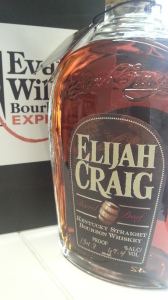 I've been chasing this one for a month, and I've finally snagged my white whale.  The Evan Williams Experience on Main Street in Louisville finally had some Elijah Craig Barrel proof bourbon on site.  I've been on a first name basis with a bourbon host, Cathy, at the Experience for a couple weeks as my daily calls asking if a shipment had arrived most assuredly drove her batty.  But it paid off.    This batch is a healthy 134.8 proof, and I couldn't be happier!  There were only a handful of bottles left, and they were wisely limiting them to one per customer.  A review is forthcoming in the next week or two.
---
5/14/2014 Willett Bourbon:
REVIEW OF 8 YEAR
POSTED
Last month, I posted about a truly great experience I had with a Family Estate Limited Release offering of 10 year old bourbon from Willett.  In fact, I gushed about it so enthusiastically that I gave it a score of 93 out of 100 points on my review, one of my three highest scoring bourbons of the year.  It was certainly well-deserving of that mark.
To my surprise and delight, a trip to a local liquor store (Liquor Barn at Spinrghurst, and also on South Hurstbourne Pkwy in Louisville) yesterday (5/13/2014) revealed that a new shipment of Willett Family Estate Bourbon had been delivered that very morning.
There were three offerings available, with three different wax colors.  The offerings ranged from 7 years old to 9.  Naturally,  I chose the oldest at 9 years plus the middle bottle at 8 years.  I am as giddy as a school girl to have these bottles in the queue awaiting tastings and reviews, so I hope to get to them quickly.  If they're even in the same neighborhood as the 10 year old bourbon in terms of flavor, they're going to be a treat.
Not a bad haul for one week: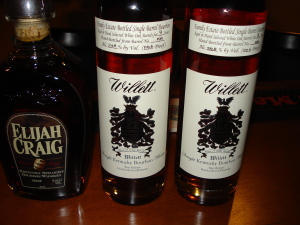 Other reviews pending:
---
5/9/2014 Willett Rye- REVIEW POSTED
In addition to that, I also have a bottle of Family Estate Bottled 4 Year Old Rye from Willett that has been in the queue for some time, and I will get to that shortly.  UPDATE:  Review posted 5/14/14.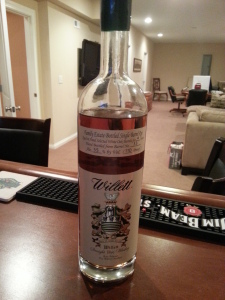 The Willett brothers: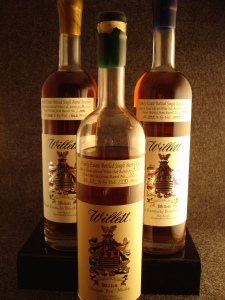 ---
Bernheim Comparison Review: – REVIEW POSTED
We haven't posted many reviews of whiskey other than bourbon since we've launched, but we're going to be addressing that in short order.  Our only non-bourbon review thus far was Matt's review of a private single barrel selection of Bernheim Wheated Whiskey.  So for our second comparison review, I plan a side-by-side review of the standard Bernheim Small Batch Wheated Whiskey with the same single barrel selection Matt reviewed previously to contrast the differences between a private barrel selection and a standard off-the-rack small batch.  – UPDATE: Bernheim comparison review posted.
So stay tuned to Modern Thirst for the upcoming write ups!