[amazon_link asins='B00H143UXW,B06Y1VGMH2′ template='MT-product-carousel' store='modernthirstc-20′ marketplace='US' link_id='89cd9de4-ff80-11e7-ad0b-b3d612b3a656′]
In January, fellow Modern Thirst Editor and Writer, Matt Gates, reviewed a bottle of Bernheim Original Wheat Whiskey.  Matt's bottle is a private selection bottle chosen by big-box Northern Kentucky liquor store, The Party Source.  Despite having the words "Small Batch" plastered all over the bottle, it was actually a single barrel private selection.  He scored this whiskey 83 out of 100.
With summer finally upon us, lighter bodied, sweeter whiskeys like Bernheim can seem awfully appealing, and the thought of sipping something light and sweet over an ice sphere on the deck in the hot summer months seems, frankly, sublime.  So I thought it might be a good opportunity to do a side-by-side comparison between that bottle and a standard off-the-shelf bottle of Bernheim Small batch that most of us would buy from our local stores.  Theoretically, a retailer with a solid palate should have chosen an above-average barrel for their private bottling, meaning the private barrel selection should be better, right?  So how does this compare?  Is the private bottling actually better?  Can a difference even be determined?  To answer those nagging questions, I bravely volunteered my palate to compare two versions of the same spirit side-by-side.  I know, I know.  I'm a martyr, right?
Here are the results:
Stats:
45% ABV (90 Proof)
Aged 7 years
Aged in Rick House Y
Distilled at Bernheim distillery, Louisville, KY (Evan Williams/Heaven Hill)
What it is:
In a nutshell, without repeating everything Matt explained in his January review, Bernheim Wheat Whiskey is not bourbon, as it does not meet the mash bill requirements of bourbon that call for at least 51% corn in the mash.  This whiskey uses Wheat as the primary ingredient rather than corn, making it essentially a "new" classification of whiskey.  Others have followed suit in recent years, perhaps most notably Masterson's.  Wheat lends a slightly lighter, sweeter flavor to whiskey than rye, which is the more typical secondary mash grain with a softer texture in the mouth than corn.  Thus, wheat whiskey tends to be sweet, light, and soft compared to rye whiskeys or bourbon, which have spicier characters to them.
Packaging: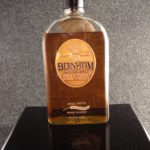 Berheim is packaged in a sloped shoulder, shallow whiskey bottle with flat front and back (think Woodford Reserve bottles).  It has a corked stopper and the label is actually a metallic copper colored medallion glued to the front of the bottle.  Combined with the pale golden liquid inside, it's a strikingly attractive packaging.
Appearance:
Both were poured into identical Glencairn Glasses for the tasting.  I saw no noticeable difference in appearance between the Single Barrel Selection (SBS) and the Small batch (SMB).  These are very light gold in color, and crystal clear.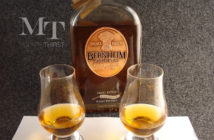 Aroma:
True to Matt's January review, in the SBS I noticed definite hints of vanilla and sweet wheat smells.  There is a certain pleasing mint quality to it as well.  I've noticed this in many Heaven Hill/Evan Williams products, and can only chalk that up to the yeast strain.  I did notice some very faint hints of wood on the tail end, but it is not pronounced.
The SMB was very similar.  The mint scents were more prevalent, and they nearly drowned out the woodiness from the barrel altogether.  So we've clearly found our first differentiator between the two.
Taste: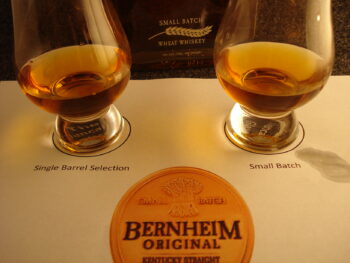 With the SBS, I did not find an alcohol bite at all, unlike Matt's original review.  This could be due to the fact that the bottle has been opened for a couple of months now, allowing it to essentially "decant" in the bottle.  But I definitely got the flavors of cinnamon and spearmint along with muted butterscotch and definite lemon and orange zest.
The SMB was very little different.  If anything it seemed just a touch less sweet.  The Citrus zest was basically muted in favor of slightly more woody flavors, which was in direct contrast to the aromas I was getting.  Interesting.  Still, the difference is almost imperceptible…almost.
Finish:
Both of these bottles had very short, crisp, clean finishes that dissipate quickly. The lingering flavors are identical: mint and citrus.
Synopsis:
Without a doubt, these new wheat whiskies are going to be nearly perfect summer sippers.  And comparing these two side by side, there is enough of a difference to note, but not enough to appreciably alter one's perception of either bottling.  If you like the standard small batch offering, you'll like the private selection.  If you already like the private selection, you probably won't notice too much difference with the standard small batch.
In addition, this spirit tends to do just fine over ice.  Complexity isn't this whiskey's primary characteristic, and there is little bite to speak of, so it can certainly be sipped neat.  But the smoothness and sweetness of the liquor aren't really changed by the addition of ice.  And the strong citrus character is almost improved by adding water or ice, making this a perfect summer sipper for those hot evenings on the deck or by the pool.
I am diverging a bit with Matt's original score of 83 out of 100 for the barrel selection bottle he reviewed in January, and I would score the standard Small Batch bottling at 87 out of 100, and calling it a sweet, light sipper, worthy of including in your standard rotation.  What does this score mean?
Cocktail suggestion:
If you're taking Bernheim to the pool, the lake house, or any hot summer destination, don't be afraid to mix a cocktail.  The sweet, citrus characteristic of the liquor makes it an excellent base for a cocktail and the price point of under $30 makes it affordable.
Here's our suggestion for a great summer drink:
Bernheim Cooler (courtesy of the Bernheim Web Site. )
1 oz. Bernheim Original Wheat Whiskey
2 oz. Sweet & Sour mix
1/2 oz. Orange juice
Shake all ingredients with ice, pour over rocks in a double old-fashioned glass and garnish with an orange slice.