The Evolution of Bourbon with Bernie Lubbers…get your BiB!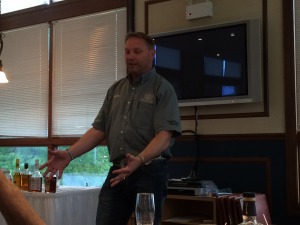 This society just keeps on rolling! Bourbon Society of Greater Cincinnati had their 4th monthly meeting with as many great speakers.  Bernie Lubbers author of "Bourbon Whiskey-Our Native Spirit"  and self proclaimed "Whiskey Professor"completed this superfecta. Not only is Bernie a very educational speaker as Ambassador for Heaven Hill, but he is also a stand-up comedian this proved to be the perfect mix to speak to this society.  Bernie spoke for close to 2 hours and held the room's interest the entire time. Actually there were some mumblings for him to take us through more tastings; but alas, 5  was enough.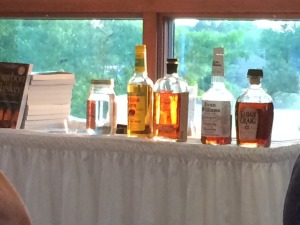 With the five tastings of the night, he walked us through the evolution of bourbon. However, not all of these tastings were bourbon, I'll explain in a bit. The small plastic sample glasses were filled with 5 different whiskeys from Heaven Hill (Bernie does work for them after all).  There was mention of many non Heaven Hill offerings as well, I have found it refreshing is that Heaven Hill employees will actually admit that other distillers actually exist and produce fine spirits. This was true when Modern Thirst visited The Evan Williams Experience as well.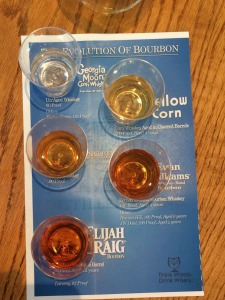 Our first tasting was as basic as you can get, Georgia Moon Corn Whiskey.  This is un-aged corn whiskey, which is different from Moonshine as it uses a traditional mash with 80% corn.  Moonshine skips the mash step and cheats by using sugar. This is what some of the first whiskey would have tasted that was made with corn from Corn Island in the Ohio River off the banks of Louisville.  It is sweet on the palate and at 80 proof it is pretty smooth. Better than I expected, but I wont be drinking it again anytime soon, unless it is to start a whiskey flight for a tasting like this as Bernie suggested.
Next we moved on to Mellow Corn Bottled in Bond (Bernie is a huge proponent of Bottled in Bond, for more on this, see his Bonded Journal here) The Mellow corn is aged in used barrels rather than new charred oak barrels like bourbon.  This gives it a very pale brown color which replicates the color that was given to corn whiskey when it was shipped in barrels down the Ohio River to New Orleans.  This happens to be a very similar recipe to Evan Williams BiB, with a very different taste profile because of the different aging. This is also relatively smooth and is becoming popular in cocktails, and is even being used in place of tequila in recipes.
Then we moved on to the Bernheim Wheat Whiskey.  For some background, you can see the ModernThirst reviews of Bernheim and Private Selection versions.  This tasting is slightly different.  Bernheim is now putting an age statement of 7 Years on its bottle.  They previously used 5 year juice in here, but as they had a decent inventory, they were actually giving away years, so they decided to take credit for the full 7 years that they were putting into bottles. Pretty cool since most bourbons are going in the opposite direction.Very, very solid Whiskey.
Next was the Evan Williams BiB.  Bernie was happy to talk more about Bottled in Bond, and rightfully so. This actually has been a new favorite of mine, that I first tried two weeks ago, an improvement over the original Evan Williams Black Label, which is the second most popular bourbon in the world. Modern Thirst will be reviewing it in detail soon.  Keep an eye on the Recent Purchases/Upcoming reviews.
Lastly, we finished with Elijah Craig 12 year.  An old favorite of bourbon lovers everywhere.  See the ModernThirst review.
Bernie was very entertaining as he took us through a tasting of 200 years of history.  He even passed around a relic that he acquired for the old Harper Whiskey distillery, pictured below, it was some sort of hammer type tool that must have been used on the barrels. I certainly recommend listening to him speak, buying his book, or at the very least read though some of his website.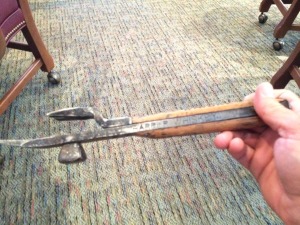 Again, this was a great meeting of The Bourbon Society of Greater Cincinnati. The society is continuing to grow and continues to take the steps to what will be the pride and joy of this organization….Private Barrels.  Be sure to stay in touch with them on Twitter and Facebook, and do yourself a favor and attend one of their fantastic meetings.