This post marks the seventh installment of the Budget Bourbon Battle Royale.  (Follow this link for previous rounds.)  If you're not familiar with this series, we're reviewing bottles that can be had for $20 or less in most areas. Thus far, Old Fitzgerald has fended off several challengers and remains our reigning king of the budget ring.
In our last round, Old Fitz Bottled-in-Bond wiped the mat with Ancient Age 80. But Ancient Age is no quitter. After spending the last several days in intense training, Ancient Age has beefed up from an anemic 80 proof to a stouter 90 proof and returns for a second crack at the King of the Ring, Old Fitz 100.
Round 7: Old Fitzgerald Bottled-in-Bond vs. Ancient Age (90 Proof)
To paraphrase the great Michael Buffer:
For the thousands on twitter and the millions of readers around the world, ladies and gentlemen, LLLET'S GET READY TO RUUUUMMMBBBLLLLLLLLEEEE!
 The Challenger: Ancient Age 90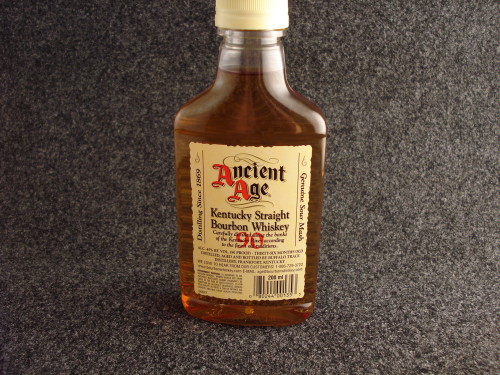 Ancient Age 90, like the 80 proof version, is a Buffalo Trace-produced product distilled in Frankfort, KY. As previously mentioned, this version is bottled at 90 proof.  It is made using Buffalo Trace's Mash Bill #2, the higher rye recipe.
Appearance: Pale, with gold hints. Very clear.
Nose: Corn dominates the nose, with slight oak and tobacco on the end.
Taste: The tongue is greeted by a slight burn, followed with corn and butterscotch. The sweetness gives way quickly, however, to a medium alcohol burn, some pepper, cinnamon, and oak on the tail end.
Finish: Dry, and medium in length, the burn continues for several seconds after the swallow. Pepper and spice mingle throughout.
Score: 79/100.
The Reigning King of the Ring: Old Fitzgerald Bottled-in-Bond  (recap from previous rounds)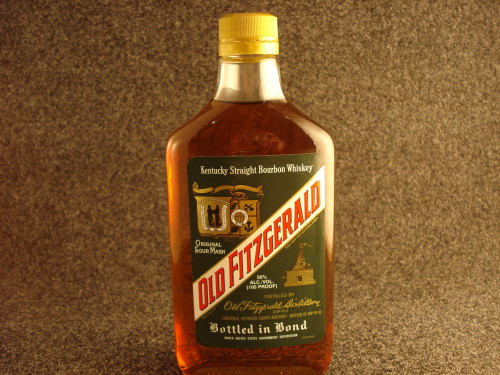 Old Fitzgerald is another venerable bourbon label.  It is currently produced by Heaven Hill at the new Bernheim facility in Louisville.  It's a Wheated Bourbon, and shares its mash with Larceny and Old Fitzgerald 12 year.  It can be found in 90 proof, or Bottled-in-Bond at 100 Proof.  This review covers the Bottled-in-Bond version.
Appearance: Deep gold.
Nose: Bakery goods (wedding cake) and corn sweetness.
Taste: Wheat tingle on the tip of the tongue, more white cake, mint, wheat, and maple syrup on the back with cinnamon showing its head on the end.
Finish: Medium finish with the sweetness and wheat tingle remaining through the end.
Score: 83/100. Recommended.
Synopsis:
Ancient Age put up a good fight in this round. And really, for a bourbon under $15, that's all we're asking.  Let's face it, we're not looking to uncover the latest Pappy Van Winkle here. We're looking for solid drinking bourbons at a very low cost. Ancient Age 90 is that, particularly for fans of the Buffalo Trace profile. But Old Fitzgerald Bottled-in-Bond still wins out here due to depth of flavor and sweetness; that "whisper of Wheat." Another round down, and OF100 still stands strong.
Budget Bourbon Battle Royale Current Standings:
Old Fitzgerald Bottled-in-Bond          83
Very Old Barton Bottled-in-Bond       83
Evan Williams (Black Label)             82
Ancient Age 90                             79
Old Grand Dad Bottled-in-Bond         76
Ancient Age 80                                 75
Old Crow                                        72
Old Taylor                                       69
---
The ModernThirst.com scoring system is a standard 100 point system based on 4 categories, taken in order.

Appearance: 15 points
Nose: 25 Points
Palate/Taste: 35 Points
Finish: 25 points

95+        Epic
90-94     Excellent, Good representative of its style
85-89     Solid sipper
80-84     Drinkable, but potentially flawed.
75-79     Low quality, flawed, use as a mixer only
<75        Rot Gut, avoid