Evan Williams Barrel Proof
It is at once complex in flavor but has a single, overarching alcohol theme. However, for the bourbon lover, the aromas and complex flavors of this bourbon are just too enticing to ignore.
[amazon_link asins='B00H143UXW,B06Y1VGMH2′ template='MT-product-carousel' store='modernthirstc-20′ marketplace='US' link_id='89cd9de4-ff80-11e7-ad0b-b3d612b3a656′]
Vital Stats: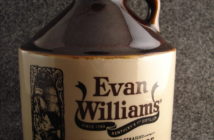 Age: 7 Years
ABV: 62.5% (125 Proof)
Distillery: Evan Williams/Heaven Hill
Availability: Very Limited/Rare
Price: $100
What It Is:
Located in downtown Louisville, KY, the Evan Williams Bourbon Experience (read more about Modern Thirst's visit, with photos, here) offers visitors an immersive bourbon experience in a shortened format.  Over the course of about an hour, visitors tour a heritage display along with a working micro distillery.  The end of the tour culminates with a visit to the gift shop, which includes the opportunity to buy many of the Evan Williams/Heaven Hill products made at the nearby Bernheim Distillery.  Lucky for visitors, one of those products is a ceramic jug of barrel-proof Evan Williams bourbon available only at the Bourbon Experience and the Bardstown, KY Bourbon Heritage Center.
Aged 7 years, this is 125 Proof (62.5% ABV) Evan Williams Bourbon.  At $100, it isn't cheap.  But it's unique, and I couldn't resist.  Note:  While the bottle says "Barrel Proof," this is actually mixed specifically to 125 to be Barrel Proof Style.
Packaging:
Packaged in a ceramic jug with cork topper, the distillery claims the packaging hearkens back to the original vessels farmers used to purchase bourbon in the late 18th century when Evan Williams was actually distilling his own bourbon. This is a unique and attractive package sure to draw attention to itself on your shelf.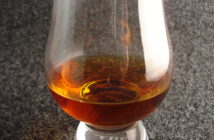 Appearance:
Deep mahogany.
Aroma:
Huge notes of caramel and brown sugar up front with a massive alcohol draft on the back.  It will draw you in with the deep, rich sweetness, and then punch you squarely in the face with heavy alcohol. It's at once alluring and a little bit scary.
Taste:
The front of the tongue gets that caramel flavor instantly.  It follows up with some oak and tannin, and more sweetness like butterscotch, but the intense and nearly overpowering alcohol burn does not relent.
Finish:
One of the longer finishes I've experienced, this is the Energizer Bunny of bourbons; it just keeps going and going.  There is a really attractive cinnamon and brown sugar hint that reminds one of cinnamon toast.  Nevertheless, the alcohol burn remains prevalent throughout the finish, and long after the swallow.
Synopsis:
This is the tale of two bourbons.  On one hand, there is a phenomenal depth of flavor with this spirit.  On the other, it drinks as powerfully as any bourbon I've sampled, including some powerhouses like George T. Stagg with a much higher ABV.  I have a distinct feeling that 10 or more years in the barrel, rather than 7, would have made this an instant classic had it served to tame that alcohol burn just a bit.
In an effort to rein that in, I did try adding distilled water.  Surprisingly, it had very little effect on either the burn or the flavor.  So the ideal way to drink this is very likely over an ice sphere or maybe with crushed ice.
But don't be scared away.  There are some outstanding flavors in this bourbon that make it worth a drink even with the somewhat steep price tag and the strong alcohol characteristics.  Given the price of other limited release offerings at the Bourbon Experience gift shop, some of which range upwards of $400 a bottle, this little gem might be the best value available, even at $100.   If you have the good fortune to tour either the Bourbon Heritage Center in Bardstown or the Evan Williams Bourbon experience in Louisville (and let's be honest, you really should), this is the spirit to get in the gift shop.  If you're searching for an everyday drinker, this is probably a bit too pricey and a bit too powerful for most casual drinkers.  It is at once complex in flavor but has a single, overarching alcohol theme.  However, for the bourbon lover, the aromas and complex flavors of this bourbon are just too enticing to ignore.  Cut it if you must, but don't miss a chance to try it.
ModernThirst.com Score: 91 out of 100 Points.