Evan Williams Single Barrel Vintage 2003
This fits is extremely well with the Evan Williams lineup. It's full flavored, yet only 86.6 proof. It's affordable, available, and has a good amount of age on it.
[amazon_link asins='B00H143UXW,B06Y1VGMH2′ template='MT-product-carousel' store='modernthirstc-20′ marketplace='US' link_id='f77c843d-0056-11e8-b7f4-c7f3d1b842b7′]
I'm back! After a little over a week vacationing in sunny Florida, it's time to get back in the saddle for some bourbon reviews. While in Florida, I didn't have many opportunities to check out the bourbon selection at many liquor stores. The one store I did pop into had a limited selection. Luckily for me, they did have this 2003 Vintage Evan Williams Single Barrel (released in 2013). The Evan Williams Single Barrel line has been a favorite value selection of mine for some time, so it seemed like the perfect opportunity to snag a bottle to enjoy and review for all our readers.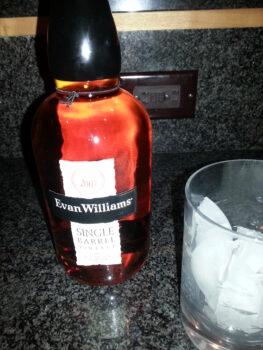 Stats:
43.3% ABV (86.6 Proof)
Age: 9-10 Years
Distilled: 2003
Distiller: Heaven Hill (Bernheim Distillery)
Price Paid: $28.99 (Florida)
Availability: 2003 vintage may be difficult to find, 2004 is readily available
What It is:
Evan Williams Black Label is the second highest selling bourbon in the world behind Jim Beam. That's also reflected in Heaven Hill's inventory, as they boast the second largest number of barrels of aging bourbon in the world in their many rick houses spread across Kentucky. The standard Black Label shares the same underlying distillate as this single barrel expression, but is aged only 5-7 years. This version is aged around 10 years (it may vary slightly due to time of year it is bottled), but bottled at 86.6 proof, like its less expensive sibling. You may remember that three previous expressions of Evan Williams, the Black Label, White Label Bottled-in-Bond, and the gift-shop-only Barrel Proof, have all fared very well in previous tastings here on Modern Thirst.
Packaging: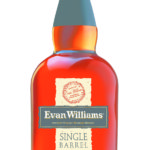 The bottle is a curvy, rounded container with the logo and vintage printed on a cream label. The bottle is heavily waxed, with black wax covering almost the entire neck. A selection of these on a bourbon shelf arranged by vintage date would look pretty impressive.
Appearance:
Amber, bordering on gold.
Aroma:
The first note on the nose was a surprising green apple freshness that followed up quickly with caramel and a little oak. There is definite toffee and vanilla as well.
Taste:
Remarkably sweeter than the Black Label, and less heat than the White Label, this is a very pleasant sipping bourbon. Initial corn sweetness this the front of the tongue, but quickly mellows into vanilla and caramel. The back of the tongue gets a spiciness hinting at cinnamon and cloves, with a nice rounding out of aged oak on the back end.
Finish:
Medium to long, this bourbon finishes very well balanced, with more corn sweetness and cinnamon completing the experience.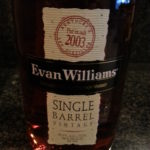 Synopsis:
It's amazing how different various expressions of the same distillate can taste. This bourbon shares its recipe with all the Evan Williams offerings I've mentioned already, along with the Elijah Craig line and Heaven Hill line. Yet it's different. Heaven Hill knows how to "define" a label. All the Evan Williams expressions have a certain corn sweetness to them that makes them extremely approachable and popular. The Elijah Craig lines have a huge blast of wood and oak. Heaven Hill is sort of a spicier, corn-forward expression with a hint of oak.
This fits is extremely well with the Evan Williams lineup. It's full flavored, yet only 86.6 proof. It's affordable, available, and has a good amount of age on it. There are a good number of distilleries who release rare or limited edition offerings of very expensive bourbon that strive to attain those qualities. Heaven Hill manages to do it regularly, in huge volumes, at very attractive prices. This should be on most home bourbon bars for those reasons alone.
Aside from that, it tastes really good. It works as a sipper, is good over ice (like on a hot Florida afternoon), would work great as a mixer, and frankly, is sort of a no-brainer.
ModernThirst.com score: 88 out of 100 points.