This post marks the second installment of the Budget Bourbon Battle Royale.  (Follow the rest of the Battle Royale action here.)  If you're not familiar with this series, we're reviewing bottles that can be had for $20 or less in most areas.  In Round 1, Very Old Barton Bottled-in-Bond took on Old Grand Dad Bottled-in-Bond  and laid down a heavy does of smack on the challenger from Jim Beam Brands, with the VOB scoring a solid 83 points.   Today, VOB100 attempts to retain its hold atop the Battle Royale standings by taking on yet another Bottled-in-Bond challenger.  This time, it's Old Fitz.
Round 2: Very Old Barton Bottled-in-Bond versus Old Fitzgerald Bottled-in-Bond
To paraphrase the great Michael Buffer:
For the thousands on twitter and the millions of readers around the world, ladies and gentlemen, LLLET'S GET READY TO RUUUUMMMBBBLLLLLLLLEEEE!
The Challenger: Old Fitzgerald Bottled-in-Bond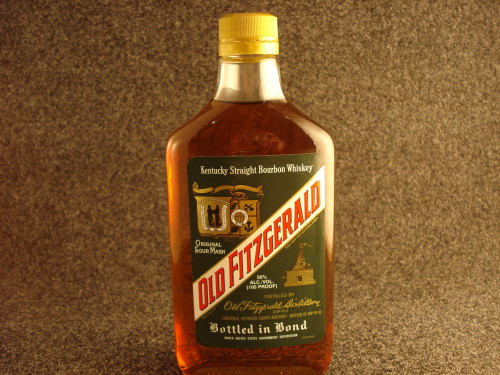 Old Fitzgerald is another venerable bourbon label.  It is currently produced by Heaven Hill at the new Bernheim facility in Louisville.  It's a Wheated Bourbon, and shares its mash with Larceny and Old Fitzgerald 12 year.  It can be found in 90 proof, or Bottled-in-Bond at 100 Proof.  This review covers the Bottled-in-Bond version.
Appearance:

Deep gold.

Nose:

Bakery goods (wedding cake) and corn sweetness.

Taste:

Wheat tingle on the tip of the tongue, more white cake, mint, wheat, and maple syrup on the back with cinnamon showing its head on the end.

Finish:

Medium finish with the sweetness and wheat tingle remaining through the end.

Score:

83/100.
The Reigning King of the Ring: Very Old Barton Bottled-in-Bond 100 Proof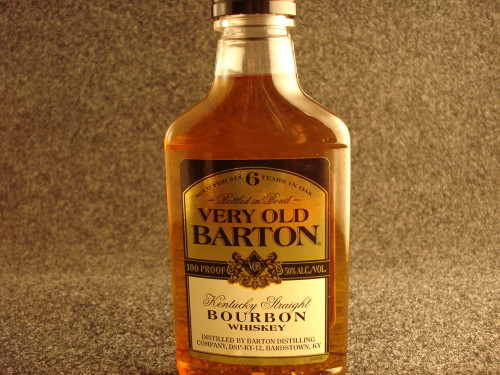 VOB100, as it's often called, is a product of the Sazerac Company.  It is distilled and bottled at the Barton Distillery in Bardstown, KY rather than the massive Buffalo Trace distillery in Frankfort.  Like the previous bourbon, this version is bottled-in-bond at 100 proof, though it, also, can be had at various lower ABVs.  VOB100 crushed its first challenger, Old Grand Dad Bottled-in-Bond, in round 1 by a score of 83-76.
Appearance:

Mahogany.

Nose:

Caramel, Corn, and Vanilla.

Taste:

Caramel, maple syrup, bananas, and some ripe dark fruits.

Finish:

Long, sweet, and satisfying.  There is enough alcohol burn to remind you you're drinking 100 proof whiskey, but it is far from unpleasant.

Score:

83/100
Synopsis:
Uh Oh.  It seems our two combatants have battled each other to a tie.  Bruised and bloodied, at the end of round 2, these bourbons are both still standing, eyeing each other warily from their respective corners.
These are very different flavor profiles between VOB100 and OF100.  VOB is a traditional caramel and oak type of bourbon, done really well at a very low price.  OF100 is very good representative of Heaven Hill's wheated bourbons, with a slight mint taste and a definite wheat tingle.  I waffled back and forth on these trying to decide which was the better bourbon, and almost gave up trying to pick a winner, until I realized the perfect way to decide the tie-break was staring right at me from the bottles.  I'd drank nearly the entire 375mL of Old Fitz, refilling my Glencairn almost absent mindedly, in the space of a couple of hours.  By the time I was done with this comparison, I'd consumed about twice as much OF as VOB.  Subconsciously, my palate kept going back to the OF.  So for today's Battle Royale, the Old Fitz comes out on top, but only barely.  I can't stress enough that drinkers won't be let down by either of these budget bourbons.
This is becoming alarming to me, as I usually do not prefer wheaters.  But taste buds do not lie.
Budget Bourbon Battle Royale Current Standings:
Old Fitzgerald Bottled-in-Bond                   83
Very Old Barton Bottled-in-Bond              83
Old Grand Dad Bottled-in-Bond                 76
---
The ModernThirst.com scoring system is a standard 100 point system based on 4 categories, taken in order.

Appearance: 15 points
Nose: 25 Points
Palate/Taste: 35 Points
Finish: 25 points

95+        Epic
90-94     Excellent, Good representative of its style
85-89     Solid sipper
80-84     Drinkable, but potentially flawed.
75-79     Low quality, flawed, use as a mixer only
<75        Rot Gut, avoid