This post marks the third installment of the Budget Bourbon Battle Royale.  (Follow the rest of the Battle Royale action here.)  If you're not familiar with this series, we're reviewing bottles that can be had for $20 or less in most areas.  In Round 1, Very Old Barton Bottled-in-Bond took on Old Grand Dad Bottled-in-Bond and laid down a heavy dose of smack on the challenger from Jim Beam Brands, with the VOB scoring a solid 83 points.   In Round 2, Old Fitzgerald Bottled-in-Bond battled VOB100 to a near standstill, winning on a technical tie breaker.  In Round 3, we take a departure from the Bottled-in-bond bourbons and see a lower proof challenger in Old Crow.
Round 3: Old Fitzgerald Bottled-in-Bond vs. Old Crow
To paraphrase the great Michael Buffer:
For the thousands on twitter and the millions of readers around the world, ladies and gentlemen, LLLET'S GET READY TO RUUUUMMMBBBLLLLLLLLEEEE!
 The Next Challenger: Old Crow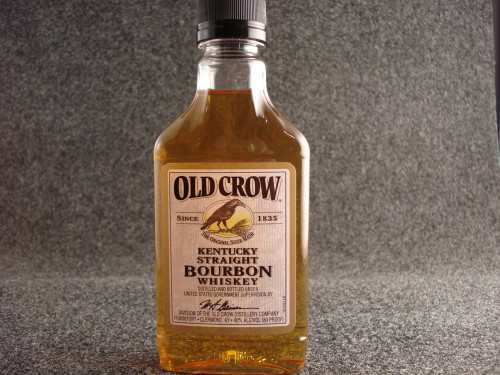 If you're sensing a pattern here, you should be.  Old Crow is traditional name in the bourbon world, but one that has, of late, been relegated to the "bottom shelf" or "budget" category almost exclusively.  Old Crow traces its roots to the early to mid 19th century in Frankfort, KY.  Today, Old Crow is distilled and bottled by Jim Beam brands in Clermont, KY.  It shares its mash bill with the regular old Jim Beam White Label.  Unlike Beam, Old Crow is aged only 3 years and bottled only at 80 proof.
Appearance:

Pale yellow.

Nose:

Leather, some faint vanilla, and Earthiness.

Taste:

A sharp bite on the tip of the tongue, corn, leather, very little oak or age.

Finish:

Short finish, with some acrid hints on the middle of the tongue and a quick, sharp bite.

Score:

72/100.
The Reigning King of the Ring: Old Fitzgerald Bottled-in-Bond  (recap)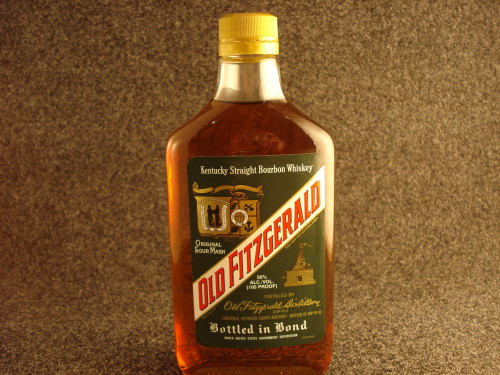 Old Fitzgerald is another venerable bourbon label.  It is currently produced by Heaven Hill at the new Bernheim facility in Louisville.  It's a Wheated Bourbon, and shares its mash with Larceny and Old Fitzgerald 12 year.  It can be found in 90 proof, or Bottled-in-Bond at 100 Proof.  This review covers the Bottled-in-Bond version.
Appearance:

Deep gold.

Nose:

Bakery goods (wedding cake) and corn sweetness.

Taste:

Wheat tingle on the tip of the tongue, more white cake, mint, wheat, and maple syrup on the back with cinnamon showing its head on the end.

Finish:

Medium finish with the sweetness and wheat tingle remaining through the end.

Score:

83/100.
Synopsis:
This matchup was a big departure from Old Fitz's last round.  In fact, there was very little competition here.    OF100 is aged longer, higher proof, and more complex.  Old Crow, by contrast, tastes exactly how you'd expect a young, sub $13, low-proof bourbon to taste.  The Jim Beam DNA is clear in this whiskey, as it does have the general Beam profile, but while most consider the white label Beam to be a budget Bourbon, this is even farther into that value profile, and it shows.  I cannot recommend drinking Old Crow unless it is solely based on price or preference for the Beam profile, and even then, I feel there may be better options in its price range.
Old Fitzgerald Bottled-in-Bond easily takes this round as well and advances..
Budget Bourbon Battle Royale Current Standings:
Old Fitzgerald Bottled-in-Bond                83
Very Old Barton Bottled-in-Bond            83
Old Grand Dad Bottled-in-Bond              76
Old Crow                                             72
Current Queue of Challengers (in no order):
Ancient Age (80 Proof)
Ancient Age (90 Proof)
Benchmark 8 (80 Proof)
Evan Williams Black Label (80 Proof)
Evan Williams White Label BiB (100 Proof)
Jim Beam White Label (80 Proof)
Old Taylor (80 Proof)
---
The ModernThirst.com scoring system is a standard 100 point system based on 4 categories, taken in order.

Appearance: 15 points
Nose: 25 Points
Palate/Taste: 35 Points
Finish: 25 points

95+        Epic
90-94     Excellent, Good representative of its style
85-89     Solid sipper
80-84     Drinkable, but potentially flawed.
75-79     Low quality, flawed, use as a mixer only
<75        Rot Gut, avoid