Happy Monday, readers!
My apologies for our quiet period (and you're welcome to those who enjoyed not seeing our posts pop up every day). I had a busy weekend, starting Thursday, that left me little time to write for the site.  So we've been dark
I played a golf tournament Thursday through Saturday, playing as splendidly awful as I usually do. But we kicked off the event with a wine party Wednesday night that featured a 6-liter bottle of a wine followed by about 10 more standard 750mL bottles. That almost certainly had an impact on how I played Thursday morning. And maybe Friday. Either way, we're hoping to have a friend of Modern thirst submit a guest write up of the 6-Liter bottle of goodness in the next week or so.
Another friend of the site stumbled across a great find recently. He had been bequeathed an unopened 1976 bottle of Jim Beam's Bicentennial bourbon in the Saturday Evening Post series. This series of bourbon featured Normal Rockwell paintings on the label of limited edition decanters. It's a beautiful piece, in flawless condition. In the world of bourbon collectors, it would be called a "dusty."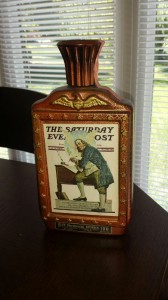 And last, the long-awaited review of Barterhouse is looming on the very near horizon, so stay tuned!
Cheers!