June 25, 2014
If you were looking for a Fathers Day gift for a ModernThirst owner, yes beer and bourbon are always a good choice.  Since my daughters are not of legal age to purchase such gifts, I received something that will make bourbon better!  That is the hope at least.  This is a 1 Liter barrel made of used bourbon barrels from Bluegrass Barrels.  Many things could be done with this barrel, such as aging cocktails and other spirits, but I am going to stick with just straight bourbon whiskey.  I figure adding some age to a single digit aged  bourbon can't be a bad thing.  Eventually I will use the barrel to age some homebrew, but lets get some more bourbon flavor into the barrel (and vice versa) first.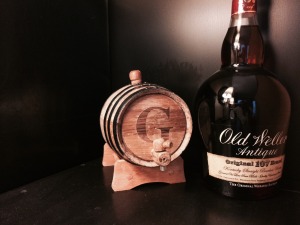 The bourbon of choice is my old standby: Old Weller Antique (MT Review here).  I figure a 5-7 year old offering from Buffalo Trace with the same mash as Pappy Van Winkle is the perfect choice for our first aging experiment  After the barrel was 'seasoned' with water to make sure there are no leaks, I poured one liter out of a handle of OWA 107 into the barrel.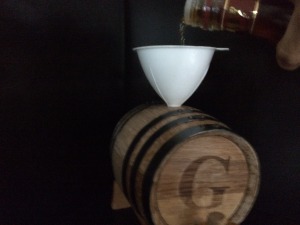 The rest will be reserved as a control group.  Now we wait. Since we have much higher percentage of bourbon in contact with the surface area here this shouldn't take long to start getting some new flavors.  I am also toying with the idea of rotating locations of the barrel between the hot sun and the freezer to imitate seasons.  Check back for updates, and hope that I have more patience than the Tootsie Roll owl.
7/7/14 12 Days Later: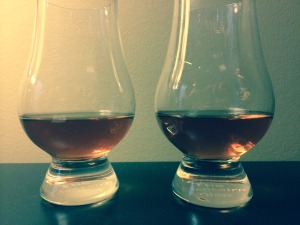 I ended up being out of town for longer than expected over the 4th of July weekend, so I wasn't able to do a full comparison as early as I wanted, but I don't think it would have mattered.  I was really surprised to see no discernible difference in color between the aged and unaged OWA when poured side by side.  If you see a difference in these pictures, its probably due to lighting. I expected to be able to pick up some extra notes of oak in the aroma, but they were negligible at best. I then proceeded to sample each of them neat, here I actually tasted a slight difference, mostly with a smoother start and more tannins in the finish.  However, there wasn't any real oakiness.  When a few drops of RO water was added, this smoothed out both, but the aged one remained a little smoother.  I wish I had more to report, I will give it another week or so and hope to have more findings.  I originally thought it would take months to see results, some readers have let me know that they have have seen noticeable differences much sooner.  Please continue to comment or email me at Mat[email protected] with any feedback or questions.  Happy aging!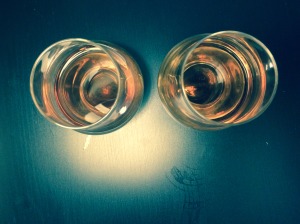 7/14/14 UPDATE:
Progress!
Color:  Finally able to see a difference in color, the barrel aged OWA is now starting to appear darker in color. I wouldn't say its a completely different shade, but the difference is noticeable.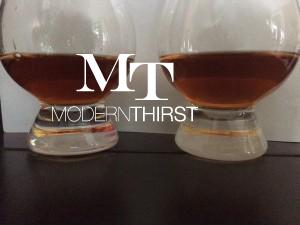 Aroma:  there are more oaky scents and aroma of cotton candy.  It is a more multi-dimensional on the nose than the unaged OWA.
Taste: When tried neat, the aged started out smoother and sweeter with a slightly rougher finish than the unaged, when a few drops of RO water were added it intensified the sweetness of the aged, and smoothed out the finish.  I was really surprised how sweet it really tasted, like candy corn.  There is caramel, but it is more sugary tasting than expected, and less oaky.
Overall this experiment is starting to pay off, I really wanted to have another pour of of the aged version, but alas, I must save it for future tastings.