Bulleit Rye
Bulleit stands up extremely well to various other ryes in its niche. Its texture is outstanding, and that's sometimes hard to accomplish in a 90 proof whiskey.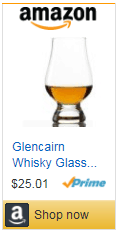 Bulleit Rye Stats
45% ABV (90 Proof)
Mash Bill: 95% Rye, 5 % malted barley
Distilled at: MGP, Lawrenceburg, IN
Availability: Readily Available
Price: $28
Age: 4-6 Years
Full Disclosure:

Diageo's promotions company contacted us after our review of Bulleit Bourbon in June and asked if we would be interested in reviewing other Bulleit products. We were provided with a sample of this and the Bulleit 10 year bourbon. We want to offer our thanks to Bulleit and their PR company for providing those samples with no strings attached. We were not urged to provide any sort of positive or negative review on this product.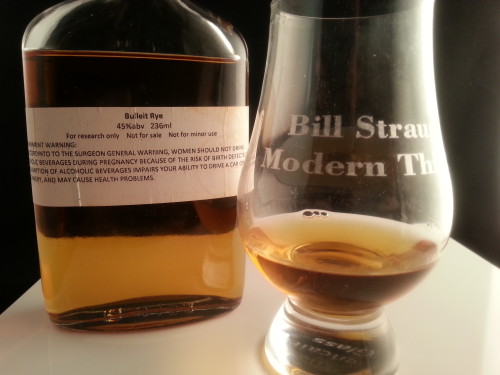 What It Is:

Bulleit is the flagship brand of American Whiskey owned by spirits giant Diageo. Diageo is known world-wide for their huge presence in Scotch, Irish, and other world whiskeys, but thus far, their footprint in the American Industry has been small. Though they own or have owned several whiskey distilleries in the US, none are currently producing bourbon or American whiskey. Thus, both their Bourbon and Rye whiskey are sourced from other producers. Four Roses produces the bourbon, and MGP in Indiana (formerly Seagram's) produces the Rye.

Much has been made of companies using bourbon and whiskey sourced elsewhere of late. MGP in particular seems to have garnered a lot of attention as the source for a great deal of American Rye Whiskey these days for multiple labels. That's not worth discussing, as it's been covered ad nauseum lately. I am concerned with the whiskey in the bottle. If it's good, I don't care where it came from.  So let's dispense with the NDP vs. producer debate and talk about some whiskey, shall we?

Packaging: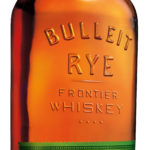 The bottle shot above was provided by Diageo/Bulleit's PR firm. It is similar to the bottle used for standard bourbon offerings, except the normally orange label is green in this case, and (of course) it says "rye." The bottle itself is sloped-shouldered, broad, and has raised lettering above the label. It's a very attractive package, and one I've always been partial to.

Appearance:

This poured into a Glencairn light and russet in color. It appears clear and absent any residue to speak of.

Nose:

There is no doubt this is a rye whiskey. It hits the nose with that tell-tale combination of pepper and citrus sweetness that speaks of apricot and canned peaches.

Taste:

Sweet and syrupy on the tip of the tongue, candied peaches, apricot and vanilla greet the mouth and are followed up with a pleasing viscous syrupy texture that gives way to black pepper and cinnamon/clove spices on the back of the tongue.

Finish:

Medium in length, the pepper continues, but the tongue-coating fruity sweetness remains as well, barely outlasting the spice.

Synopsis:

One advantage to knowing the source of this bottle is that we know there are multiple other rye whiskeys we can compare it to from the same distiller. In this case, Bulleit stands up extremely well to various other ryes in its niche. Its texture is outstanding, and that's sometimes hard to accomplish in a 90 proof whiskey. The flavor is excellent as well. I'd very much like to see Bulleit experiment with the bottle proof just a little in the future, especially as their own planned distillery in Shelby County, KY come on line in the next 3-5 years. Imagine this at 100 proof. Or 105 for a special bottling. Better yet, imagine a barrel proof version of this or any other Bulleit offering. It could be special.

Even so, this is a good whiskey. It seems ideal for cocktails, and fine to sip neat if that's your preference.
ModernThirst.com score: 87 out of 100 points
Suggested Cocktail: Bulleit Rye Sazerac
---
Facebook Comments