Try as she might, Mother Nature could not pull the plug on this one.
Saturday, August 23rd was marked by torrential downpours, lightning, thunder, humidity, and beer.  Wait…beer?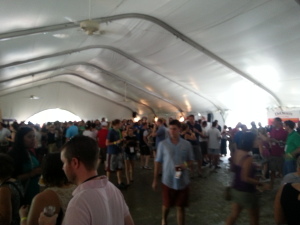 Yup.
Brew at the Zoo and Wine, Too was held at the Louisville Zoo, and played host to dozens of craft and national brewers and wine makers as well as local eateries and restaurants.   Despite the ankle-deep mud and frequent rains, attendees laced up their boots, pulled on their ponchos, and drank their weight in craft beer.  While it seemed the bulk of people clustered inside the tents for shelter, there were quite a few ignoring the weather and lounging near the live music stage, amidst the trees in their own chairs, or wandering the area in search of their next pour.  It has become an absolute must-attend event for the Louisville area.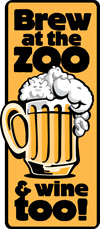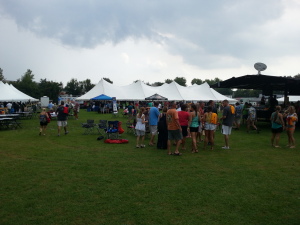 Brewers in attendance included:
Against the Grain Brewery
Alltech
Anderson Valley Brewing Company
Angry Orchard
Apocalypse Brewing Company
Arcadia Ales
Artisanal Imports
Atwater Block
Avery Brewing Company
Beer Engine
Bells Brewery
Bluegrass Brewing Company
Boston Beer
Brooklyn Brewery
Christian Moerlein Brewing Company
Cider Boys Cider Company
Country Boy Brewing
Crabbies
Crispin
Cumberland Brewery
Dark Horse
Deschutes
Dogfish HD
Duvel USA
Evil Twin
Falls City Beer
Flat 12
Fort Collins Brewing Company
Founders Brewing Co.
Goose Island Beer Co.
Great Flood
Great Lakes Brewing Company
HammerHeart
Harpoon Brewery
Highland Brewing
Hudepohl Brewing Company
Kona Brewing Company
Lagunitas
Latis Imports
Lazy Magnolia
Left Hand Brewing
Leinenkugel's
Lost Coast Brewing Company
Magic Hat
Merchant Du Vin
Mike's
New Albanian Brewing Company
New Holland Brewing Company
North Coast Brewing Company
O'Fallon Brewery
Oskar Blues
Red Hook Brewery
Redd's
Rivertown Brewing Company
Rogue Ales
Schlafly Beer
Sheltowee Brewing Company
Shiner Beer
Shock Top Brewing
Sierra Nevada Brewing Company
Southern Tier Brewing Company
St. Killian Imports
Sterling Beer
Stiegl
Stillwater
Stone Brewing Company
Sweetwater
Thirsty Dog Brewing Company
Three Floyds
Total Beverage
Traveler Beer Co.
Uinta
Upland Brewing Company
Victory
Virtue Cider
West 6th
Widmer Brothers Brewing Company
Woodchuck