Jim Beam Signature Craft Harvest Collection Soft Red Wheat
Try splitting a bottle or finding it in a bar before purchasing one for yourself. This is not the best wheated bourbon expression.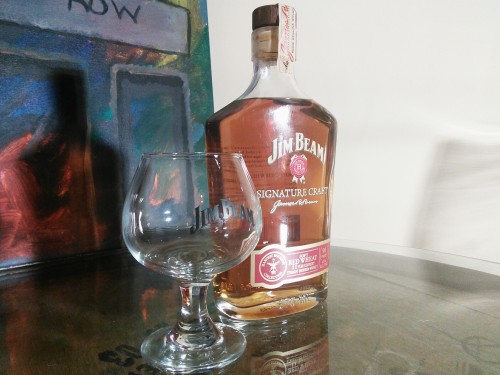 About a dozen years ago, various distillers at Jim Beam Brands posed a hypothetical question to themselves. What happens if the secondary ingredient in Jim Beam bourbon, rye, suffers a shortage or becomes too expensive to use in future distillation? It wasn't an incredibly off the wall question, as the price of rye did, in fact, spike in the early 2000s. Luckily for bourbon drinkers, it did not reach crisis levels. But the question still needed and answer. It also spurred distillers at Jim beam to experiment a bit with different secondary grains in their mash bill. So about 12 years ago, Jim beam produced a one-time experiment of six different mash bills and laid down the barrels to rest. The six experiments used a higher-than-standard rye recipe, Six Row barley, Soft Red Wheat, Brown Rice, Whole Rolled Oat, and Triticale, which is a hybrid grain between wheat and rye.
After sitting in rick houses for 11 years, Master Distiller Fred Noe thinks they're ready. They make up the Harvest Collection from Jim Beam. They are sold in half-sized (375mL) bottles for $49.99 MSRP.
This review covers one of the first releases: Soft Red Wheat.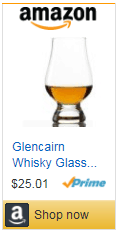 Stats:
45%ABV (90 Proof)
Age: 11 Years
Distilled/Bottled by: Jim Beam Brands, Clermont, KY
Price: $49.99 (375mL)
Availability: Limited. Buy Now.
Packaging: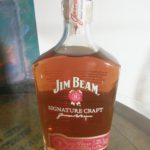 This is bottled in a package very similar to the standard Signature Craft series, albeit in 375mL bottles instead of 750mL standard bottles. Due to the shape of the bottles, it's actually a bit difficult to tell they're not full sized bottles, which hi expect was an intentional ploy to divert attention from the lower mL-per-dollar, as these translate to $100 bottles for a full 750mL. Don't be fooled.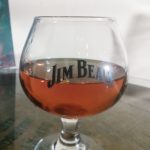 Appearance:
Deep mahogany. This does not look like a typical wheater. It's aged, dark, and rich in appearance.
Aroma:
There's something I can't quite put my finger on here, and it isn't exactly pleasant. There's a sort of earthy vegetal quality to the nose on this that makes you fight to get past it. If you succeed, you'll smell some sweetness along with oak and vanilla. But it's a very different aroma; almost stale.
Flavor: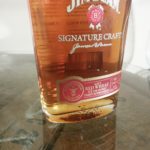 There is a very slight wheat sweetness on the mouth immediately upon tasting, and the initial sensation seems to carry that vegetal quality from the nose to the tongue. But a little persistence pays off, as it quickly fades into sweet corn, a touch of gingerbread and some brown-sugar baked goods.  Overall, the wheated favor is muted.
Finish:
The finish on this bourbon is clearly its strongest suit. The wheat finally shows through strongly here with a mild sweet-wheat tingle and a rather pleasant finish that is medium in length.
Synopsis:
First off, this is Jim Beam juice. If you don't like bourbons labeled "Jim Beam" already (white label, choice, Black Label, etc.), you will not like this bourbon. It really is aimed at those who like the Beam flavor profile, particularly the Jim beam 12 Year Signature Craft, but want an ever-so-slightly different spin on it.
It isn't offensive, once you get past the initial nose, but it's not earth shattering in its complexity or its flavor. It's good, though, but I'm not sure it warrants $49.99 for a half bottle. I'd recommend splitting a bottle or finding it in a bar before purchasing one for yourself. That is, of course, unless Jim Beam is already your thing. If that's the case, grab a bottle, you'll love the new spin on a tried-and-true flavor.
If you're a wheated bourbon lover, this won't satisfy your palate. Both Heaven Hill and Buffalo Trace make softer, sweeter bourbons more wheat-forward in flavor. I'd recommend skipping it.
ModernThirst.com score: 81 out of 100 Points.
---
The ModernThirst.com scoring system is a standard 100 point system based on 4 categories, taken in order.

Appearance: 15 points
Nose: 25 Points
Palate/Taste: 35 Points
Finish: 25 points

95+        Epic
90-94     Excellent, Good representative of its style
85-89     Solid sipper
80-84     Drinkable, but potentially flawed.
75-79     Low quality, flawed, use as a mixer only
<75        Rot Gut, avoid