The story of I.W. Harper bourbon is not all that different from many other brands that rose to prominence and then disappeared in decades past.  Countless brands rose and fell before, during, and after the dark days that were prohibition.  But I.W. Harper is soon to be among the few that is staging a comeback, thanks to global whiskey giant Diageo. Modern Thirst was on hand on march 19th for a preview of the whiskey that should be hitting U.S. shelves in the coming weeks. Diageo Whiskey Ambassador, Dough Kragle, hosted the event at the Bernheim National Forest visitor's center, and we were treated to a short discussion on the brand's history by noted bourbon historian and author, Michael Veach, and met the founder of the bourbon's Great-Great grandson, Thomas Block, who is a board member for the Bernheim Arboretum and Research Forest. I.W. harper was founded by German Immigrant and businessman, Isaac Wolfe Bernheim, who came to the United States following the Civil War.  He originally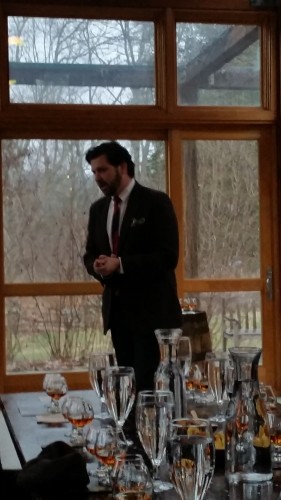 settled in Paducah, KY, and began Bernheim Brothers Distilling with his brother, Bernhard.  At the time, they were seeking a more "American" sounding name for their whiskey than the very German "Bernheim," and Isaac Wolfe happened to look at a list of horse owners from the Kentucky Derby and saw what he thought to be the most "American" sounding name he could imagine: John Harper.  Thus he chose "Harper" for his bourbon, and named it I.W. Harper. Bernheim mostly retired during prohibition, selling off the bulk of his ownership in the brand to Schindley, who produced the bourbon under federal license as a medicinal whiskey during those dark, dry years.  Bernheim went on to be a very successful and very wealthy businessman, establishing and endowing Bernheim Arboretum and Research Forest in Clermont, KY.  Hence the choice of location for the preview tasting. The brand changed hands several times following the repeal of prohibition, and by 1964 was  being sold in 110 different nations, and being the top selling bourbon in Japan.  By the 1990s, it was export only.
In 2015, it's returning.  While the new whiskey does not share the  exact same juice as the original, it was distilled at, fittingly, the New Bernheim Distillery in Louisville, KY (now owned by Heaven Hill).  It has spent the past several years aging at Stitzel-Weller in the Shively neighborhood of Louisville.  It will be offered in a standard 4 year version and a limited one-time 15 year bottling.
---
I.W. Harper Straight Kentucky Bourbon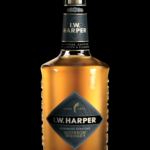 Age: 4 years (*Age is not stated on the bottle*)
ABV: 41% (82 Proof)
Price: $34.99 MSRP
Mash Bill: 73% Corn, 18% Rye, 9% Barley
Appearance:
Light Straw
Nose:
Fresh wood, coconut, vanilla, raisins and dark fruits
Flavor:
It's light and sweet with some hints of oak.  The initial rush of sweetness gives way to hazelnut with a hint of mint.
Finish:
Short and dry with some black pepper essence.
ModernThirst.com Score: 84 out of 100.
---
I.W. Harper
15 Year Old Kentucky Straight Bourbon Whiskey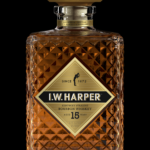 Age: 15 Years
ABV: 43% (86 Proof)
Price: $74.99 MSRP
Mash Bill: 86% Corn, 6% Rye, 8% Barley
Appearance:
Deep, rich amber
Nose:
Freshly sawn oak, black pepper, and circus peanuts
Flavor:
Smooth and creamy in texture, this is a high corn recipe that is heavy with fresh oak but simmers down into caramel and cinnamon notes.
Finish:
Medium in length, there are plenty of tannins and new oak on the finish with a hint of cloves and baking spices.
ModernThirst.com Score: 91 out of 100.
---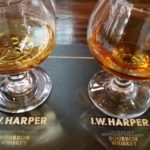 In both cases, there is nothing offensive about either bourbon.  Really, the New Bernheim distillery doesn't make a lot of bad bourbon, so it's a safe bet that these are and will remain easy drinkers.  While the 15 year is a one-time release, the 4 year is intended to be a regular staple product over the coming years, so whether Diageo will be able to continue to source 4 year old bourbon from Heaven Hill is a mystery.  Still, the impressions were generally favorable. At $35, and only 82 proof, the standard offering is going to be a really tough sell at only 4 years old. For a bourbon that will work most favorably in cocktails and as a mixer, that's a high price point.
The 15 year is a much nicer sip, with plenty of smooth creaminess and enough flavor to tingle the tongue a bit. 
But again, at 86 proof, it's on the weak side.  At 95 or 100 proof, the 15 year would be a no brainer at its MSRP, and I might even be first in line to purchase one.  At 86 proof, you'll want to sample first before buying.  I really wish Diageo would offer something to consumers above 90 proof, as they seem to have an invisible ceiling on alcohol content that after a while just becomes monotonous.  Still, it's a 15 year old bourbon, and that's not the easiest thing to find these days.  After the tasting, we were treated to a series of cocktails featuring the 4 year bourbon.
The featured cocktails were the Old Fashioned, the Manhattan, and a Bourbon Smash. The whiskey worked excellently as a mixer, and the cocktails were smooth and flavorful, so if you happen to grab a bottle of I.W. Harper, don't forget to give it a taste in a classic bourbon drink, as this is where it really shines.