By choosing the right combination of sausages, mustards and beer you can turn your next cookout into a 'Sausage Fest'. Or, you can be a complete dweeb and act like it is 1998 and go buy hamburgers, ketchup and a case of low-calorie and low-taste beer. Here is a grocery list and a pairing strategy that will impress your guests, even the hipsters.
Grocery List
Mustard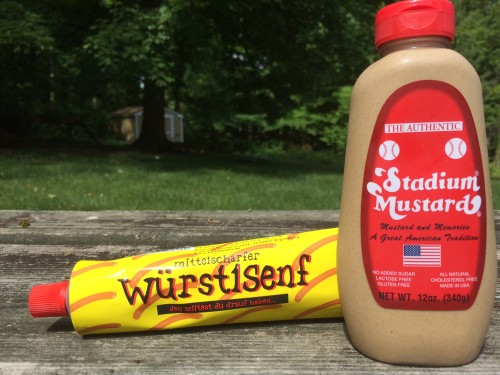 Condiments are the glue that keeps your menu together. In this case, it's the Mustard that will make or break this event. At a minimum, I'd recommend purchasing the 3 essential styles; yellow, spicy brown and choose between a brown or Düsseldorf style. My favorite mustard is 'Cleveland Stadium Mustard', being from Cincinnati I'm not fond of Cleveland but they make a great brown mustard. If it is payday, buy an exotic like the tough to find Handmaiers from Germany at $7 a tube. It is great, just ask the Cincinnati Mustard club. I mentioned the minimum is 3, but if you want to truly impress I'd go with 5 or 6.
Sausages
Brats and Hot Mettwurst are mandatory. FYI, brats are the white ones and metts are the red ones. Mix in a few more of the following; Polish, Kielbasa, Italian, all beef hot dogs, Beer brats, Chorizo or possibly some type of chicken or turkey sausage.
Beer

This is the fun part; grab multiple 'sixers' of different styles. A Wheat, Rye, Pale Ale, IPA and definitely a Lager. In the picture, I have some of my favorites; Brooklyn Lager, Rhinegeist Hustle, 21st Amendment High or Hell Watermelon and Budweiser.
Mustard and Sausage Ying Yang
Your guests will be dumfounded with the options, so be prepared to recommend the right mustard for the sausage. My pairing strategy is to allow the flavor and spice level of the meat and mustard to contradict, but also complement each other. I call this the ying yang effect of sausage and mustard. For example, a spicy mettwurst is loaded with crushed red pepper, so a yellow style will enhance the heat of the pepper where as a spicy brown will cause conflict between the spices. On the other side of the coin, the blander brat should be dressed with spicy mustard or if you don't like the heat, use the delicious Düsseldorf. Düsseldorf has plenty of flavorful spice but no heat.
Beer Pairing
You really can't go wrong here; I let the spice guide me. If I have a raging five alarm inferno in my mouth from the super-hot met, I grab a smooth lager or wheat to put out the heat. A High or Hell Watermelon from 21st amendment will douse the flames quite well also. For a bratwurst with Düsseldorf, the floral notes of the Pale Ale are a great combination. Or, a bitter and grassy Rye, like Hustle from Rhinegeist, will give a nice finishing touch. If you are a fly by the seat of your mustard stained paints kind of guy or gal, add an IPA to your meal for a taste explosion.
Pro Picks
Following the above strategy is easy and fun, but if you need ideas, here are my top five picks:
Chorizo with Yellow and a Pacifico Lager to wash it down.
Brat smothered with Cleveland Stadium Mustard add a Budweiser and you are at the ballpark.
Polish Kielbasa with Düsseldorf, add a hoppy beer like Sierra Nevada for a great contrast.
Super hot Mett with Yellow and a 'High or Hell Watermelon' from 21st Amendment for dessert to put out the fire.
Bier Bratwurst with Handmaiers grilling Mustard, complete the 'Sausage Fest' with a Hustle by Rhinegeist.
I hope this helps you create the best sausage fest ever.  We would love to hear from you. Please share photos of your own beer, sausage and mustard.