Old Crow Distillery  DSP-KY-25
About a month ago, I was contacted by a representative of the Discovery Channel about speaking on camera for a proposed documentary about the history of the Old Crow distillery. My first inclination was to say "My handsome face on television? ABSOLUTELY!" After some careful thought, I didn't want to portray myself as something I'm not (a historian), so I explained to the representative that my contribution would be quoting the work of actual historians, and she would be better off going straight to them.  But I told her I'd be happy to appear, if they needed a face, so long as they didn't portray me as something I'm not.  I didn't hear back.  Maybe they wanted someone less strikingly handsome. I guess I'll never know.
But during the back-and-forth of the conversation it occurred to me that I honestly don't know a lot about the distillery. I did, however, take a few minutes to dig through my principal sources of information to see what information existed in print form. I put together some basic notes, and though there's no high production-quality documentary to go with it, I thought I'd share the information anyway since the hard part was done.
Those sources are fantastic books by fantastic authors and historians, and I highly recommend reading them. They are, primarily:
Bourbon in Kentucky: A History of Distilleries in Kentucky by Chester Zoeller
Kentucky Bourbon Whiskey: An American Heritage by Michael R. Veach
Bourbon, Straight: The Uncut and Unfiltered Story of American Whiskey by Charles K. Cowdery
The story of the Old Crow Distillery must begin with the namesake of Old Crow bourbon, Dr. James Crow. Crow was born in 1779 in Scotland and was raised in the world of Scotch Whisky. He attended the prestigious Edinburgh University, studying medicine and chemistry, completing his studies in 1822. He took his education and skills to America, moving to Philadelphia, later moving to Kentucky in 1823 after a bankruptcy, drawn by the prospects of the burgeoning Kentucky whiskey industry of the early 19th century.
By 1835, he was working for Colonel Willis Field at his Grier's Creek distillery and putting his chemist's brain to good use. He began to apply scientific methods to the production of bourbon whiskey, eventually being among those credited with standardizing the sour mash process. In addition, his use of scientific approaches to the distillation process included the introduction of thermometers, hydrometers, litmus checks for PH levels, and the characteristics of limestone water and why that affected bourbon. Essentially, he is largely credited with turning bourbon making from an art to a science. He was able to create great tasting whiskey and replicate the process over and over.
Sometime after 1835, he had left Grier's Creek and moved to the Old Oscar Pepper Distillery, which later became Labrot & Graham, and is now the home of Woodford Reserve. It was here that Crow first produced his Old Crow brand of bourbon whiskey.
After the Old Oscar Pepper Distillery, he moved to the Johnson Distillery, which later became the site of the famed Old Taylor distillery which is currently being redeveloped into a new working distillery. That is most pertinent because the site is nearly right next door to the Old Crow site today. His Old Crow brand was rapidly gaining national attention by this period, becoming a favorite of presidents such as Ulysses S. Grant and politicians like Henry Clay.
He worked there at that distillery until his death in 1856. Crow was succeeded by William F. Mitchell. Mitchell inherited not only Crow's job, but his notes. Using those notes, he was able to replicate most of the Crow's processes, and he left Old Oscar Pepper and went to work for W. A. Gaines at the newly formed Gaines, Berry & co. in 1872, and construction on their new distillery, right next door to the Johnson Distillery, was begun, being completed in the 1880s. A notable employee at the distillery was one "Colonel" E. H. Taylor.
The bourbon produced at the new facility was named after Crow's famous whiskey, and called "Old Crow," using his recipe. After prohibition, the distillery and brand was purchased by National Distillers in 1934. National Distillers continued producing Old Crow through most of the century. During the post prohibition years, Old Crow became one of the best-selling bourbons in the world, rivaling even Jim Beam. During and after World War II, National Distillers began focusing on industrial chemical distilling, but continued producing Old Crow. They did, however, spend considerable amounts of money modernizing and refurbishing the aging distillery in the 1960s, despite declining national sales of all bourbon. Unfortunately, they also changed the recipe and process during this period, resulting in a precipitous drop in sales for Old Crow in particular.
By the late 1980s, National distillers had had enough of the spirits industry, and in 1987, sold their remaining interests, including the Old Crow label and distillery, to James B. Beam Distilling Co, now Beam-Suntory. Jim Beam immediately ceased production at the facility, closing the doors almost overnight.  The facility was allowed to deteriorate over the past several decades. They continued using some of the warehouses on site, recently refurbishing several and continuing to age spirits there.
The distillery was recently purchased by Deviant Distilling, and it is being refurbished for new operations beginning in the near future.
The brand name itself, however, lives on in a much diminished form, as Old Crow is produced now by Jim Beam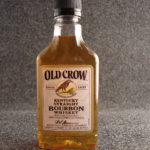 in Clermont, KY. It shares the same recipe as standard Jim Beam, but is younger, and bottled at only 80 proof.