This was an easy one.  We've all seen liquor bottle lamps, and they're surprisingly easy to make.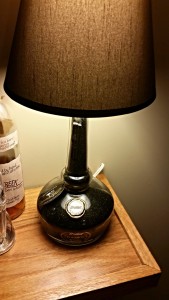 What You'll need:
A bottle (empty) you'd like to use.  I chose an empty 750ML bottle of Willett Pot Still Reserve due to its unique and interesting bottle design.  Really, any bottle would work.
A Lamp Kit like this one:

A Light Bulb.
A Lamp Shade.  You can choose any style you like.  Mine is brown, and was less than $10.  Here is an example of a low-cost linen shade in a similar style:

Glass Drill Bit:

Drill (Really, everyone should already own a drill.  If you do not, there are thousands to choose from, both cordless and corded).  I used a drill press, but I already owned it.

Optional- Sand (any color, I chose black.  Not necessary if your bottle is dark or tinted.)  I didn't want the power cord to be visible, and the black sand helps the gold lettering on the bottle "pop." A 5LB pound bag was more than enough for a 750ML Bottle:

If you use sand, you'll also need a Hot Glue Gun:

How to do it:
Start by rinsing and drying the inside of the bottle.  Just rinse it with warm water and let it dry upside down for an hour or two.
Using the glass drill bit, drill a 1/4″ hole on the back of the bottle near the base.  Drilling glass can be tricky, so make sure you read up on it a bit first. You'll thread the power cord through this hole, so consider its location before drilling.
Feed the power cord through the hole from the bottom through the neck and out of the top of the bottle.
Using the instructions for the lamp kit, wire the power cord to the lamp socket and leave just enough cord slack to pull the socket out of the neck about 1-2 inches.
If you're filling the bottle with sand, as I did, carefully hold the power cable in place at the base of the bottle where you drilled the hole.  Using the hot glue gun, seal the space around the cable so no sand can leak out.  Wait 5-10 minutes for the glue to dry and make sure it's sealed.  If not, add more glue.
Use a funnel, or make one from cardboard, and fill the bottle with sand until there is just enough room to push the lamp socket into the neck.
Push the lamp socket into place, add the lamp shade and a light bulb, and plug it in.  Done!
Got any bourbon/whiskey related projects you care to share?  Let us know!
ModernThirst.com Projects:

Boredom got the better of me.  I've seen multiple nice tasting sets on eBay, etsy, amazon, etc.  I looked at the prices, and thought they seemed a bit…ridiculous.  So yesterday, I took to the garage shop and made my own glencairn tray out of some scrap wood with a minimum of effort. The Tools:
1 comment