High West Double Rye!
A unique and spicy rye whiskey with big citrus character that should tempt the palate and price considerations of any rye enthusiast.
[amazon_link asins='B00H143UXW,B06Y1VGMH2′ template='MT-product-carousel' store='modernthirstc-20′ marketplace='US' link_id='89cd9de4-ff80-11e7-ad0b-b3d612b3a656′]
Stats:

Producer: High West, Park City Utah
Distilled at: MGP, Lawrenceburg, IN and Barton 1792, Bardstown, KY
Age:  Mingling of a 2 year MGP rye and a 16 year Barton rye.
Mash Bills: MGP:95% Rye, 5% Barley Malt; Barton: 53% Rye, 37% Corn
Price Paid: $34.99
Availability: Available
Batch: 14E21
Bottle: 3651
ABV: 46% (92 Proof)
What it is:
As mentioned in the stats, this is a rye whiskey created by the fine folks at High West by mingling a young rye from MGP with an older, more corn-forward rye from Barton. Hence the name.  It's not an altogether different strategy than they've used in other bottlings, but it's a different expression and flavor profile nonetheless.
Packaging:
Similar to other High West products, this is a tall, standard whiskey bottle with long neck and cream printed label.  The High West logo is embossed on the glass of the bottle itself.  It's attractive, and the western motif fits very well with the High West brand.
Appearance:
This rye pours a deep, dark amber into a Glencairn glass.
Nose:
Dried apricot, with definitive floral notes greet the nose.  There are definite hints of spice (nutmeg, cinnamon, and black pepper), but this trends towards the citrus side more than anything.  There is lemon and orange zest a plenty, with a touch of aromatic wood.
Flavor:
This one changes a bit as it travels across the tongue.  There are some definite initial vanilla, honey, and caramel flavors, but true to the nose, this quickly evolves into a spicy and citrusy explosion on the mid and back palate.  Lemon and peach abounds on the mid palate, while huge prickly bites of black pepper permeate the back of the tongue.
Finish:
That black pepper spice wand citrus zest seem to linger long after the swallow.  And I mean long.  This is one of the longer finishes on a rye whiskey I've tasted.  It's warm and pleasant, with enough zest to keep the senses alert throughout.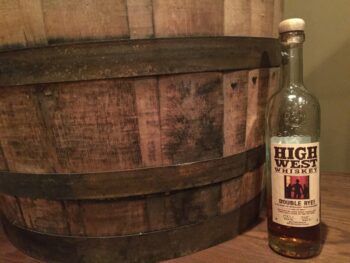 Synopsis:
I'm guessing the MGP distillate makes up a higher percentage of the Double Rye! compared the recently reviewed Midwinter Night's Dram, because this is a little harsher on the tongue- essentially younger in comparison.  But it's a really, really nice sip.  It's also very different from most any rye I've tasted, aside from other High West offerings, which again must speak to the blend.  The mingling of young and old whiskey from two different sources with two very different flavor profiles is once again pulled off expertly by David Perkins and team with this release.  Regardless, it's excellent.  At this price point, rye whiskey lovers will be hard pressed to find anything as complex and compelling as this bottle.
ModernThirst.com Score: 90 out of 100 points.